Come to our San Diego california and southern california digital photography workshops and classes. Some photography courses are held in Tuscany Italy as well. During the San Diego class we take a photo tours of the San Diego Museum of Photographic art. Besides our San diego classes, Michael teaches photography in provence, China and Italy.. It's how to make good photographs in north san diego county with Seewald digital 35mm, medium and large format cameras. We will teach you photography classes through our photo workshops in the field. Photographic workshops, seewald photographia is all about the arte. For amateur, intermediate and advanced by encinitas photography teachers. Carlsbad photography teachers with photographs. Fine art photos like Ansel Adams, Edward Weston, like the Calumet photo workshops for escondido. Not to mention folks from Oceanside, digital photo classes
Testimonials
Sign Up Here
San Diego 2 & 3 day 'A-Z' Workshops
Schedule for 3 day class
San Diego 'Mini-classes'
Carmel 3 day Workshops
Yosemite 3 day Workshops
Napa 3 day Workshops
Portrait Class
F.A.Q.
Students Photos
Digital Cameras
Grad Opportunities
Photo Tips / Books
Photographers 'Rights'
S.Kelby World Wide Photo Walks
Medium Format vs 35mm digital cameras
Welcome
to the exciting world of
Michael Seewald's photography classes
AKA - 'Fun-shops' - Since 1985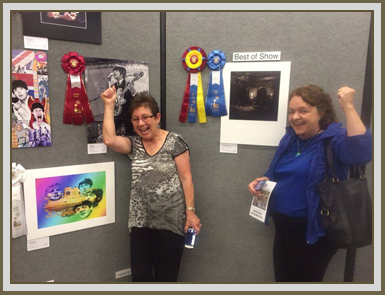 Click photo to enlarge
"OMG! Seewald 3 day grads win big time.
Joan Harris, left, took third place and
Kim Signoret-Paar wins BEST OF SHOW at the San Diego Fair's 2014
'International Photo Competition', the LARGEST photo competition in the world.

See what can happen when you apply Seewald's advanced compositional thought processes to your art?
In fact, Michael took Best of Show at this same competition back in 1996, topping over 3,000 world-wide entries!
_______________________________________________
Dates and prices San Diego 2 & 3 day 'A-Z' Workshops
but read the following info/intro first
to see if this class will move you to the next level.
_______________________________________________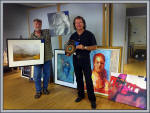 Click image to enlarge. / August of 2010.
Michael Seewald, left, along with fellow artist/judge Rich
Hawk, pose with their final choices after judging the annual
Carlsbad-Oceanside Art League multi-medium $ contest.
Michael Seewald's two, three and four day compositional workshops (fun-shops) are held about once a month in San Diego County, in Southern California, where he lives with his wife Valerie (ex-collector, now wife). He also holds them up in central California once or twice a year too, in Carmel, Napa and Yosemite.
He leads you step by step through the critical thinking process necessary to 'make', not just take, a photograph or painting worth looking at. Worth looking at not just for a second or two, but for many seconds. You'll learn the principles to captivate your audience with well thought out images. He'll give you the 'map' you have been missing to make your 'art' pop, to make 'WOWS', like his. It's not just luck, it's skill, and he want's to pass this knowledge to YOU, at very reasonable prices for what you get!
10.'11 - We've now added some 3 hour 'mini-workshops'
for beginners to learn their cameras.
If a picture is worth a thousand words,
what is a two minute critique by a fresh Seewald grad video worth?
Priceless, IF it helps you decide to take one... take a look-see.

Video by Michael and Rocio Castaneda Productions.
David Durney, a complete beginner when he started,
but very advanced when he left, expresses his thoughts minutes
after finishing his three day class. He was AMAZED he'd become, and
knew it, an artist! NOT just a little better photographer, as he'd hoped, but an artist!
Now even with such a sincere and wonderful, not to mention
enlightening and captivating, sales pitch, and since you are
only half way sold 'cause you are so (insert description of
yourself here, i.e. Doubting Thomas), just like most of us are,
go read dozens of additional testimonials here!
OR, just give up to the fact that you will be a Seewald class
grad, and one heck of a great photographer, sooner rather than later,
by signing up right now, (IF there is space that is- a 50-50 chance the
next class is sold out already) ...links to dates and prices follow...
_______________________________________
Need a camera? Info on cameras
and lenses Michael suggests, click here.
Again, if you still need to (?), read dozens of
photography class. workshop testimonials here

Or click the links below to see
the dates for upcoming Fun-shops.
Sign Up Here
Testimonials
San Diego 2 & 3 day A-Z Class/ dates/price
San Diego 'Mini-classes'
Carmel Workshops
Yosemite Workshops
Napa Workshops
Is Day 3 necessary?
Schedule for 3 day class
Portrait Class
F.A.Q.
Students Photos
Digital Cameras
Photo Tips / Books
Photographers 'Rights'
Grad Opportunities
Medium Format vs 35mm digital cameras
S.Kelby World Wide Photo Walks
_______________________________________
Need a camera? Info on cameras
and lenses Michael suggests, click here.
New 'mini-classes' now offered...

Now only $49.95 to $99.95, depending on the class

Intro to your camera, 2 hour class
(basic camera functions- What do all the buttons do? Tips and tricks)
Only $49.95

and
Night Photography
Two hour class
and
Basic Composition
Two hour class

Click here for more
2 & 3 hour class details
Seewald's photographic 'fun-shops'
proudly sponsored by:

Pro Camera Repair, San Diego.
SAVE 10% on first order, just mention 'Seewald workshop discount'

"Taken my cameras here for decades, always top notch work. I need my cameras
working properly in distant places, and I trust them to keep them in tip top shape." MS
Dolica Tripods
This line of carbon fiber and aluminum tripods won't break the bank.
We've got point and shoot tripods all the way up to heavy duty, large camera supports.

Metalography
SAVE 20% on first order, just mention 'Seewald workshop discount'
Custom photos on metal, Seewald gets his super large 'infused images' onto
hot metal, and the results? HOT! (Up to 42"x62" in size)
<![if !supportLineBreakNewLine]>
<![endif]> Testimonials
Sign Up Here
San Diego 2 & 3 day 'A-Z' Workshops
Schedule for 3 day class
San Diego 'Mini-classes'
Carmel 3 day Workshops
Yosemite 3 day Workshops
Napa 3 day Workshops
Portrait Class
F.A.Q.
Students Photos
Digital Cameras
Grad Opportunities
Photo Tips / Books
Photographers 'Rights'
S.Kelby World Wide Photo Walks
Medium Format vs 35mm digital cameras<![if !supportLineBreakNewLine]><![endif]>

11.03-7.'06 16k / 01.'07 21k / 01.'08 30k
reset 10.08 1461 12.13.08 / 4343- 9.6.11
how to ma
yes, come to our art classes, classes and learn how to take good photographs in north san diego county with Michael Seewald. Digital 35mm, medium and large format photography classes and photo workshops held in the field! Photographic workshops, and all about photo workshops, photographic workshops and the best photo classes and the photography classes! Photographia, with folks comeing or attending from los angelos. intermediate and advanced for all. analog and digital formats 2 1/4 medium and 4x5 cameras too. Encinitas photography teachers, carlsbad photography teachers, photographs, photo tours, Tuscany photographic workshops too. Photo tours, digital, and digital photos