Home Photographic Art Photo Classes Order/Prices Guestbook Contact Sponsorship Offerings About Seewald Picture Framing Misc/Links Portrait Pricing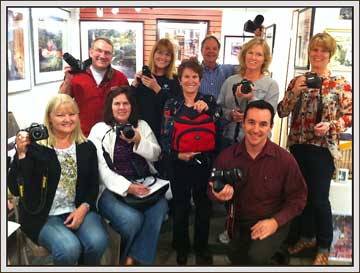 Click photo to enlarge.
March 14th, 2012 grads of the Seewald
'All about your digital camera' class.
If you already know about the mini-class formats, and
need dates, go to San Diego 'mini-class' schedule page.
Otherwise, read on about them first.
Mini-classes by
master photographer Michael Seewald
Intro to your camera

All about composition - how to compose strong photos

Night photography made simple.
__________
Michael and Valerie,
I would just like to take a moment and tell you how much I enjoyed the class last night! To
say the very least, my perspective has changed a LOT! And....from one teacher to another,
your methodology and ability to communicate complex material in an easily understood form
is very commendable.
I am very much looking forward to finding the right interchangeable lens camera for me, then
joining your three day class!...

Jane Carroll,
Compositional mini-class of 7.22.'12
__________
Greetings, we have started to offer a series of mini classes. These are designed to give instant help to folks than need it in varying departments, at very reasonable price - only $49.95 each (down from $95 when we first offered these, a super-great value at this point).
They are held at our San Diego Gallery (Del Mar). These are not designed to give you all the info our three day 'All there is to know A-Z' classes do, but they will help you become a better photographer. Will you 'be an artist/have all the knowledge of a pro' like the THREE DAY class will? No again, but you will end up being able to make much stronger images and use your camera better RIGHT NOW.
________________________
About our
'How to use your digital
camera' mini-class
Only $49.95
Class for beginners, and some intermediate that might not be shooting in manual settings.
Learn the difference between an f/stop and a stop sign; how to figure out your own manual settings (f/stop and shutter speeds).


What your histogram is (exposure tool we all have in our cameras) and how to 'read them'.


What 'Depth of field' is and how to make it work for you to make exciting photographs.


What a light meter does and how to use it to make better photos than your 'auto' settings would be able to do (yes, you will end up being smarter than your, in many cases, VERY expensive cameras)!


What ISO settings are and how they can make you a better photographer.

You don't need to have a camera with interchangeable
lenses, but if you do it's a bonus to yourself.
________________________
"...This "intro" class was perfect for me. It covered some of the fundamentals of photography, as well as information more specific to shooting with a DSLR. I left the class feeling more confident with my camera, and also more enthusiastic about getting out there and trying new things.

Michael's enthusiasm and energy are engaging and inspiring. It's obvious that he loves to teach others what he has learned over the course of his career. ..., Michael covered a lot of information in a short amount of time.

It was a great jumping-off point for me. Having the class in Michael's gallery, surrounded by his work, was also inspiring.

... This class was a good value for what I learned in two hours.

... I've already signed up for the NIGHT class next week ...."

Bob Mickey, Carlsbad, CA
class grad of 1.4.'12

________________________
About our
'How to compose
award winning photographs'

Only $99.95

This class will help you...

1. Learn the compositional rules, and when to break them, that were discovered/figured out by the masters of art that spent their lives creating it (Michaelango, DaVinci, etc.).

2. Learn the compositional problems, there are many, that will ruin the art overall.

3. Take you existing art (photos) and improve them by applying the rules you have learned and then possibly entering them in competitions (in some cases re-entering them), and not just win ribbons, but in some cases BIG MONEY (Michael has won thousands of dollars over the years, and in some cases a single winning can earn you a thousands dollars, and in one case, $25,000!

4. How to present your art so that it will be more sale-able.


________________________
About our NIGHT Photography mini-class.
Well, ok, we've learned how to use our light meters, our f/stops and shutter speeds, and our histograms, now what? Well, after also taking Michael's 'Three hour class on Making Strong Compositions' (hopefully), we are now ready to go out and make a lot of fun creative night shots. We will walk/shoot around the beautiful Del Mar Plaza (one of our locations), and make long time exposures of fountains, waterfalls, lit up hallways with restaurants and shops and the Pacific ocean. Michael will help on your compositions and your technical thought processes again, helping you become a master as fast as possible. Lets' go!!!
YOU must be a 'Three hour INTRO' grad, or have knowledge
of how to shoot in manual, to take this class.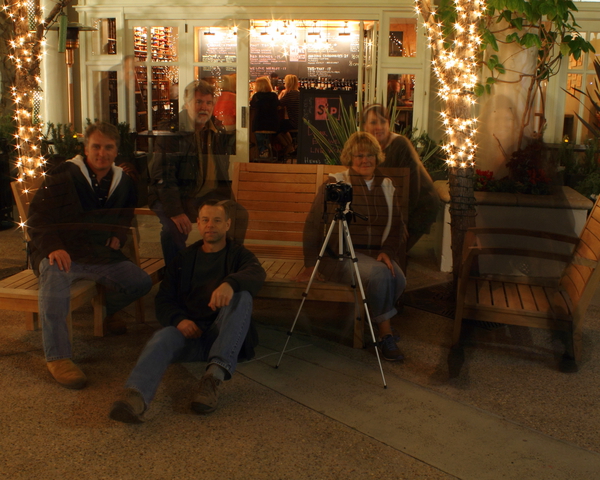 Photo copyright Bob Mickey, INTRO and NIGHT class grad.
Del Mar Plaza, Jan. 11th, 2012 (great job Bob/ MS).
Making a 'ghosting' effect, and learning self portraits as well. This class is both informative and a lot of fun.
________________________
"...A mind blowing experience. A whole new way of thinking and seeing; not just about photography but also the world. I now feel comfortable and confident with my digital camera and I'm beginning to see the world in a different light. I am excited about moving on with my photography; my friends and family hear it in my voice and have given me great feedback (including some wows) on the photos I showed them from the afternoon of Day 3; What I have learned will last me a lifetime.

Thank you again Michael!!"
Joe Aglio, San Diego
Go to: San Diego
mini-class schedule page.
Seewald's photographic 'fun-shops'
proudly sponsored by:


Pro Camera Repair, San Diego.
SAVE 10% on first order, just mention 'Seewald workshop discount'

"Taken my cameras here for decades, always top notch work. I need my cameras
working properly in distant places, and I trust them to keep them in tip top shape." MS
Dolica Tripods
This line of carbon fiber and aluminum tripods won't break the bank.
We've got point and shoot tripods all the way up to heavy duty, large camera supports.
<![if !supportLineBreakNewLine]>
<![endif]>
page created 12.12.'11