First, photos from bass caught on
the frog in past few years-

Or skip these photos and go down
to the meat of the article here:
A trip to Otay Lake (So. Cal.) Sept. 2007
in San Diego County on Sept. 12th, 2007 netted me five nice fish on the frog in one afternoon; the biggest breaking off my 50# braid (I went to 65#, then 80#, as you can still break lunkers off. Went back to 65# as 80# would not cast well) while trying to horse her out of the tulle roots she'd shot into in, and one was only a 3 pound 'dink'. These other three averaged a little over six pounds each.


Click on photo to enlarge.
First of my three biggies was a 5-14.


Click on photo to enlarge.
The second one broke off, then I got this 6-10, a real hog
and my new PB (personal best) on a frog.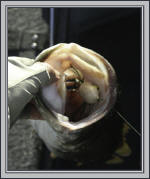 Click on photo to enlarge.
Another frog in the mouth shot.


Click on photo to enlarge.
Then my fourth was a dink - a 3 pounder (can you believe I can
call a 3 a dink? Well yeah, with the other being sixes!!!)


Click on photo to enlarge.
The fifth was also a lunker and almost lost in tangles,
but fought her out. She went 6-1 pounds.
So the 'top three' here ended up
weighing in at 18-9, WOW!
_________________________________
BIG frog action from Barrett Lake, So. Cal., in the spring of 2008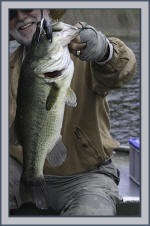 Click photo to enlarge.
On a trip to Barrett Lake (East San Diego county, So. Cal.) on 6.4.'08 I landed this monster. It is my PB (personal best) for that lake, and WAS my PB for frog fishing coming in at 6-14-- for a little while anyways.
_________________________________
California Delta,
September of 2008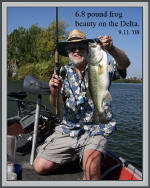 Click on photo to enlarge.
The left one was 6-8 and the right went 7-12.
These beauties all came on the frog. In one day at the California
Delta I netted, literally and figuratively, three
fish for a total weight of 18 lbs 2 oz.
(Almost beat my Otay Lake record for three at 18-9!)
_________________________________
MORE nice frog action from Barrett Lake, So. Cal., in the spring of 2010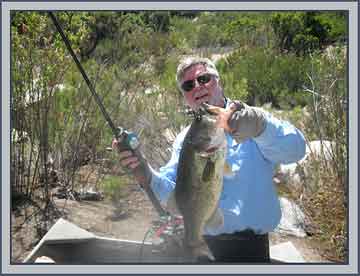 Click on photos to enlarge.
A nice 4-3 caught on a Spro Black popper frog - 5.8.'10
Another Barrett Lake (East San Diego county, So. Cal.) beauty; a Northern bass caught, and brought over and through all of that brush, some 20 yards of it, behind me! Thank GOD for braid and heavy duty rods so you can pull 'em out of the muck. And no, that is not dirt behind me, that is floating debris (very small wood chips) covering pockets of water between large boulders and freshly flooded brush! NOTICE IT'S MID-DAY! Plus, without a stout rod there would be no way I could have pulled her and her sister through, and over, all that brush like I did. Prayed like crazy, and I got them to the boat. Wish I had video, it was CRAZY good and fun.
_____________________________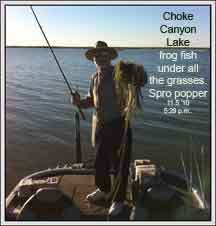 Click on photo to enlarge.
Choke Canyon Lake, Texas.
Find the bass? It's under all the grasses, something that happens sometimes fishing the frog. This from a trip to Texas in Nov. of 2010.
Lake Amistad, Texas. A self portrait at one of the best bass fishing lakes in the world. This Spro popper got engulfed by a few nice ones after this picture, while I waded in chest high water tossing to the bushes in 6' not far further out. AND, it tricked an eight pounder the next morning, light was about the same, but I farmed it during the hookset. Again, Nov. of 2010.
_________________________________
And now...
How to fish a
topwater frog.

Originally written 6.10.'05
(with updates thru 7.2015)
OK, as of July 2015 I've spent MONTHS of time using the frog (started in 2004), going on 'years of time' before I die, Lord willing. And as with a lot of lures that you look at and say, 'I don't know if a bass would really eat that thing', I said just that with the frog!!? I had one in the tackle box, but after trying it here and there and not getting anything I'd switch back after 15 minutes and go to something I knew worked, like a crankbait, popper or a plastic worm.


Click to enlarge.
My first frog fish at Barrett, September of 2004.
But the frog, worked like either a popper or a spook, works great, better even in many instances. The good part is that it's weedless and a popper is NOT.
WHERE to 'work' the frog.
When rigged properly (with NO LEADER braid, more below), you can throw it into tulles and trees and brush and wait for a couple of seconds and then twitch it once or twice and hold on for a violent hit from an angry or hungry bass. Most of my hits have been within one second of it landing, so they are ready for anything to come by to ambush it, meaning with a foot to two of the surface (the more clear, the further they'll come up for it).
And this is very important. You must start you cast, if casting from a boat, up on, or at, the shore- NOT five or six feet from it (unless there is no incline on the shore and it's only inches deep, then start in a few inches of depth). In fact, if you think close is good enough in some instances you could fish this lure for hours and not get bit, but if you had started it from the shore the results could have been 5 in the boat, instead of getting skunked. Read that sentence over again until it sinks in.


Click on photo to enlarge.
This one hit my frog after I tossed it under the trees.


AGAIN, I often throw it onto the shore and work it into the water. If you are a good caster, the first 12 inches of shore is good too. Around bushes, stick-ups and trees, which we now have a lot of in our San Diego lakes, I toss it up under or right next to them.

This is important to remember, RIGHT NEXT TO THEM. Four or five feet from the bush or tree and you have just cut your chances by 90%. They just don't like getting out of their 'strike zone', aka 'the area they feel comfortable to try and capture something'. They have learned that things too far off usually get away and they don't want to expend the energy 'wasting it' even trying.
Tulle fishing? Toss into them, not only along the edges. Ten times more fish live in them than along the edge. Especially the 'pockets'. With braid, I toss over and into some of the pockets, then horse them instantly after they inhale the frog. Sometimes I can't see the explosion, only hear it- fun stuff.

Click to enlarge.
This northern bass from Barrett Lake
liked the chartreuse colored frog.
But sometimes you can surprise yourself. I've even got them at lakes far from shore and brush in open water. I once saw a cruiser about two feet down cruising and thought, "naw, he'll never go for it". I cast it to just above his head, he turned and looked up, and within two seconds decided it was lunch time and ambushed it with a vengeance- fish on.


Click to enlarge. Spots I caught fish off are marked.
This spot at Clear Lake netted me OVER 20 FROG fish bass
without even moving the boat, up to 6 pounds. It was caught off yellow floating vegetation called 'cheese', about 1/2' thick and hard for the bass to inhale the frog in many cases. See all the frog worked 'trails' on it. all going to the same place, where the boat was. The areas in the back were only 1' deep, and 3' deep at the boat.

On 'cheese', floating 'crud', yellowish stuff (click photo above), you should work the frog by scooting it a foot or two and stopping, twitching, than starting again. AND when you get to the edge, stop longer, twitch longer and do the same after going off of it a foot or two. A lot of hits are while it sits resting, they followed it. Also stop at the openings, twitch after 5 seconds of rest. Vary times waiting, depending on 'how the fish want it', meaning sometimes they only eat it moving, and hour later they may only eat it resting. If you don't vary it you could go hours before getting a fish, but with changing it up, you might find the key of what will drive them crazy and they'll have to bite/eat it.
Video: Ken Mah on rigging a frog for
'open water' fishing
(over sunken 'grass beds' usually).
[MEDIA=youtube]ESxVr5SVY3w[/MEDIA]
Tips from Ken Mah on open water frog fishing.
[MEDIA=youtube]ESxVr5SVY3w[/MEDIA]
Tips from Ken Mah on open water frog fishing.
https://www.youtube.com/watch?v=ESxVr5SVY3w
_________________________________

How to 'work' the frog.

The other problem I see with newbie's I try to teach this technique to is that they don't really know how to work the bait. Even excellent fishermen in other techniques fail to work it right, meaning zero positive results (look up getting skunked, i.e. 'U stink')!
Pattern number 1: Hop and pause it like a real frog. A real frog uses his legs and pushes forward, kinda hopping in the water. Most newbie's just give a half-hearted tug to try to imitate this, and without any slack in the line first. This results in a frog that scoots across the water, moving slowly on the surface and not creating much action or attention. If you were a bass, would you then be fooled? Don't think so. I'll catch 10 bass to every one of my friends one if they don't get that bait moving properly. The amount of hopping should be varied to see what gets the best results. One day, or hour even, they want it slower, the next faster, but either way, make it 'hop'. Mix it up and try to notice which get the most action.



Click image to enlarge.
I'd caught BIG LIVE Bullfrogs on them before I actually caught a bass. Here is one of the many frogs that hit my plastic frog at Barrett Lake. (See that small black lump he is pushing against, that's my lure!) I usually try and keep mine just ahead of the real frogs, as the bass love hitting something being chased too, but this has yet to net a fish and I've only done it that way a dozen or so time.

Pattern number two, 'Walk the dog': You must get a good movement going to it, a back and forth action like a spook gets, if you have worked those. (Do a search on 'how to walk the dog' on youTube). A cadence that almost 'walks it' in the same place without moving it forward much at all- the lure basically flops back and forth.
Now to accomplish this 'walk the dog' pattern, or the hop pattern for that matter, you must have a lot of slack in your line so you can give a decent pull, all the way to a violent slash, but because the line is slack the only thing that reaches the frog way out there on the pads or whatever is an instant jerk, almost a pop with the slashing. The best way is to use only your wrist, no arm what so ever. Here is a secret, don't tell anyone: you want to move it hard- but not far. That way you can pull hard again, and again, and yet hardly move it very far. But the distance it does move it moves fast and hard sideways back and forth. That way you keep it in the 'strike zone' longer, the area the bass are in, and the action gets them excited, like the frog may be injured and be easy prey. When you just get off of something floating, or work you way to it, stop it for a few seconds, that is often when it will get slammed.
NOTE: This only works in open water as lily pads stop this kind of action. Do this along the tulles or lily pad edges and up under trees. A lily pad should be worked a lot slower, unless you have acres to cover, then faster would be better, stopping in openings. Then again, you might switch to a paddle leg frog that covers more water and saves you on the wrist pain hours later.
Pattern number three: mix the two up if the conditions call for it. Toss it to shore, hop it a couple of times, work it over the weeds, grasses or pads, and again, hesitate on the edges of them for a few seconds, then just twitch it once or twice, wait, twitch, wait, then start the walking once in open water back to you. The explosion could happen at any time, be ready mentally if they do to concentrate on the next important part; setting the hook.
When you get bit, remember what way you were working it, that was a good way.
_________________________________
On setting the hook.

UPDATE: 11.'10. I used to be of the opinion that if you count to three after they hit they've had a chance to get a better hold of it in their mouth. Supposedly this would increase hookup ratios. It seemed to work pretty well. And, almost everyone espoused this! BUT I am now of the opinion, voiced by professional frog fishing folks like Bobby Barrack, to set it immediately, and to set HARD. Why? Because many times a lunker will have you wrapped up in stumps or tulle roots before you can say ooops! Get that head turned and headed your way immediately. If that frog is not longer on top, reel as fast as you can, feel weight and set the hook, and never stop reeling. Button down that drag, get her in fast.
I've noticed the 'hesitation' technique has indeed cost me some bigger fish. The reason waiting used to 'seem' to be a better method is that smaller fish might reposition the bait and allow for a hookset after taking it down, but many smaller ones, under a pound even, still hit it good enough for a proper, instant hookset I've found. I believe the ones we miss many times are even smaller, so it's going to happen.
IF they miss the frog, just let it sit motionless, with a twich now and again, and many times they come back around and slam it again, thinking they have injured it. This will be easy IF you noticed they missed it right off the bat and didn't try to land them with the 'swing for the fences' hookset (like we try to do), as then the frog would be sitting 1/2 ways back to the boat, or shore if you're on it, and nowhere near where it would be able to come back for a second try. If nothing happens, twitch it once or twice, and if still not work it back in and then toss a Senko right back at 'em that you have at the ready. Three out of four times that line starts moving off just after entry. I've had eight pounders hit it again however, with casting it right back at 'em, like this one below- how cool is that?


Click image to enlarge.
This eight pounder hit the frog two times in a row,
the second of course was the charm!
But no matter what, you now know where it lives, many times you just let it relax, come back in a a half hour and WHAMMO, it explodes on the frog ALL OVER AGAIN! I've done that many times now. I've also returned and caught the same fish, off the same bush, a month later! How double cool is that? (That's why we love catch and release, we, and others, get the excitement all over again, and it you took her home you
WON'T EVER CATCH HER AGAIN!
ON FIGHTING THEM: Also, a constant problem is I forget to lower the rod tip into the water while fighting them. Why, because this will help to keep them from jumping. Once he jumps, a large percentage of the time you can probably say 'adios basssola' as they can throw that frog all the way back to your boat with their acrobatic vibrating head, as many of you already know. Especially the solid frog body styles, they weigh more and are easy to throw for them. Bass use that weight as a leverage to get it loose. I 'surf' them back in pronto with my heavy pole and braid line.
UPDATE: 11.'10
I've also learned that the pros set the hook like it's a 10 pounder that they need the head turned pronto. Why? Because it darn well might be one, and you DO want that head turned and headed your way, so swing for the fences like they do. I heard Gary Dobyn's has had smaller fish fly right over the boat on his hookset, so let's get strong!
_________________________________
Best times to fish the frog.
I fish the frog, or a buzzbait, as soon as the water starts warming up. In southern California I can get topwater action about 10 months of the year to some extent, and really good action for at least 7! I've hear it said if you hear frogs, throw 'em.

Early morning and late afternoon are a natural time but the warmer it gets out the more likely they will hit all day long.
Don't forget, the best time is the dead of summer, when bass seem the hardest to find and catch. Just toss kermit under trees and along logs or over lily pads and hang on buddy. And mid-day is really good, you'd think not, just early morn and afternoons is what most think, but I've had many of my best days at mid-day.
_________________________________


Click image to enlarge.
Spro frog bass, 17", 5.24.'08 / Lake Hodges, California
Was asked which equipment to use,
thus this was added: May of '08
What kind of line to use?
I use a heavier line now (at least 50 or 65# braid) (Note: as of June '08 I went to 80# Power Pro, but as of 2014, I've back back down to 65, or even 50, as I can cast further) due to the stuff you throw in, on and around. If you are handy with both reel styles, use a baitcaster so you can haul them in faster. Braid does not stretch so the hooksets are better than mono, which stretches and will not penetrate the bass' mouth so well.
They also have special 'frog rod's' that have a strong backbone for good hookset and a soft tip for long casts; but as with any specialty rod are a bit expensive (from about $70 to $250, averaging $150). I will get one of these rods ASAP as I fish so much topwater now. (5.'08 Got a Dean Rojas Quantum 7' PT 'frog rod' lately... sweet).
By the way, braid floats, another great reason to use it. Fluorocarbon pulls topwater lures under the water and mono works, not just the best, not for frogs.
_________________________________
What kind of rods to use?
Here are some specialty rods, most just for frogs but many can be used dual purpose as a flippin' stick. Prices are approximate as of 5.'08.
Bass Pro Bionic Blade heavy flippn' stick; Bass Pro Johnny Morris Signature Series Frog Rod that is 7'2" Xheavy Xfast ($170). That same profile is also found in their Nitro Big Bass Rods ($150) and Extreme line ($100).
Crucial 7'11 flipping stick,
Crucial 7'2" medium heavy for about $100.

Dobyn's 735C (for 'open water' more) or a 736 (for yanking the out of the trees) Champion Series Frog Rod for about $190. 7'3" Hvy XFast - many swear by these rods. 2013: They now have a line of less expensive rods.
Daiwa Light & Tough Frog Rod 7'4" Heavy Tele Price: $129.95 / TL-74T-5FB.
http://www.tacklewarehouse.com/descpageRDCDAIWA-TDLTFR.html

Falcon rods - Bobby's perfect frog rod www.falconrods.com.

Fenwick EliteTech Froggin Stik (ECF72H-XF).
G. Loomis Frog Casting Rod 863C 7'2" Med Hvy ($230)
Same Profile in GLX ($440). Loomis has numerous other rods that would probably make good Frog rods in sizes 7',7'1",7'3", and 7'5". Loomis 874 or Loomis MBR844C heavy or the FGR863C.
http://fishermanswarehouse.com/shop/cart.php?m=product_detail&p=2162

Kistler Graphite Plus Frog & Slop 7'3" Hvy ($150).

Lamiglas 806 or 797 for really 'thick stuff'. Lamiglass Certified Pro Graphite 7'2" Frog Rod ($185).

Powell 735 or for the slop, cheese, etc. bump up to the 766; Powell Max Flippen Rod 7'3" Med Hvy X-Fast ($200).

Quantum Tour Edition Dean Rojas Frog Rod 7' MH ($180).
St. Croix Legand Tournament SlopNFrog Rod is a 7" Heavy Fast ($240). www.stcroixrods.com.

Shimano Clarus 7' H, fast action for about $70. Shimano Cumara Rods have 2, 7'2" Med Hvy models that would probably be awesome Frog Rods ($220).

Team All-Star Big Boy 7'2" Med Hvy Fast ($120).
_________________________________
What kind of reels to use?
There are two thoughts as far as which reel to use. One is power, one is speed. The best combine the two in my figuring, to horse them out of problems areas pronto.
The Quantum Energy PT has a couple of nice features in that it has a very fast pick-up of 7:1, most have 6.2:1 or 6.4:1, plus it has something like 24#s of drag, most have about 12 to 14!
Here were some of the recommendations I received when I asked on one of the fish boards.
Abu Garcia, Revo SX for $149, or the STX $199 ('09- I got the Revo, sooo sweet).
Daiwa 7:1 zillion, over $200.
Quantum Energy PT,$189. ('08- I got this one for my swimbait rod, also sweet).
Shimano, Castaic,$169.

Update 9.1.'11 Just got a nice Curado 200E7, a 7:1 with 11 lbs. of drag, fast for setting hook and getting them out of tough spots, and with enough drag to make sure I do get them out when they go in. Casts a mile- AGAIN! Sometimes out reels get old and we think it's our fault we are not casting as far, it's more about the gear needing cleaning, or replacing.
_________________________________
What kind of frog to use?
As far as which frog, I'm experimenting with them all. But to date, my favorite two are the Dean Rojas SPRO PRO Bronzeye and the Snag Proof 'Bobby's Perfect Frog".

Bobby Barrack and Dean Rojas are both masters of this technique and have won a ton of money on tournaments fishing them!
Bobby Barrack's FROG EXPLOSION You Tube video
Bobby Barrack's Toad landed at the Delta You Tube video
Snag Proof 'Bobby's Perfect Frog' 1/2oz - $6.99 - 9 Colors


http://www.tacklewarehouse.com/descpageHDTSNAG-SPPF.html



Click on photo to enlarge.
Snag Proof Tournament frogs.
This Snag Proof Tournament frog has been working for me just fine; just superglue the front to the hook so the water does not get into the bait so easy.
_________________________________
Frog Lure Updates
10.'09 UPDATE:
Man o man, the new Rojas Spro 'popper' frog is the real deal, all of the new picture posts from Barrett Lake, above, were on it.

Yes, NEW for 2009
The Spro 'Bronzeye Popper Frog'
Click here for a video by frog designer / pro Dean Rojas on his story about learning how to fish the frog.
11.'10 UPDATE
Still using this one, this exact pattern, and been slaying them. Had an eight pounder absolutely try to crush it for breakfast through a batch of pod grass on Lake Amistad in Texas three weeks ago. What a beautiful site seeing this lunker come out of the water, with my lure and a pound of grass in it's huge mouth as half it's body follows that large mouth up and out of the water, before slowly sinking back down to try to swallow it's prey. Unfortunately, this time she missed, taking a lot of grass, and my heart, back down to the depths with her.
AND, a lot of guys I fished with (on their 'back seats' as I did not take my boat down there, just bummed seats thru fish board contacts or waiting and asking at ramps) were getting a lot more action in November in S. Texas with plastics, however they leaned that frogs work mid-day as I constantly caught less, but bigger, fish on my frogs. Water temp was still in the mid 70's, down from 95 degrees in August and September- YIKES. But I heard the frog bite was off the hook and all tackle stores were sold out of frogs there the month before- dang).
_________________________________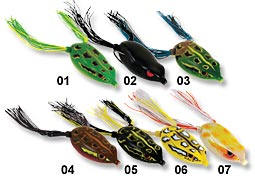 _________________________________
My favorites to date are the Dean Rojas
SPRO PRO Bronzeye Frog. Comes in 17 colors and 2 sizes, the regular at 5/8 oz, or the 'Jr.' at 1/2 oz.. About $8.
From the Bass Pro ad: Sleek, mean, and perfectly balanced. Wild leg kicking action bass can't ignore. Specially weighted to cast long and always land on its belly. Weedless design with premium Gamakatsu® hook.
Bass Pro Shops- Rojas frogs

I see where there is a very heavy SPRO frog now, a 7/8 ounce SPRO Jungle Frog.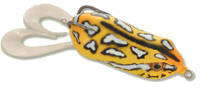 From an ad:
The Jungle Frog 30 is Spro's newest weapon in their ever growing arsenal of fish catching lures. The New Spro Jungle Frog 30 will get your heart pumping with the anticipation of the next topwater explosion of that trophy fish. The realistic colors of the Jungle Frog will entice the biggest and smallest fish. The Jungle Frog 30 has many features necessary to fish weedbeds, lily pads and other types of grass. The most important features of this new bait is the inter-changeable tail, adjustable internal weight system, and the addition of a swivel inline with the shank of the double Gamakatsu® hook. The swivel makes it possible to adapt the Jungle Frog to various fishing condition by adding a dressed trailer hook, skirted trailer, inline spinner or a G-Stinger for those short striking fish. The Jungle Frog 30 has a realistic shaped body which keeps the Gamakatsu® double hook in the best position to penetrate the mouth of the toughest, scared fish in the water. Size: 7/8 Oz.
_________________________________
River 2 Sea Bully Wa 65

Click photo to enlarge.
From the River to Sea ad page: In many cultures the frog is a revered animal, and our frog family Bully Wa is no different; only this frog demands respect. Bully Wa is perfect for fishing on top of matted weeds, but our unique keel shaped design makes this frog walk over open water like no other. With River2Sea's enhanced water seal on the hook shanks, Bully Wa is now one of the most versatile frogs on the market. This new bead feature on the belly of the frog minimizes the amount of water that enters during the retrieve, yet allows air to escape on hookset. This frog family includes three members, Bully Wa 55 ( 2 1⁄4 in), Bully Wa 65 (2 1⁄2 in) and Bully Wa 75 (3 in). Armed with Gamakatsu EWG Hook (Bully Wa 65), and River2sea's Frog Double Hook (both Bully Wa 55 and Bully Wa 75), these Bully Was will "bully" the bass in your lake into striking.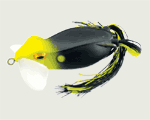 I've used this new one recently, it has a clear lip in front to help in the walking movement. This color is deadly at California's Clearlake as a bird up there has these same colors and they eat a lot of them.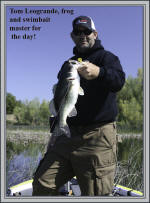 Click photo to enlarge.
Here friend Tom Leogrande holds up yet another frog fish he got on the 'tweet bird'
pattern with me up at Clearlake, CA in April of '08. He got all his with instant hooksets, giving me the first hunch that the 'wait and set' technique needed to be re-visited, and I eventually did.
http://www.river2seausa.com/t/bullywa.html
_________________________________


Click on photo to enlarge.
Boze Sumo Frog- 16 colors- Color Chart
2.75" Body plus 3" legs - 5/8oz.


Click on photo to enlarge and read specs.
Boze ZZ Walker topwater bait.
Here is the one I tried yesterday (kinda a legless frog, worked like a 'walk the dog' hardbait) most of the day at Hodges, getting 6 blow ups and one fish in the boat. Not bad considering a month ago I only got two blowups all day. If this bait came a bit smaller I'd like it more, fish two pounds and smaller had a hard time trying to eat it. (The bass at Barrett Lake, an east San Diego County reservoir, of 2 pounds and up, had no problem eating it.)
The bigger bass (2 lbs and up) will eat this better, I had some smaller ones trying to.
_________________________________


Click on photo to enlarge.
Reaction Innovations 'Swamp Donkey'
Length: Body: 2.75", Legs: 3", Weight: 1/2oz

Notice the long strands for legs? Too long? For most folks yes. I trim them to 2/3'rd the length, if not 1/2 if I really need to get the 'walk the dog' pattern to be exaggerated, and to prevent short strikes.

Here is what they say about it at Tackle Warehouse.

Reaction Innovations Swamp Donkeys may be the best designed hollow bodied frog bait on the market today. This relentless attention to detail has resulted in new innovations like an all new double hook made exclusively for Reaction Innovations. This hook features turned-up points for more positive hookups and will keep the points from digging into the body of the bait, a real problem with other baits, greatly increasing your hookup ratio.
The body design of the Swamp Donkey is longer and narrower than other similar baits, giving a better walking action in open water and the ability to come across the heaviest cover. The nose of the Donkey will not slip back down the hook like other hollow bodied baits, and the material is very soft but is extremely durable and will rarely tear. Attention to detail and innovative design sets this bait apart and you'll know that it is up to the quality standards of all the other great Reaction Innovations products.
Note: I personally have not thrown the swamp donkey yet. Some have high praises, some say it's their least fav of the selection. (Note: 11.'08, I have thrown it this year, it was ok).
_________________________________
ALSO NEW for 2009
Bass Pro Shop 'BigFoot Frog'
5.25.09 I recently made a combination hollow body and kick-leg from two different baits as I wanted to have versatility in my frog that none had. I liked a sit, wait, pop but also one that could attract once it worked it's magic next to a downed tree or in a tulle or lily-pad type area.

Then a couple of weeks later I found someone had the same idea and BPS now sells them, it's called a 'bigfoot frog'. UPDATE: Tried this for awhile, but the quality is just not there. They tear too easy, and after a bass or two it might sink quickly from tears. I don't use them anymore. Price is low, quality is also.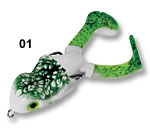 The BPS 'Bigfoot' frog.
PS Someone on a 'fish board' (discussion board on fishing) informed me of this kicker style frog out there too (don't know which came first, but this one runs $7.50 average). Legs look a bit thin (can get torn off easy) but high quality Owner double hooks: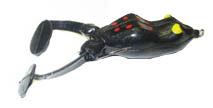 Snag Proof 'Bass Kicker Frog'
Might last longer, hope so..
______________________
2010/ 2011


Click photo to enlarge.
Koppers Live Target Hollow Body Frog
Winner of the 2010 ICAST - Best Soft Lure Award - the Koppers Live Target Hollow Body Frog is one of the most detailed and realistic frog baits to ever hit the market. Anatomically correct with unprecedented detailing, it sits in the water on the pause just like a real frog - tempting bass from below. Designed for fishing way back in the thickest mats and vegetation you can find, the body of the Hollow Body Frog is extremely soft, providing excellent collapsibility, and easily exposing the bait's super sharp wide-gap double-hook. For anyone who loves catching bass on a frog, the Koppers Live Target Hollow Body Frog is hard to miss.
10.2011 - Koppers 'Live Frog' update:
I've bought a couple of these, and they seem to sit lower in the water than I would like, and not walk the dog as well. I'm not as happy as I would have liked, as the detail in these are incredible. Too bad.
| | | | |
| --- | --- | --- | --- |
| Koppers Hollow Frog | Length | Depth | Class |
| FGH45T | 1-3/4" | 0 feet | Floating |
| FGH55T | 2-1/4" | 0 feet | Floating |
| FGH65T | 2-5/8" | 0 feet | Floating |
http://www.livetargetlures.com/freshwater/frog-hollow-body/
2012 Update. The Live Target frog has turned out to be a lot nicer than first thought, for two reasons. THEY LAST FOREVER, and when spending $8 to $10 on frogs, you don't want them to only last for a couple of bass before tearing. These lasted for dozens of bass.

Secondly, the hookup ratio is UNREAL. Some days I don't miss a fish, and usually you miss 50% of blowups. AMAZING, and it's due to how soft the body is, is crushes when you need it to, exposing the hooks.

Don't forget to sharpen these, and any lures, with every fish or two caught, this will increase hookup ratios dramatically too. Also, sharpen it brand new, they are NEVER that sharp, even out of the box.
2011 Update:
Strike King's KVD frog.


Click photo to enlarge.
Have not purchased this frog, just found out about it. Looks
like a marriage of a Spro and a Koppers 'Live Target' lure.
April / 2012 Update:
Well, I was excited to see Ish Monroe's newest upcoming release, the
Poppin' Phatty Frog
it's got two cups on each side of the pointed front end. Should displace a lot of water and still 'walk the dog' pretty well. CAN'T wait to get my hands on a couple.
2015 Update. Tried it, the Spro Popper is still my favorite for this style of frog fishing (popper style).

Here is Tackle Warehouse's link to many frogs and other soft baits that are for sale: http://www.tacklewarehouse.com/softbaits.htm
_________________________________
Big secret on why I
outfish my buddies!


Click photo to enlarge.
Glass rattles will help the bass find your frog!
Many times I outfish my buddies on my boat 5 to 1 on frog fish. Why? Because they don't take my advice to stuff a glass rattle inside it's body. The rattle, with a little lead ball or two in them, varying in size, lets bass know the frog is up on the 'junk', or lily pads, whereas one without might not get noticed. It also might be it sounds more 'real', as birds, frogs, or other reptiles on the mats and pads must make body sounds as they walk over them. Don't know exactly, but I do very well with adding them. Some come with them, most don't. Spit on the bead and shove it in where the hook comes out of the body, not easy but it will go in. Even the smallest will help, but on real windy days the bigger the rattle the better, they have a hard time knowing something is above them on those days. Same on 'stained water', you'll need help letting them know where your frog is.
_________________________________
Soft Plastic Toads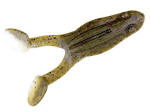 YUM buzz frog
Here are a few brands of the toad style lures-
Zoom Horny Toad,
YUM Buzz Frog,
Stanley Ribbit or Stanley Bull Ribbit (5 inches long!), Uncle Josh's Sizmic Toad,
Gambler's Cane Toad,
Mann's Hardnose Toad,
GrandeBass Mutant, (more of a creature bait but makes a great wake bait with all of it's appendages) etc..
They are generally between 2 ½ inches to as big as 5 inches long. Most have a slot either in its belly or on top to accommodate a hook. In effect, the toad is a soft plastic buzzbait. The benefit is that they can be fished where buzzbaits would not work, such as lily pads, weeds, matted cover, etc.. Most toads have paddled legs which really kicks up the water, thus attracting bass from a distance, meaning you can cover a lot of water- and that's a good thing right?

Click on photo to enlarge.

October of 2005,
Seewald in So. Africa
This smallie fell to a Zoom 'Horny Toad' frog imitation. I had great topwater action on it too. It's a new lure for me and working wonders. I had limited space to bring a set of lures/plastics to So. Africa with me, but I made sure I had some of these.
It has two feet that kick up a storm as you reel it in. It's not a real frog type bait in that it will not float if you stop the retrieve.
And as a friend reminded me, "To help keep weeds and slime off of the bait use a glass or plastic bead in the front of the bait." That is something I've just started to do, and it works wonders. I use it in front of the Senko's now too, it saves a lot of those from tearing.
Oh yeah, here are some hooks that are becoming very popular and I recommend them. They are a screw-in hook (there are a few styles) which will considerably extend the life of your toad (or fluke). Depending on the toad, the hook acts like a keel to keep the toad upright as you retrieve it.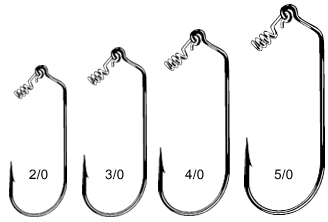 Typically, a 3/0 – 5/0 EWG (Extra Wide Gap) hook should be used.
_________________________________
Fishing 'fluke' type baits.

Fishing 'bass assassins' or a similar fluke type bait works well too, and if they miss it you just let it sit and they will hit it again one or two seconds later to get the 'injured minnow' they have left stunned for lunch on the surface.


Click on photo to enlarge.

A type of bait, general name of 'fluke'.

Again, wait to 'load up' on him before you set the hook. Don't swing because of the blow up, but watch and feel for the weight of the fish and then do so. (Same as spooks or buzzbaits for that matter, I keep working it like they never hit until I feel their weight and then speed up the retrieve and swing. They don't throw these flukes as much, as they are not as heavy, so you can hold up the pole and watch them jump. That's the fun part, unless you are in a tourney and it's important to land him. I always toss them back after getting a picture, and come back in a week or two and try to get them again. Many times I do, and sometimes a year later even when they have added another pound or two!



Click image to enlarge.

Here is one that hit my fluke SIX TIMES, worked topwater herky-jerky as slow as possible to keep it from sinking. It was last Christmas at the Colorado River in Arizona. A local pro said, 'too cold for topwater' after I asked. Tell that to this bass that I got out from under a weed mat along the edge of the main river. He hit at it five times in a row in five casts but the weed mat was so thick he had a hard time grabbing it. Sixth time was a charm. Gill hooked caused the excessive bleeding.

_________________________________

Blessings, I hope this will help some of you that tried it but gave up. Shore fisherman can do this parallel to the shore, or working those trees and bushes now out in the water. If you are new to these techniques let me know how you did when you tried them, OK?

Michael Seewald
AKA Otay Michael
_________________________________
About Buzzbaits
Buzzbaits work wonders too, as weird as they too might look, but watch out once you learn those, bigger bass for sure get stirred up and enticed due to all of the action and noise generated. The bigger the bait size, the larger the fish caught generally. My biggest bass to date (my PB it's called, or 'personal best') came off of this bait in April of '08.


Click to enlarge.
Well, here she is in all her glory, weighing
in at 8 pounds 10 ounces.
Previously my PB had been 8 1/4, caught on, you guessed it, a topwater lure. It was with a Rebel popper back when I was a 'kid'- about 17 years old. But as I'd quit fishing for 30 years I've made up for a lot of lost time on fishing top water, don't you think? It's because of other generous fishermen that post 'how to' on the internet, like I do now. Pass it along folks, help others out when you get a chance. Take a kid fishing too.
_________________________________
Update September, 2008
Well, I really killed 'em this year, as some of the pics at the top of this article prove. But to see the day I got over 20 on the frog , averaging 3 lbs each, see my 2008 report here. Scroll 2/3rd of the way down to the
Clearlake report marked
Frog Day, 7.22.'08
_____________________________
So, what's the biggest bass
ever caught on a frog?
Well, I might guess this posting about
a 15.77 lunker could be that fish...

WOW, must have been a real thrill, huh?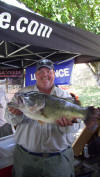 Click to enlarge.
Mark Keyes 15.77 ACWRL tourney
(California Delta),
June 27th 2010- Big Fish
The following was written JONATHAN ASHCRAFT and posted by him over on WesternBasss.com.
"Congratulations to Mark, that fish was just awesome and he did everything right from the hook set, to getting her into the boat.

Mark was throwing a Snag Proof frog on 30lb Power Pro braid with a Lamiglass rod and a quantum reel.
She fell for the Snag Proof 'Bobby's Perfect' Frog shown here:
http://www.basstackledepot.com/snagproofperfectfrog.aspx

I just heard a BIG KABLOOOSH and turned around to see the head shake, right away I knew it was a DD fish, but it was buried in the salad. Mark kept that rod bent and was grinding it in, I get the TM on high and go to her scoop the salad, as now we don't see the fish at all, go to lift into the boat and the neck of the net just bends down, so I quickly lean over and grab both sides of the hoop as Mark grabs me by my pants to keep me from going over. Lift her up and start the unveiling process, layers upon layers of salad to reveal this beauty of a fish. We were shaking, high fives and hugs go around the boat. Now for the part of putting her in the livewell, we had to press her gills in to get her head to fit into the livewell - Shocked. ...

Again well done to my friend Mark, I am honored to have been there, netted that fish and be apart of that moment of a lifetime for both of us. Thank you my brother."

Ash
______________________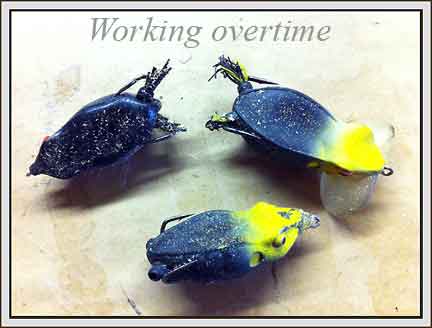 Click photo to enlarge.
A Spro and two River to Sea frogs.
My frogs get worked pretty good in a season, most of the damage is done from the wicked places they've been tossed into, or over, and expected to do their thing. Thus, they end up looking like these in a few days of 'work'. But they are salvageable, see pic below.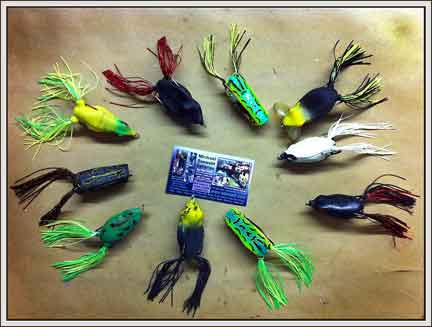 Click photo to enlarge.
Spros, Spro poppers, Bobby's Perfect frogs, River to Sea.
My frogs get new legs every other season or so, and go back to work. This batch got renewed in June of 2011, just before I went to the Snag Proof Open up at the California Delta-
Story here: http://www.seewald.com/2011_july-dec_.htm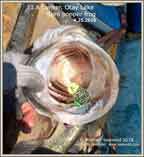 Click photos to enlarge.
Seewald's new 'personal best' bass, as of 4.25.2018, with an 11.6# HOG, came off a FROG, how fitting.
Right pic: the mouth of the beast, lure still attached. Story here