The area was the Western Cape, a Provence of South Africa. I had just finished working for 8 days with some 160 folks, mostly from Fresno, California (People's Church), over in Swaziland. We had been planting gardens for the poorest of the poor (and where a WHOPPING 50% of the kids are dying from Aids) with an organization run by Bruce Wilkinson called Dream for Africa. I scheduled an extra two weeks to create some photographic art and planned to do some bass fishing if I could find any... and boy did I find some.

After saying goodbye to the wife and the rest of the 159 folks I flew from Jo'burg to Cape Town and then rented a car. My first day I spent driving down the 'Garden Route' along the southern coast, where I tried my luck with some shore fishing. Some guys were having a little luck, but all I got was a little wet by an exploding rogue wave while tossing some small swimbaits around.




Click on photos to enlarge. Click on photos to enlarge.

The Wiesenhof Dam (that is what they call their lakes, dams).
Well, I was very blessed as some friends I was planning to visit where out of town so they said I could use their home. YEA, that would save me big hotel money. It was in Helderberg, in the community of Somerset West about 45 minutes from downtown Cape Town.
While I continued driving/looking for photographic possibilities for the next three days I would stop and toss a lure or two into every pond and river that looked 'fishy' for a minimum of 10 minutes each time. But there was no sight of bait or small fish along the shores, and it had me wondering if any fish actually lived in these waters. Now I had seen some bass boats being towed north of Jo'berg a week earlier so I knew that there must be bass SOMEWHERE in S. Africa!! I finally asked at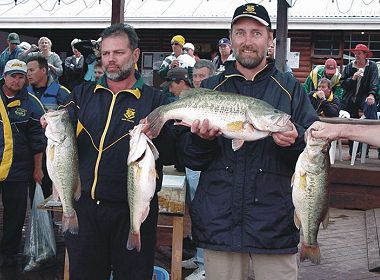 Danie Fourie & Siggy Kulenkampff (border) with their winning bag (4 of 5 shown),
last day of Provincial fish-offs, Siggy holding the weeks largest bass 4.03kg
an information booth and they know nothing of the sport, but was given the name and number of a sports industry contact and he referred me to a local named Danie Fourie. Not only was Danie (pron. Donnie) somewhat familiar with bass fishing there, come to find out he had gone to America to fish the Bassmaster Classics representing South Africa with a few other gents a few years back and ranked one of two top fishermen in the country, T.U.L. (thank U Lord!).
He was very excited to hear a bass fisherman from America was in town and immediately put me in contact, via phone, with one of his fishing buddies, Siggy Kulenkampff (they are both pictured above). They had won 'top fishing team' in a So. Africa 'Bassmaster Classic' type event just the year before. Siggy is a real promoter of the sport there too. So much so, he flies to government meetings in Jo'burg to explain why bass fishing is so necessary there (he said as it's not a natural fish in African waters, and some environmentalists wanted them eradicated!) He's fighting hard to keep them.


Click on photo to enlarge.
After a weeks stay my friends returned so I moved into one of Siggy's 6 chalets (kitchen with all utensils) that he and his wife Julia offered me- more major blessings. One of many cool features of his 'Game Reserve' is that I would see zebras, wildebeests, springboks, etc., besides have four lakes to fish on, right outside my front and back doors!!! It was as if I had died and gone to heaven.
The Wiesenhof Dam, Stellenbosch


Click on photo to enlarge.
The Wiesenhof Chalet


Click on photo to enlarge.
The Wiesenhof 'Coffee-shop pond' (as I named it).
Siggy showed me around his property that first day, driving me up and through his gave preserve and offered to take me back though when the animals would come out to eat later that evening. I declined saying I'd rather he joined me for an afternoon bite on one of this lakes. He went back to work in his home/office and I went to work trying to catch some bass.
I did not do too well in this biggest lake, but I pulled quite a few bass out over these lily pads at dusk (pictured above and below). It was quite harrowing as I kept figuring if they buried themselves down in it I would never get them out. (I only had 10 pound mono on). I kept their heads up and cranked like crazy, not loosing any. Primarily I used Senkos or flukes, fished topwater mostly, but would let them 'die' if I thought it was needed.



Click on photo to enlarge.
My first S. African hog, caught at the 'coffee shop pond'
after a noon to 6 pm skunk job at the 'regular' lake (Wiesenhof Dam).
I got about 4 or 5 bass all in about a 20 minute window at dusk. The hog came last, just before compete darkness in just a few inches of water under a tree, also in the lily pads. It was very exciting.
Idas Valley Dam, Stellenbosch


Click on photo to enlarge.

My first Idas Valley bass. Lambert had already landed half a
dozen before Danie or I caught one.
Danie, his son Lambert and Lambert's friend and I went to the Idas Valley Dam on a Saturday morning. We met at the house I was borrowing from a friend in downtown Somerset West at 7 a.m..


Click on photo to enlarge.

One of the coves at Idas Valley Dams.


Click on photo to enlarge.
Danie's son Lambert constantly out fished us all.


Click on photo to enlarge.

Lambert lands yet another.

Upper Idas Valley Dam. Loaded with trout but the bass have not made it up there as far as we could tell. Too bad we caught and released up to 10 bass earlier just down from here. Most were 4.5 pounders too. We could have 'stocked it' for future good times.
Lambert and his friend fish from the float. Between the three of us (Danie was around the corner) we caught 7 or 8 four to five pounders here in just a half hour. Again, it was like dying and going to heaven- they hit whatever lures we tossed their way- topwater, spinnerbaits, crankbaits and plastics.
Part of our good morning catch. You can see the Yamamoto Hula Grub plastic still hanging from this bruisers lip. I was starting to believe their truly were bass in So. Africa... and quite nice ones to boot!!!
Danie doing some non-fishing business. I too walked around in the water with pants rolled up to get inside the tall tulles and thick brush along most of the lakes edge, getting on fish I could not have reached otherwise.
Eikenhof Dam, Grabouw
The next day, Sunday, Danie, Lambert and I hit this large 'dam'. It was known for it's huge numbers of smaller largemouth bass. 100 per day per person was not unheard of here they reported.


Click on photo to enlarge.
Here is one of the larger ones.
It would have been a perfect lake for an ultra light rig. I landed some 22 smallish large mouths on this day, but young Lambert had 42 under his belt in the same time!!! They were not too cooperative at first, the water a bit cold, but by 11 a.m. things were in full swing.
We left at 3 p.m. but found a nice pair of ponds in town where I caught 3 much larger ones, (about 3 pounds each) giving me a 25 fish count for the day. I was warned not to come back by myself as it was to close to the townships with some dangerous folks that would take advantage of a solo fisherman there. Of course, I heeded Danie's warnings. Their murder rate in some areas are the worst in the world.
Back at the Ranch....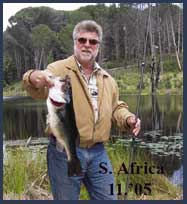 Click on photo to enlarge.

A couple of days later, just before I left with Siggy to go up north to see/fish his favorite lake in all of S. Africa (to Bulshoek Dam) I got another nice largemouth on his property. I usually fished it at the beginning and ending of the day, with the middle hours in search of photographs. The area is quite like N. California's Napa-Sonoma wine region with wineries scattered over rolling hills between mountains. It was so picturesque.
Anyway, with this bass, three times was a charm, as this brute broke off the first hula grub I threw when I got overzealous with the hookset, then she hit the second offering but the hook was too small to set properly so I changed back to a 5/0 which was the determining factor in getting her in for a quick photo before releasing her.
This was one of the four lakes/ponds within 100 yards to my chalet! More of a bass heaven than anywhere I've ever been. Here is a link to Siggy's ranch/game reserve: http://www.wiesenhof.co.za/index.html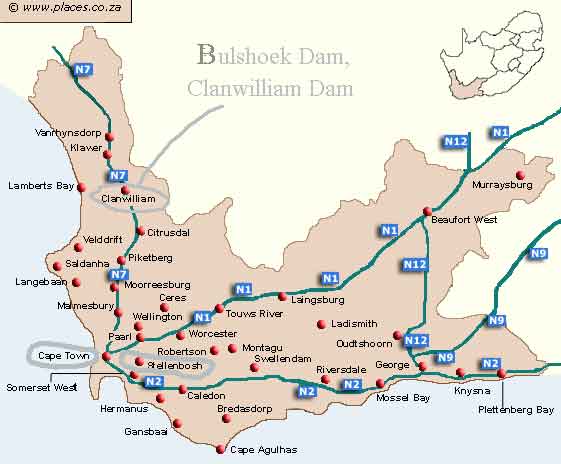 Map courtesy www.places.co.za
This partial view of S. Africa shows most of the Western Cape province.
Notice Cape Town, Stellenbosch and Clanwilliam.
Bulshoek Dam
Just north and next to
Clanwilliam Dam
Known for it's great bass fishing, especially it's smallmouth bass. It is located about 250 k north of Stellenbosch, (which is about 1/2 hour north of Cape Town) up Highway 7.
Siggy with his Ranger prepped for action. It was one sweet boat to fish in.
He has is set up to go 10 to 15 mph faster than the same American Ranger models due to alterations allowed in S. Africa that are not here. We fished the afternoon topwater bite and then had a great Barbeque at the lakes edge chalet we rented.



Click on photo to enlarge.

Siggy lands another nice smallie on a buzz bait. We got lots of action on it and the Zara Super Spook, his favorite topwater lure there.


Click on photo to enlarge.
The next morning (Thursday, the 13th) I got a nice smallmouth on a topwater fluke again.


Click on photo to enlarge.
A close-up of a smallmouth. Note the size of the mouth
compared to a largemouth.


Click on photo to enlarge.

We worked the river entrance to the dam. I lost two nice ones on
the 'Horny Toad', not knowing the hook had buried itself into the solid body of that frog lure. Siggy said if it was a tournament he would have had to throw me overboard. (Note: He was just kidding!)


Click on photo to enlarge.
Siggy gets a largemouth on a top water lure.


Click on photo to enlarge.
2nd smallmouth on my fluke, early morning.


Click on photo to enlarge.
Another smallmouth hits my Zoom 'Horny Toad', late afternoon. I had great topwater action on it too. It's a new lure for me and working wonders. As I had limited space to bring a set of lures/plastics, I did not have the bass colored Horny Toad, which would have performed three times better during the brighter daylight hours.

We fished the dam (again, that's their word for lake) the next whole day (6 a.m. till 6 p.m.- we had to drive the three hours back so left before dark) and caught about 12 to 15 bass between us, averaging about 3.5 pounds each. But we lost another 30 from the bass just attacking the lures to protect the fry that were everywhere. We had a running joke that the lake was full of blind fish and we pray for one that could see. It was a little exasperating seeing a 5 lb smallmouth blow up on the lure only to spit it before you could set the hook.


Click on photo to enlarge.

This 'smallie' fell to a Zoom 'Horny Toad' frog imitation too. Caught quite a few largemouth bass in between the smallies. The largemouth were more around the brush and tulles, the smallies were around boulders and steep drop-offs.
Now I know why my new friend Siggy could not wait to introduce me to smallmouth fishing. These beauties fight at least twice as hard as a largemouth. The design of the fish makes it much faster. As he said, they chase their pray down, they don't need to ambush it, they are faster than anything. And man, they somersault straight up and out of the water, into the lures, creating a topwater bite unequalled by anything I've ever seen.
We ended up fishing topwater almost the whole time, with some spinnerbait and crankbait action mixed in around mid-day. Siggy wondered how many casts we must have made in the 12 hours and I gave an educated guess (20 seconds per cast and retrieve) at about 2,200. Wonder how many times we cranked the handle?
Thank U Lord for this wonderful experience. And thanks Danie, Siggy and Julia for taking in a complete stranger and giving him many great bass fishing experiences he will never forget! Is there bass fishing in S. Africa? HECK YES THERE IS!!!
THE END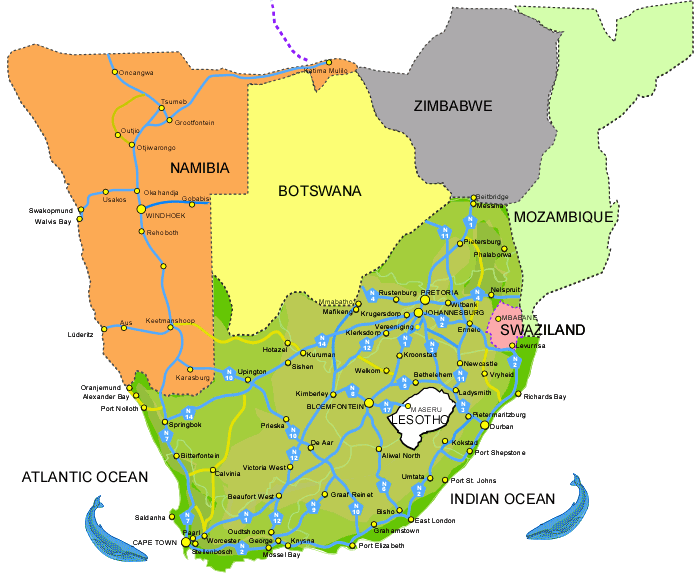 Note: the area I fished was just above Cape Town, on the bottom left of the country next to the fish's head. Notice the country of Swaziland (painted pink), where we went and planted the gardens for the poorest of the poor. It is a six hour bus ride, after taking into account the one hour border crossing procedure, from Johannesburg. Jo'burg is just to the left of Swaziland (about an inch on this map due west, larger yellow dot). It takes two hours to fly from Cape Town to Jo'burg.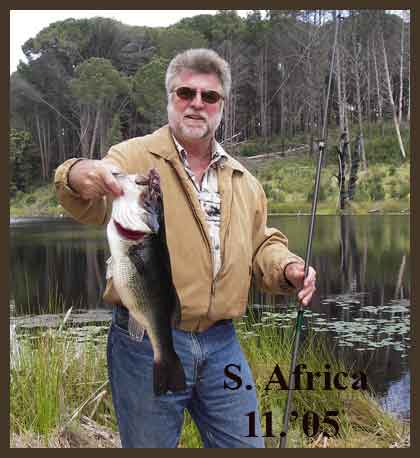 Back to Seewald Bass fishing stories/ home page.