Dixon's 21.7# Bass
'Dottie', the world record, dies
world record bass and the top 10 largemouth bass, top 10 record bass, fine art photo, stock photo agency,top 10 record bass lakes, top 10 anglers, top 10 big bass, top 10 hogs, top ten record bass, lake dixon record, dickerson, Dickerson, fishing, Mac Weakley and Mike Winn, mike long, 25.1, 22.4, world record bass, top 25 bass caught of all time,largemouth bass, big bucketmouth, world's largest largemouth bass, lake records, lake largemouth bass record, huge fish, biggest fish caught, lake dixon record, otay lake, castaic lake, henshaw lake, state record, largemouth bass state record, Castaic largest bass ever caught, bass fishing, lake record, lake dixon, california, san diego bass fishing, record for biggest bass, largemouth bass fishing reports,Carmel, Carmel Valley, san diego, old bucketmouth, black bass fishing, clear lake, henshaw lake, otay lake records, san vicente lake records, bass fishing, catfish, bluegill, crappie, fishing techniques, zebco, plano, sinko, r&r plastics, mercury motors, minn kota, russ bassdozer, mike long, jed dickerson, IGFA, Castaic, a huge fishery north of Los Angeles, lake oroville, lake sonoma, delta fishing, upper otay, cuyamaca, revenge baits, rapala, poppers, rebel lures, nitro bass boats, colorado river, world record bass

Back to Michael Seewald's
Fishing Reports
Bass Fishing Homepage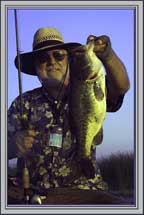 Seewald at Clear Lake, CA., 7-'08. Click to enlarge.
World record bass.
Lake Dixon, California
4.13.'06
The day I,
Michael Seewald,
(aka 'otay michael' on the fish-boards)
almost caught the worlds largest bass!!!
Herbert Kellner, a friend whom I was teaching 'bed' bass fishing' to, and I hit Dixon Lake here in N. San Diego County (Escondido) at 6 a.m. yesterday and we fished most of the day. Now Lake Dixon, for those of you who don't know, is the small lake where the world record bass had been snagged, disqualifying it so far, from making it to the 'official' records books, by Jed Dickerson just a month ago.
While we were fishing in the a.m., a young man motored up with his girlfriend and asked if we were fishing the bed by the big rock. I said yes, as a fish about 4 lbs was on the bed. I thought it's either the biggest male I've ever seen on a bed or the male had been caught and the female was now left to defend the eggs as no larger fish ever came up to the bed to join it, at least not that I had seen in the 1/2 hour of trying so far!!? We tried our luck for quite some time but nada, it was still not interested.


Click photo to enlarge.
Photo courtesy Thomas Kressley.
Note: some coves as large as you see are unseen, down by the dam.
Dixon Lake, 80 acres of big, trout fed bass!
WE caught a couple of other small fish on beds nearby and then moved on to try other spots. Later on, a couple of hours later, we came back to this fish, hoping to get her to go. The wind came up making it difficult to see below now. Out of the corner of my eye, in deeper water, I saw this large shadow slowly come out way. A black thing, or things, cruising in the distance near the surface. I thought it too big to be a bass, if it was a fish it had to be a carp. But it seemed too round, then I thought it was a tight bait ball, but it moved too well as a group! I sure wished I could see whatever it was, but then it sounded deeper when it got near and went right down to the bed I was working on, how weird was that.
At the same time, the wind died down a bit and made it a little easier to see the 10' bed below. And then I saw a WHITE flash from the belly of the fish as she turned sideways to get a better look at my bait ON HER BED! WHOA and OH MY GOSH, that giant thing IS a HUGE BASS and it was down there staring at my bait!!! And so the lone female was no longer that, it's really a darn big male after all. WOW. I could hardly speak- I told my friend to look down quickly but he was eating some sardines in a can. I yelled for him to quickly look but he was stilll not moved. The fish was staring at my bait on HER BED. I was tuning into a wreck.
"TAKE IT, TAKE IT" I both yelled and prayed.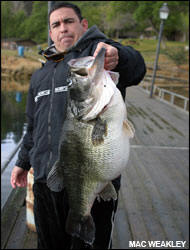 3.20.2006
Photographed and released; this 25.1-pound largemouth bass held by Mac Weakley's partner Mike Winn was 'almost' caught by Michael Seewald less than one month later.
Jed Dickerson claims the 21.7-pounder he caught in 2003 (above) at California's Dixon Lake is the same 25.1-pounder taken by his angling partner Weakley.
________________
By the way, She was Mike Long's catch too, at 20 pounds, 10 ounces in April 2001. The power of 'catch and release'.


But no such luck, and turned away and slowly moved off into the deep like some fat old submarine, she swam off with nothing in her mouth but my heart.
"Oh my gosh, we should tell someone about this fish, I should call Mike Long and John Kerr, I'd rather them catch her than that trio who got into it just for the money" I told my buddy Herbert, who didn't know who I was talking about. I thought it to be 30 pounds, but what do I know, I'm no expert on guessing giant bass' weight viewed underwater. Then I looked around and guess who I see? I mean just seconds later...That's right, the BIG TWO- John Kerr and Mike Long in a boat headed our way (there are only rental boats on this lake, with trolling motors attached on the back), the two 'big bass fishermen' I was going to contact.
Now these two weren't good friends, just acquaintances, and we recognized each other as they got close. I excitedly told them about it, and they said they knew, they had been told and were just waiting for us to get off her or catch her.
They said the young man whom had talked to us earlier had called them and said it was at least 16 pounds, if not bigger! And now I know why he had asked us if we were fishing THAT bed by the big rock, but little did we know what other half of the team (that giant female that was mostly off in deeper water) looked like. Bed fishing can be so exciting, and yet such hard work.
OH MY GOSH! The BIG TWO! Anyways, we told them we had to leave the lake early (3 p.m.) instead of at dark, which is usually when I leave lakes, and that we would try for half an hour longer and then we'd call them so they could take over this bed. I threw my bait on her bed and tried/wished/prayed she'd come back for a visit but a 1/2 hour goes by darn quick, even more so knowing a 16 or larger was down there (heck, I'd never caught a ten, this would really be a new personal best for me). We then called them over and I wished them the best of luck.

Unbelievable, I still think it's all a dream, but it's not. If it turns out to be the 'you know what- the WORLD RECORD', at least I can say I saw her and tried to get her.
_______________________________________

Update: 10.'06 - I talked to Mike Long a couple of weeks ago at BassAthon, an event at Anglers Marine in Anaheim, and he said "Michael, remember that bed fish at Dixon, that WAS HER". HER!!? I knew what he meant right away, HER, the 'big mamma', Dottie. Oh my gosh!!!!!! They said they had basically camped on her for three days after we let them take over but she only appeared a couple of more times on that nest!
He said he had not wanted to tell me at the time as it needed to be kept a secret for them to have a chance at getting her or 5,000 fishermen would have been vying for her daily, and I can see their point. So, I was not far off in my estimate after all; I originally guessed it had to be 30, and she WAS over 25, how about that?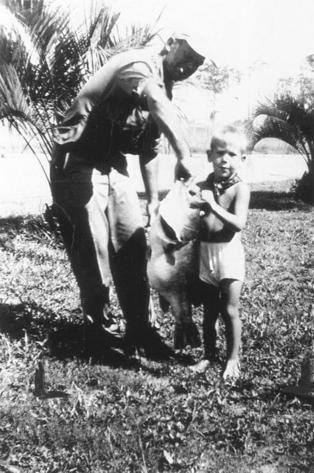 Here is a photo recently found of the official world caught by George Perry (he's not in picture) in 1932 and weighed at a local post office for certification.
"...The problem, many have said, is that it's hard to swallow the story of the 22-pound, 4-ounce fish without being able to see it. Ever since the Georgia bass was landed on June 2, 1932, and later certified by Field & Stream magazine as the reigning world record, no photograph had been found to document the feat.
Now a photo, salvaged from the personal effects of a distant Perry relative, has been found - taunting naysayer's who believe the fish wasn't as big as it was said to be, or perhaps wasn't a largemouth bass at all..."
"...Their identities, (of folks in this pic) Baab said, remain a mystery, although there is a possibility that the "smoking man" could be Jack Page, the older companion Perry often named as his fishing partner that day on Montgomery Lake...."
By Rob Pavey, Outdoors Editor
The Augusta Chronicle, Sunday, May 28, 2006
Angler: George W. Perry
Caught: June 2, 1932
Weight: 22 pounds, 4 ounces
Location: Telfair County, Ga.
Lure: Creek Chub Fintail Shiner
Disposition: Cleaned and eaten
Back to Michael Seewald's
Fishing Reports
Bass Fishing Homepage
How to fish topwater frogs by Michael Seewald
Don't forget... take a kid fishing, they'll cherish it their entire life!
Or help one on shore you might see struggling, make a difference in life, and IN a life.
Recent Fish Reports
So. Africa Trip
My World Record bass chance
How to fish frogs
Diamond Vlly Lake story
San Diego Bay fishing
Martinez Lake story
Our Bass Boats
Friends pics
Seewald Cajun Recipe
S.D. Lake water levels
San Diego Lake Schedules
Top 25 Bass
S.D. Union-Trib article
Mattlures Jitterfish review
posted page on 9.'07 / 333 1.'08


reset to 0 10.'08
about the world record bass and the top 10 largemouth bass from around the world, mike long, top 10 record bass, fine art photo, stock photo agency,top 10 record bass lakes, top 10 anglers, top 10 big bass, top 10 hogs, top ten record bass, lake dixon record, dickerson, Dickerson, fishing, Mac Weakley and Mike Winn, mike long, 25.1, 22.4, world record bass, top 25 bass caught of all time,largemouth bass, big bucketmouth, world's largest largemouth bass, lake records, lake largemouth bass record, huge fish, biggest fish caught, lake dixon record, otay lake, castaic lake, henshaw lake, state record, largemouth bass state record, Castaic largest bass ever caught, bass fishing, lake record, lake dixon, california, san diego bass fishing, record for biggest bass, largemouth bass fishing reports,Carmel, Carmel Valley, san diego, old bucketmouth, black bass fishing, clear lake, henshaw lake, otay lake records, san vicente lake records, bass fishing, catfish, bluegill, crappie, fishing techniques, zebco, plano, sinko, r&r plastics, mercury motors, minn kota, russ bassdozer, mike long, jed dickerson, IGFA, Castaic, a huge fishery north of Los Angeles, lake oroville, lake sonoma, delta fishing, upper otay, cuyamaca, revenge baits, rapala, poppers, rebel lures, nitro bass boats, colorado river, world record bass and topwater lunker and hawg lures