Home Photographic Art Photo Classes Order/Prices Guestbook Contact Sponsorship Offerings About Seewald Picture Framing Misc/Links Portrait Pricing
valerie e wong gallery, del mar plaza art gallery, Michael Seewald, Valerie E. Wong Gallery, Ansel Adams, Italy, Tuscany, Provence,master photographers, seawald, joseph bellows gallery, quint gallery, brooks institute, peter fetterman gallery, alinder gallery, josephus daniels gallery, sewald, seewall, seawall, seawald, cewald, black and white,museums, color photography,photo workshop photos, Valerie Wong Gallery, Del Mar Plaza,christian artists, platinum, north county photographic society, digital, fine art gallery,photography, fine art, san diego museum of photographic art, kodak, fuji film, Steiglitz,fotos, foto, fotographic, Foto, museum, San Diego, Jesus Christ, artwork, archival, Lord, Mangelson,Weston, Minor White, Edward Weston,seewald's photographic art, sponsorships, portfolio, israel artwork, russia, hawaii, ireland, iceland, molokai, costa rica, italy, france, germany, afterimage gallery, fine art gallery, museum artwork, masterpieces, M.O.P.A., N.Y.Met.,L.A.M.O.C.A.,
galery, fotoart, ansel adams, v.e. wong gallery

A walk down memory lane...

Some of Michael Seewald's earlier galleries
and snaps of Michael and Valerie at
the Valerie E. Wong Gallery.
Thanks for visiting.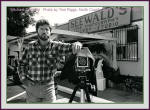 Click photo to enlarge.
Michael sold his art at the Leucadian bar which he bartended at for a few years. He started making sales too. He said 'I thought if drunks will buy it maybe regular people would too" he's often quoted as saying. He continues 'somewhat' jokingly, "I was wrong, regular people did not buy it". Yes, Michael did quit the bar and open his first gallery in May of '83 on Hwy 101 in Leucadia. This photo accompanied an article in the North County Times on the gallery two years later.
________________________
Then, about five years later, he opened 'The Int'l Gallerie of Photographic Art' on Prospect St. in La Jolla at the 'International shops', which he had for a few years. First in a smaller space downstairs, then upstairs in a space four time larger at about the same price, rent-wise.
________________________
After dating, getting engaged and then marrying one of his collectors that "then collected him" as he says, he opened a gallery in her name, the Valerie E. Wong Gallery. It was located in the Del Mar Plaza in Del Mar, California from May of 1992 until June of 2003. (As of June of '09 it's been re-opened, but under Michael's name instead). Here are some of the many memories.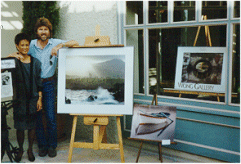 Valerie and Michael, engaged here, at their first location of
the Valerie E. Wong Gallery, Del Mar Plaza, May 1992.
.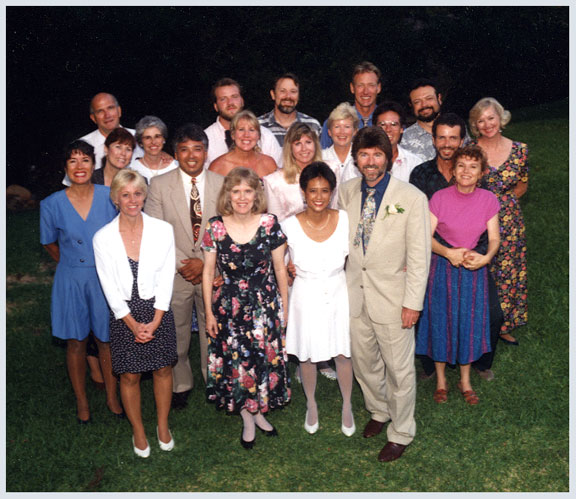 A few months later, the Seewald's got married at a friends home in Rancho Santa Fe. Here are the friends from the Seewald's home fellowship group from North Coast Calvary Chapel, their home church in Carlsbad, California.
_____________________________________
As they were in for a 'song and a dance' until the mall owners found a lessee that could afford full price they stayed in various empty spaces, 13 overall it's believed, anywhere from 1 to 24 months per location.


All of the following are from a single location
at the bottom level of the Del Mar Plaza in 1998.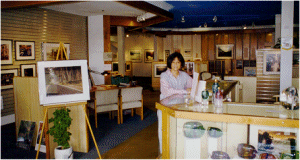 Valerie surrounded by Blodgett art glass and Michael Seewald photographs.
The space, as of 2000 or so, and through this update (11.'10) is now the 'Banana Republic'.
As the rents were too high for most businesses, including the Seewald's, they paid a discounted rate until the mall owners found a lessee that could paid full price, thus they stayed in various spaces, 13 overall it's believed, anywhere from 1 to 24 months each. Here was one of the larger ones on the bottom level of the Del Mar Plaza.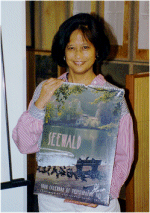 Valerie with the annual '98 Seewald signed and numbered art calendar. Produced from '93 till '05 by Continental Litho. They are now collectables ranging in value from $250 to $10,000.
More info on the calendars- opens separate page.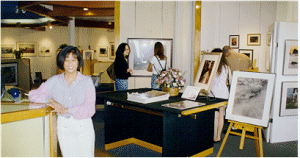 Valerie at the Valerie E. Wong Gallery.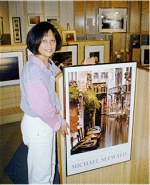 Valerie with the award winning
Venice Canal 24"x36" reproduction.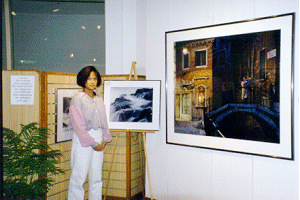 Valerie next to the 40"x50"
" 'Butcher on Break', Venice, Italy, '94".
Recently purchased by Lisa and Kipp Downing, owners of the top restaurant in San Diego County, 'Pacifica Del Mar'.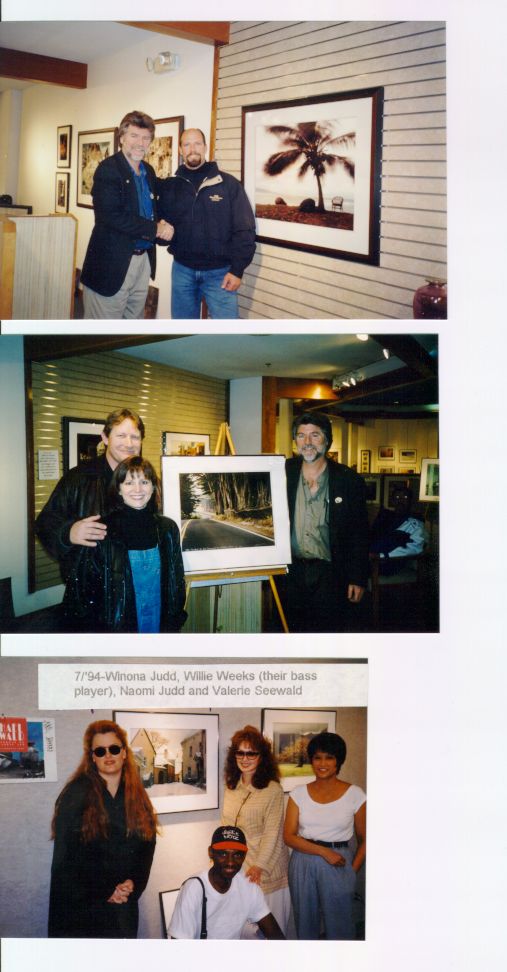 Top photo: New collector and Michael.

Middle photo: Doug and Rebecca Jarvis, four time sponsors
and sponsors of one of our
best sellers, "Hwy. 1, N. California,'89".

Bottom photo: Winona Judd, Naomi Judd, Willie Weeks and Valerie.
This is one year after Naomi had purchased a similar image
as the one they are standing by. Read complete Judd's visit story.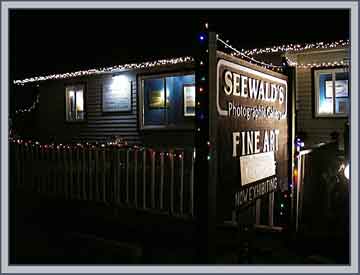 Click on photo to enlarge.
In 2007 we had expanded the gallery into the adjacent building,
directly on Vulcan Avenue in Encinitas, California in N. San
Diego County, but with the re-opening of our old location back
at Del Mar Plaza we closed this space. The Frameshop/studio
behind it, however, is still open but by appointment only.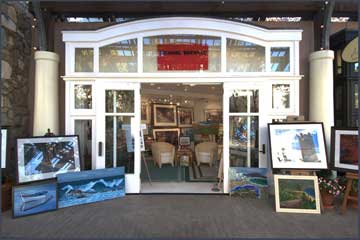 In 2009 we re-opened a gallery in the Del Mar Plaza, as you can see
(if we are up to date) with a photo of it on top of the WebPages.
Go to Pacifica Del Mar's 25th Anniversary Party photos, Oct. 7th, 2014

reset 10.'08