Home Photographic Art Photo Classes Order/Prices Guestbook Contact Sponsorship Offerings About Seewald Picture Framing Misc/Links Portrait Pricing
Television coverage of terrorism, Mombassa bombings, airport missile attack in Kenya Africa, hotel bombing of Israelis, artist with a close call, hotel bombing and airline missile attack in Mombass.
Michael has been on the long running 'magazine show' Sun-Up San Diego,
as well as local news coverage.
Michael Seewald was invited onto a TV program called
Sun-Up San Diego, on KFMB Channel 8, back in 1988
Michael Seewald was invited onto a TV program called' Sun-Up San Diego', on KFMB
Channel 8, to show some of his photographic art (Iceland, Scotland and Kauai)
and talk about his unique sponsorship program that funds his trips around the world, now numbering 60, and counting.

Some of the images shown are sponsored by Bill Palumbo,
Dave Grell, Dawn Dominicak, Catherine Edwards, Dr. Alan Davidson.
The exhibit was on display at Michael's old gallery in La Jolla, on Prospect St., at the International Gallerie of Photographic Art.
_____________________
Channel 8 news, June 12th, 1992
Here, Channel 8 TV coverage of Michael Seewald and his and his wife's gallery
(in her name back then, he Valerie E. Wong Gallery) and was produced without Michael given advance knowledge they
were even going to do a piece on him. How wonderful and what a nice surprise. Folks for years came by and said they saw it.
Of course, the prices quoted are old, and his travels
not so low budget anymore, but it's still hard work and
he gets folks to sponsor to this day, with over 60 world-wide trips under his belt now.
_____________________
Here, TV coverage of Michael Seewald on Thanksgiving Day 2002,
the day after he had just arrived back from creating in Kenya, Africa.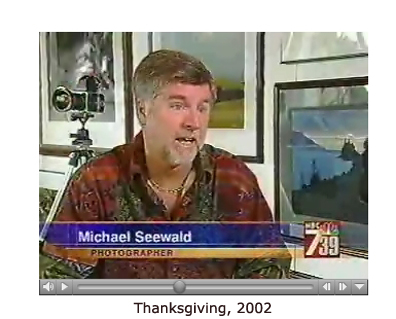 "I was very surprised to hear of the bombing of a Mombassa hotel lobby while I was flying out of the country. It is where I had photographed the week prior!. Equally scary was that missiles had been fired at a departing jet from their by Muslim terrorists at the same time I was departing from Kenya's other airport in Nairobi!"
MS
Choose a player below to view this TV interview

reset 10.'08