9.12.2009 Mission Bay

Me 8 spotted bay bass, two keepers (1#3oz)
Robert 5, one keeper.

Water 76 degrees/ Beautiful day, overcast till 7am, and then after 2, stayed until 3 pm.

Up at o-dark-hundred and met up with Robert Schneider at 6 am at the S. Point launch ramp new Sea World. We were going out on his new 2010 ocean rigged Ranger bass boat. He was pre-fishing for a spotted bay bass tournament to be held in Mission Bay in two weeks. He said about 50 boats will be in contention, with a $100 entry fee, and he will fish with James Nelson, an acquaintance of mine that guides in San Diego.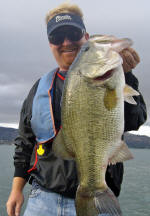 Click photos to enlarge.
James w/ a largemouth hog
from Clearlake/ his boat.
We checked out some of his 'good water' and got on some spotties.
Started near ramp and I got on dinks fairly fast, with three before Robert's first. Lost a biggie in something on the bottom near Sea World, breaking me off. Same thing later on with one over at the bowling pin, where I got a keeper and two dinks near dock. We fished further out on flats (everything is 'flat's for that matter in Mission Bay).
Fishing was tough with the exposed hook snagging grass constantly, and I told Robert I have to find a system that allowed a fluke style bait to be fished weedless, then he showed me, and loaned to me, that very thing he'd come across (called 'sled head' - a pointed lead head with bent hooks, and twist lock, allowing the plastics to be rigged weedless).

Click photo to enlarge.
www.ownerhooks.com

WT (OZ.)

HOOK

MODEL

QTY

SRP

Pocket Pack

1/16

2/0

5142-012

4

$7.00

1/8

2/0

5142-022

4

$7.00

3/16

2/0

5142-032

4

$7.00

1/4

2/0

5142-042

4

$7.00

1/8

4/0

5142-024

4

$7.00

1/4

4/0

5142-044

3

$7.00

3/8

4/0

5142-064

3

$7.00

1/2

4/0

5142-084

3

$7.00
After that it was a pleasure to fish grass, hardly ever getting stuck in it.
Pic's to follow.
April 18th 2009 - San Diego Bay
Paul zippo, me the same.
Nice sunny day all day.
Joined some of the sdFish message board crowd for the 1st 'First Light' event at the Point Loma launch ramp. I joined 'fisheromen' Paul Owens, a pastor in Ramona that I'd taken to El Cap for some bass action earlier in the year, this time on his boat. About 20 guys showed up and we had a nice BBQ at noon afterwards.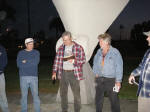 Click photo to enlarge.
Pastor Paul give a short message before the
fishing commenced. The Lord got the glory for the day.
Fished across from the ramp and lost a plastic scampi to a hali off the Navy docks. Then out the entrance of the bay for more nada, me trying a topwater spook, then over to Sea Port village for more of the same with plastics. Most of the others we ran across during the day reported a slower than normal hali/bass bite too.
Just Before heading back in, on my last cast, I got into a nice keeper just N. of the Star of India off a sinker/crankbait combo I finally broke out, but lost it at the boat while Paul and I tried to guess it's size in order to keep it or not BEFORE netting it, lesson learned!
Here is the report on the sdFish boards
Here is the 10 pages of planning and discussion leading up to it on sdFish!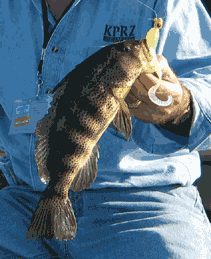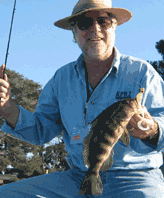 San Diego's Mission Bay provided excellent spotted bay bass
fishing.
One of four bay bass caught, along with a 'short' barracuda*, on March 28th, 2004 on our first trip out to the bay fishing since I was a young man of 18. This was one of the two 12" we landed, but we got a 14" and a 16" also.
*I did not know the minimum length of the barracuda (28") and had kept one that was about 24 as the wife wanted to see how it taste (I said not to good to me, I was going to throw it back), so the warden wrote me up. I'd pleaded ignorance, showing him the license had just been purchased that day, but no lenience, BUT they never followed up prosecution, TUL, just kept the fish for evidence.