Rooms are not included in the
Seewald photographic workshop prices.
Info on the Pine Inn, and Svendsgaard's Inn,
follow this info on Hotwire service.

_______________________
As of 1.'17, Hotwire was finding 2 & 3 star motels,
rooms for two, in Monterey and surrounding communities,
for $59 and up.


This is about $20 less per sites like 'Choice' or 'Priceline',
although you will not know the motel until after you book.
Back to Photo workshop
introduction page.
___________________________________
The Pine Inn, Carmel-By-The-Sea

http://www.pineinn.com/ As of 10.'16 You may get a small discount if you call and ask for Donna, Mon.-Fri. 8-4.
Remind her she's offered a 'Michael Seewald Photo Class weekday/corporate' discount. Toll Free: 800-228-3851
Built in 1889, the Pine Inn was the first inn built in Carmel-by-the Sea. Tastefully updated over the years, the Pine Inn holds timeless memories for guests who have visited the area for generations. A delightful combination of elegance, charm and serenity, the Pine Inn is nestled in the heart of the village of Carmel and is surrounded by quaint shops, unique art galleries and wonderful hidden courtyards. A stroll four blocks down Ocean Avenue will take you to Carmel's irresistible sandy beach and breathtaking views of Pebble Beach or Point Lobos.
The lobby of the Pine Inn reflects its exceptional style with finely appointed antiques. Enjoy a peaceful moment in its unhurried elegance of luxury and charm during your stay at the Pine Inn. During your stay, experience Il Fornaio, the Pine Inn's Italian restaurant, bar, and bakery. Enjoy the authentic Italian cuisine and atmosphere for breakfast, lunch, dinner or a weekend brunch. . . .
_______________________________________
Svendsgaard's Inn
A Charming European Inn overlooking
the Village of Carmel-by-the-Sea
Corner of 4th & San Carlos Street
Carmel CA 93921

Tel. 1.866.454.8965

A charming European styled inn, well-known to visitors for its wonderful amenities, heated pool and signature breakfast delivered to your door. Each of the 35 guest rooms and suites offers wonderful views of the majestic pines and ocean beyond. Some suites include fireplace and spa tubs with gracious service and comfortable surroundings.
Gardens, Monterey Pines and lush greenery await your visit to this landmark location. A great walk into the village for shopping and dining, or a stroll along the pristine white sand beaches is a must. For those who enjoy hiking, the beautiful north woods are nearby.
Svendsgaards is Carmel's most pet friendly inn, with over half of its rooms set aside for pets and their owners.
Visit Monterey, Big Sur & Carmel
Conveniently situated in the northern area of Carmel village, close to Ocean Avenue and the Carmel Plaza, this inn has access to the Monterey Bay, Pacific Grove and south on Highway One to the redwoods of Big Sur. Golf, whale watching, fishing, kayaking, surfing, swimming and hiking are all within a brief walk or drive. Many marine sports are available to book and a trip to any of the local beaches is an incredible experience of white sand and clear turquoise waters. A trip out to the Carmel Valley ranches and wineries can be just as rewarding as a day of horseback riding along Big Sur's Andrew Molera State Park Beach. Nature and beauty are bountifully near this charming inn.
In-Room Amenities
Wireless Internet Access
Fireplaces, Jacuzzis and Kitchenettes Available
Bathrobes
Television with DVD/VCR
Refrigerators
Bath & spa products
Continental Breakfast
Daily Newspaper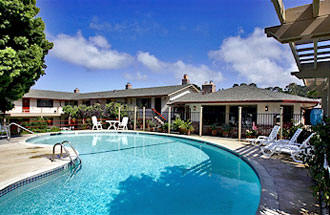 __________________________________
Seewald's photographic 'fun-shops'
proudly sponsored by:

Pro Camera Repair, San Diego.
SAVE 10% on first order, just mention 'Seewald workshop discount'

"Taken my cameras here for decades, always top notch work. I need my cameras
working properly in distant places, and I trust them to keep them in tip top shape." MS
Dolica Tripods
This line of carbon fiber and aluminum tripods won't break the bank.
We've got point and shoot tripods all the way up to heavy duty, large camera supports.
Metalography
SAVE 20% on first order, just mention 'Seewald workshop discount'
Custom photos on metal, Seewald gets his super large 'infused images' onto
hot metal, and the results? HOT! Located n Temecula Calif., just 45 min. north of downtown San Diego.<![if !supportLineBreakNewLine]>
<![endif]>(Up to 42"x62" in size)<![if !supportLineBreakNewLine]><![endif]>