More miracles happen.
We got ourselves our first
bass boat.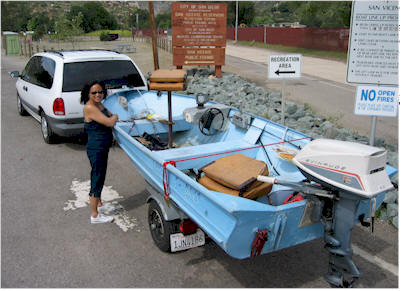 Click photo to enlarge.

Valerie with our 'new' used boat (christened 'the Blue Lagoon')
as of April '03 at the entrance to San Vicente reservoir.
Motor does not work but boat floats well and boat hardly leaks.
(Note: 5.'03- Now motor runs well, leaks gone.)
(Note: 10.03- Motor broke, bottom end had water in it.)

It has a fish finder and a 36# Minn Kota trolling motor, and a removable
casting platform (not shown).
Then we prayed
to find someone that would trade a used motor
for art to replace the one that was blown.

The Lord said (in that real, small voice heard by most believers)
"Why don't you pray for a whole new, and better, boat instead".


So then we decided to just pray
for a whole new and improved bass boat that we could get in trade for art!
The Lord heard and answered us and on September 1st, 2004! TUL.
We christened 'The Answered Prayer', the name of our new 1987 Skeeter Starfire.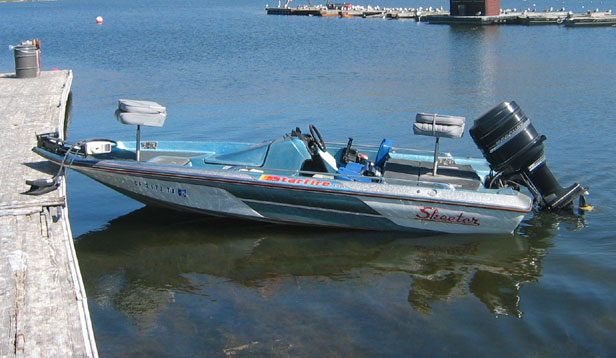 It looks a little nicer, doesn't it?
She goes fast just sitting there ;-).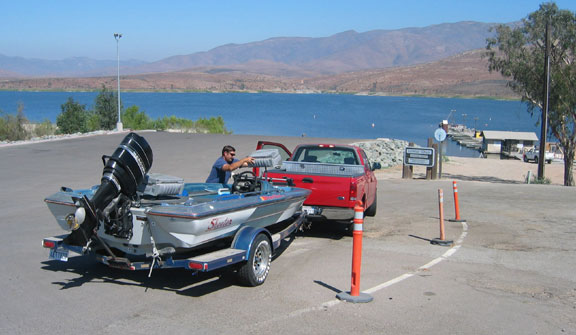 Previous owner Mike Wade prepares 'The Answered Prayer' for initial test drive launching. It was an afternoon trip to Otay Lake in east Chula Vista- just the place for 'Otay Michael' to christen her, right?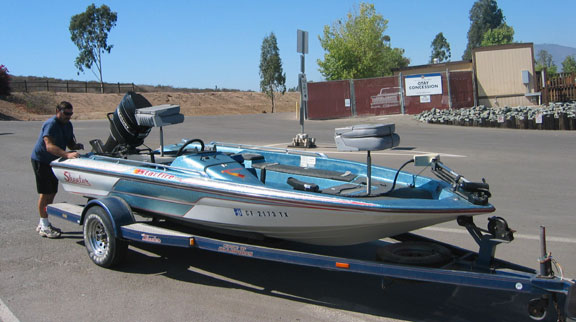 Is she sleek or what? 1987 with a 115 Mercury 6 cylinder two stroke.
We got up to about 45 m.p.h. in just a couple of seconds from 25!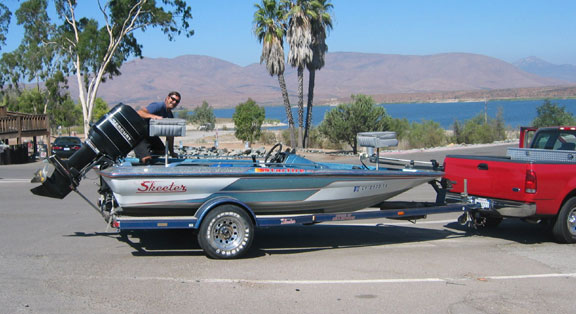 Mike smiles but inside he's a bit sad. His wife said one boat had to go, so he kept his new 26 foot ocean cruiser AND BLESSED US WITH THIS ONE, T.U.L.!!
(T.U.L., short for thank you Lord.)
She had a 30 hp trolling motor but I upgraded to a 71# Motor Guide in 2006 or so to better handle the Colorado River.
I caught and released a small bass the first time out,
barely bigger than the Heddon 'dying flutter'
top water prop-bait I was tossing. Got lots of action on
bass assassins too, but no hook-ups.
PS I still can't believe she's ours.
In January of 2006 we purchased, with art and some cash, a used 14" Lowe aluminum boat with a Honda 25 hp Four Stroke so we can take it to Diamond Valley and the Colorado River. The Answered Prayer is a bit to heavy to take over the Rocky Mountains.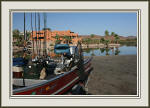 Click photos to enlarge.
Here she is (the Red Rider) at Fishers Landing on the left, ready for action (5.23.'07). On the right, in action at Diamond Valley (6.7.'07).
I put the original 30# Motor Guide foot controlled trolling motor from the Skeeter on her.
(July 15th of 2009 a thief stole our Honda motor from Russo's
Launch Ramp on Bethel Island, near Antioch on the Delta.) Insurance will help.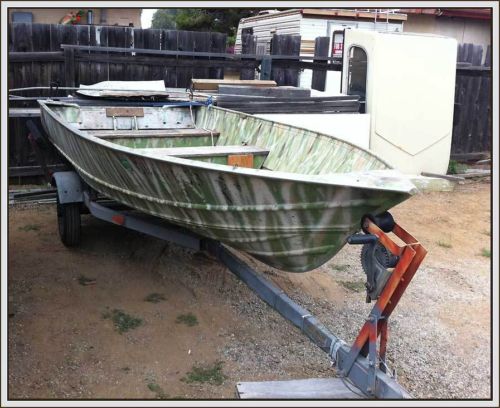 Purchased this 12' welded aluminum boat, with a galvanized trailer (not shown, moved it to use with the 14'
Lowe, and took the 4stroke Johnson 15 hp for it too), so this one I'm turning around and selling. It was a duck boat, thus the camo effect.
_________________________________________
Float Tubes



My first float tube, was a used Caddis- $50, including fins, repair kit, carrying bag
AND a pair of waders with boots! What a deal.
It was ok, but I sat too low in the water, even with an
emergency float cushion added. I got it and took it out to Barrett Lake in May of '05.
So I had it for eight years, until 2012, when I got a new one, below.


Yes, about Oct. of 2012 I got a new Fish Cat.



Here is my first day out in it, March 29th, 2013
The rod holder, a do it yourself home made project, was made by my fishing buddy
pastor Paul O., (FisherOmen on the fish boards) whom also took this shot.
Still used Caddis fins. The new waders were given to me by my neighbor Mike.