For those with very light
weight cameras up to 7.7 lbs.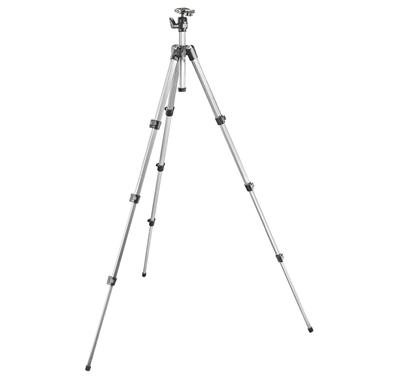 'Medium Digital' tripod with ball head.
The NEW Bogen

'Medium Digital' Tripod
with ball head and quick release. Only $119.95.
(Stock #97816 )

A better tripod only because of the Manfrotto 'ball head'. The tripod pictured is one of the lighter weight units and is good for any camera, 35mm or small med. format, up to 7.7 lbs in weight.

It's very sturdy for it's size, very light (only 3.1 lbs.), has the suggested ball head- and now includes a quick release. Generally, this tripod runs $130 to $140 at most stores.

As reported: This is a compact and lightweight tripod that offers the rock steady support necessary for high-quality imaging with today's digital and conventional cameras. It includes a built-in aluminum ball head with a single "ratchet" locking lever, as well as quick-action leg locks for fast set-up and breakdown. Ball head locks both panning base and ball itself with one movement, unlike a lot of ball heads which need two separate adjustments, sometimes losing precious time when a quick adjustment is necessary.

NOW WITH LEGS THAT ARE MORE ADJUSTABLE, ALLOWING YOU TO GET CLOSER TO THE GROUND FOR MORE INTERESTING SHOTS.
Maximum Height 4.7'
Integrated Ball Head
Weighs 3.24 lb
Supports 7.7 lb
Quick Release
____________________________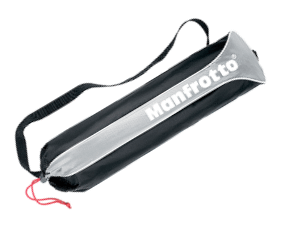 Carrying bag
The smallest and simplest model in the range, an unpadded rucksack-style bag for small tripods. It has a bungee cord top opening and adjustable straps, and comes in resistant nylon with printed Manfrotto logo. Price $18.00.
Comes free with a Seewald tripod purchase.
Note: Michael's retail price for the "Medium Digital' tripod is only $139.95. He can ship one to you or hold one to be picked up at the shop. If shipping is needed, it's only $12 to anywhere in the U.S..

Calif. residents please add 7.25% if outside of San Diego county, 7.75% in.
____________________________
5.29.'07
Michael,
I really enjoyed using the tripod that I purchased from you last week on my trip to Catalina over the holiday weekend! It wonderfully simplified switching between medium format and digital cameras, with a quick release mounted on each camera. Also, the lightweight construction was much appreciated for the hike up to the Botanical Gardens and back! Do you know anyone who wants an heavy, old tripod?
Thanks so much,
Frances Everett

______________________________
We also carry carbon fiber tripods by Manfrotto and Velbon. Come on by and see them personally if you are in the area.
______________________________
Manfrotto 293 Aluminum 3-Section Tripod W/QR Ballhead - - - -Only $159.95.
Product Highlights
3-Section Aluminum Legs
Lightweight--3.85 Lbs (1.75 kg)
Anti-Shock Collar
Maximum Height of 5.17' (1.57 m)
Minimum Height of 1.48' (45.3 cm)
Maximum Load Capacity of 8.81 Lbs (4 kg)
The NEW Bogen 'Heavy duty digital' Tripod
with ball head and quick release. Only $159.95.
(Stock #911842)
______________________________
Manfrotto 294 Aluminum 3-Section Tripod W/QR (#496 Heavy Duty Ballhead) - - - - $189.95
NOTE: More heavy duty than the 293, higher height and more load capacity
(and a bit heavier to accomplish this too).
3-Section Aluminum Legs
Ballhead and Quick Release Plate Inc
Lightweight--4.96 Lbs (2.25 kg)
Anti-Shock Collar
Maximum Height of 5.87' (1.79 m)
Minimum Height of 1.63' (49.7 cm)
Maximum Load Capacity of 11 Lbs (5 kg)
Stock #913421