Click photo to enlarge.
10.6.'10
The Jitterfish is 8 inches long and weighs 2.5 oz., created
by Matt Servant and distributed through his company, Mattlures.
FIRST a little history: I throw a lot of Lunker Punker's, AC Minnow's and BBZ's right now, in that order (about 1/2 my time is swimbait, otherwise frogs, Spooks, etc., almost year-round, especially in So. Cal. where the weather is always fairly nice). I get a lot of 2 to 3 pounders on them, with some 5 and 6's, and once in a while one slightly bigger, up to 9#'s so far (no 10's yet). Of course, I'm always targeting the 10's, it's just that I've not landed the few I've had the pleasure to hook into ;-/.
Went out to a lake down here in So. Cal yesterday afternoon in great conditions (overcast and sprinkling / slightly windy) and tied on a brand spanking new Mattlures swimbait. He'd asked me if I wanted to test 'a new lure' last week, and I said sure, send me one.
Once I got this out of the box (had no idea what it looked like before he sent it) I was really excited, I could see it's potential. So much so in fact I just knew it 'could' be a new fav, but first I had to give it a real life tryout. It looked like it would catch fish, catch them the way I liked to also, slow rolling or walk the dog on topwater, if not other ways. I'd have to see with trail and error.
"Seconds later she was close by and I was going to just bounce her in the boat when I changed my mind- she looked to big to bounce ..."
What really stood out, first thing, was the giant 'lip' it had, a 'jitterbug' type lip, from the decades old lure that has been a standard for great topwater fishing, especially at night (thus the name no doubt, the 'Jitterfish'-good on ya Matt)! I was surprised it was made of aluminum, not plastic, but figured the bass would not notice and the aluminum would stand up better to bouncing off docks and rocks better- and it sure did; I bounced it off of one on the third cast trying to hit a spot between them. (My AC minnow has a plastic/fiberglass lip, and is always breaking). The Jitterfish came back in perfect shape, thank God, I wanted to keep using it 'for testing' ;/).

Within the first two casts I really regretted that I'd have to post my thoughts on this (with a free bait, you owe the guy that at least right, even if you want to keep it a secret?), as I want all the lunker bass in the world to see it on the end of my line first ;-). What did confirm my suspicions that it would be killer was it's action, which was unbelievable. My first thought, and I'm not kidding, was that I was going to land my first 10# beast today! It also was a dream to cast, darn light for such a big bait; my back and arms would appreciate it as many days I work a bait like this for 8 to 12 hours!

It worked real well as a 'twitcher/slasher', which the twitcher part has been netting me a lot of fish lately, instead of the usual constant working of the lure. AND it twitched/slashed (if you wanted it to) real well due to the design of the giant lip,


Click photo to enlarge.
Mattlures Jitterfish, come in four styles so far.


I thought, darn, any idiot could work this bait, not that I'm not one either, but still, this thing works itself if you just reel it in slowly, or quickly, too. I did in fact- later on that.
"I made a rooky mistake; instead of doing the Mike Long 'keep her on tight line by sweeping her along the boat and guide her into the net' routine..."


Well, I had not cast it 10 times when I was getting into a real 'walk the dog hard' technique, basically keeping it in the same spot but thrashing it like it was dying. It also made a sound with the body parts hitting themselves as they snaked, and a different sound than the AC minnow, new to the bass. It makes the sound even slow rolling it, that clicking helps call fish to a meal.
And a few casts in I noticed that lip kicks up a ton of water if you want it to, also really helping call the big ones from a distance, and is especially needed in stained water, which this water now was. As I was contemplating all these things a 'giant toilet flush' happened on the lure and it disappeared, halfway scaring me- I wasn't mentally ready for such action, in reality, so soon. Now when you get that kind of a hit, you scream 'get the net' but I was fishing solo, so I screamed it to myself!!! I reeled down hard as fast as I could, setting the hook with that technique, and she jumped fairly fast, and from a distance I knew she could have been a 10- WOW! That moment was what fishing is all about!

Seconds later she was boat close and I was going to just bounce her in the boat when I changed my mind- she looked too big to bounce (flipping them in is always a tough decision as some lunkers fall off due to their weight being that of a bowling ball and the hook tears out), so I grabbed the net. I was really excited to have gotten a monster so soon on this bait, with visions of me taking my own pic with a lunker and then I made a rooky mistake; instead of doing the Mike Long 'keep her on tight line by sweeping her along the boat and guide her into the net routine' that I heard him espouse at one of his seminars, she jumped and came unbuttoned while dangling there on the surface, taking her hugh body, and my heart, down into the depths ;-(. As I'd gotten to get a much better look of her I now guessed she was a minimum seven, to maybe eight, pounds! You don't get those every day- DARN, DARN, DARN and DANG-IT TOO!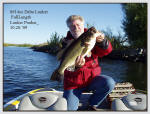 Click photo to enlarge.
Seewald with a 9#, on the Lunker Punker at the Delta.
Anyways, I continued to work this lure for another hour, thinking I'd get another in short order, but no other takers were to be had this time. I did break up the patterns some, reeling it in fast without any change up of cadence, and then slow with the next cast, with a minimum of change ups to give it a different look and see how those patterns looked and felt. But the lake had gone quiet- the breeze stopped completely and it got dark out.
Summary: Well, I really love this new toy, and I see the bass do too. And at only $19.95 retail, it looks to be a good seller for Matt. It comes in four styles, but the trout colored one I got did not seem to be a problem for a bass that had never seen a trout, as the lake I fished has never stocked them! I would say, don't walk, but run to the computer and get one from him now- darn I hate to have to say that, as I know once this lure gets out there more I'll catch a few less of them, as they will have all eatin' this thing once or twice from you before I get the time to present it to them myself. Can't wait to take this up to the Delta, or Clearlake, where lunkers are on every other bush/tulle point! Even deep Mexico this November or TEXAS and the DEEP SOUTH on my photo adventure/fishing trip/tour next week!
10.16.'10 Update. Well, I've thrown this lure for another couple of hours, and I noticed the lip is starting to bend away from the lure, due to it landing on it's back with each cast, the lip aerodynamically causing it to. I would think Matt might need to make it with a bit thicker material. I can see where my bending it back to it's original shape, and being aluminum, would only work so many times before it breaks. Also, I failed to mention it, but the split ring that comes with it looked a bit rinky-dink, I did not tie to it. I thought it might help the lure 'wake' better at a slow retrieve, and tied it to it to test it for a few casts, but it didn't. It seems it needs a medium retrieve to make it wobble, or wake as we call it. Still expecting more monsters though. I also heard he had a video on it's movement. so look for that on his site.
Good fishing.
Michael Seewald/aka Otay Michael
PS YES, I'm also going to take this lure, as well as another few hundred, to TEXAS and LOUISIANA on my photographic adventure for a month, starting next week (Oh my gosh, a dream trip coming up... so excited)!!! Anyone want to sponsor one of the award winners I'll be making let me know (get 1/2 price on a piece if you purchase sight-unseen, ie in advance) prices/sizes/details here- Seewald's sponsored trip #56: Sponsorship Offerings
PPS If you live in those states, and would like offer a back seat on your boat, I'd gladly get you a piece of art or two for free, as a thanks (many of you already have as I knew for about a year I was going). Or if you have a good idea where I could go to get some exciting images, let me know. Contact me ASAP. GRACIAS and blessings. Contact
Direct number for questions/suggestions: 858.245.0485
To Mattlures website


Back to Michael Seewald's
Fishing Reports
Bass Fishing Homepage