Back to Michael Seewald's
Fishing Reports
Bass Fishing Homepage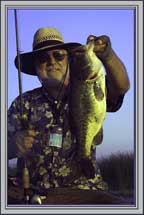 Seewald at Clear Lake, CA., 7-'08. Click to enlarge.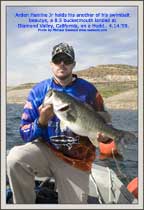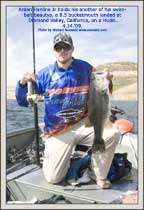 Click image to enlarge.
Arden Hanline Jr. joined me at Diamond Valley Lake and his
Huddleston bait netted him this beauty on 4.14.'09.


Click image to enlarge.
Arden Hanline Jr., and his dad Arden Sr., pose for this 'historical occasion'
after being forced to get off the lake like we were
(the wife and I) at about three in the afternoon.
It was Wednesday October 22nd, the first complete day of the terrible San Diego Fires in 2003.
This fire, one of the four that week, was set east of Otay Lake, where we took this.
Luckily it was put out after about three days, unlike the Cedar fire which got
started by a lost hunter setting a 'signal fire' the night before out in Ramona.
The Cedar Fire.
This was the largest wildfire in the state's history.. With the combination of a drought-ridden environment,
pine-beetle infested trees, house crowding and Santa Anna winds, the Cedar Fire quickly grew into
what many considered to be the perfect firestorm. By the time it was 100% contained in mid November,
the fire had burned 280,278 acres, killing 14 people, including one firefighter. It also destroyed 2,232
residences, 22 commercial properties, 566 outbuildings and 148 vehicles throughout the San Diego area..


Cropped and then blown-up and to see the fires better in background.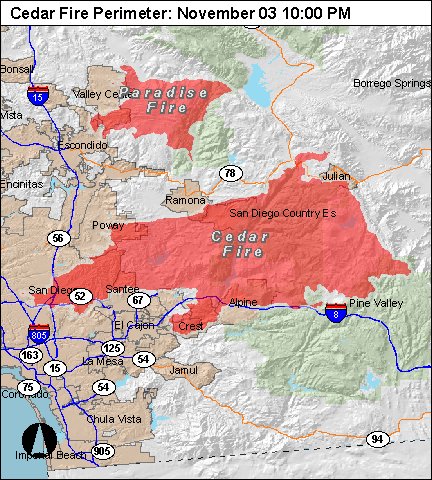 10 year old Nicole Olichney with her first fish ever,
a rainbow trout from Lake Jennings.
12.31.04


Nicole Olichney with her dad, John
12.31.04

'Catfish Herbert' does it again!
Beginners luck? (He's only been catfishing for a month!)
This one was tossed back, as he usually does on the monsters.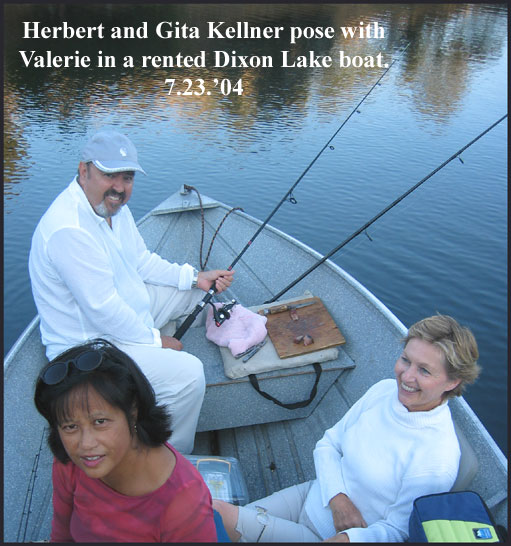 Herbert, under Michael's tutelage, has become known
as 'Catfish Herbert' in recent days with his catch of a 21# channel catfish at Lake Poway and a 12# channel the week after this image was taken at Lake Dixon. His wife Gita (otherwise known as 'Mrs Catfish Herbert') comes along to give moral support, while wife Valerie wonders if I will fall overboard before taking this image!!?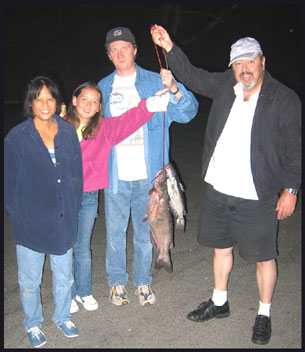 8.13.'04
Valerie, Nicole and John Olichney pose with Catfish Herbert's two catfish.
Here's the proof - Herbert's 12# catfish, caught off the dock just before the midnight kick out time at the lake. He caught it on mackerel just below the dock. It was Nicole's and John's first time catfishing, having been 'bit by the bug' after catching salmon up in Alaska recently.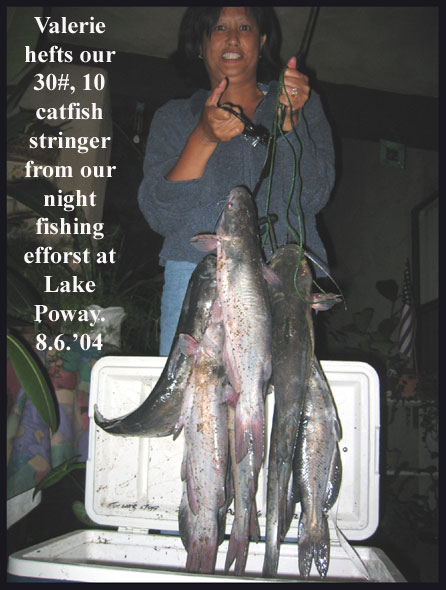 Of course Valerie is no wimp when it comes to landing catfish either,
or hefting the whole batch for a photo for that matter.
(For our Cajun Catfish recipe click here.)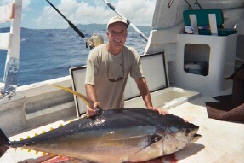 The not-so "hokie-Poke"
Hawaiian fishin' buddy David Lynch 8.'03
Weighed in at #194 - he is one happy camper!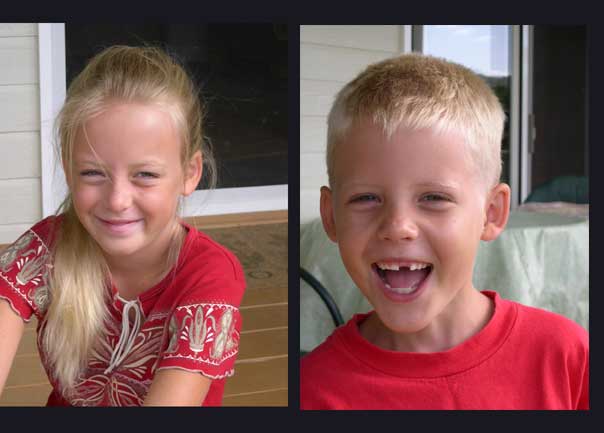 The hungry mouths David fed that evening... Hannah and Nathan.
Now they reside in Oregon.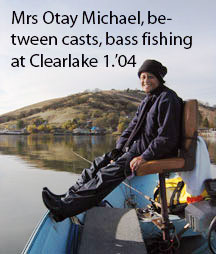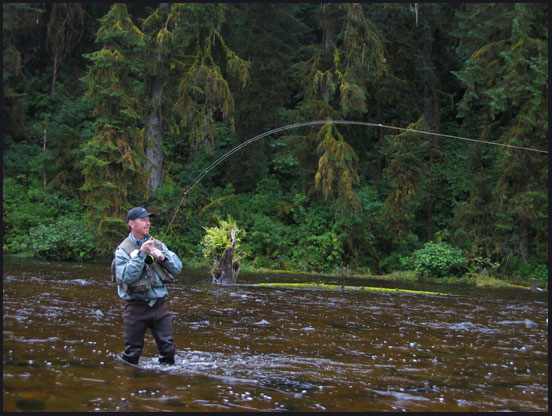 Friend and collector Dr Russ Dunnum hauls in a giant salmon on flyline. Sept. of '03.


Click to enlarge
Russ Dunnum fighting still fighting that same salmon.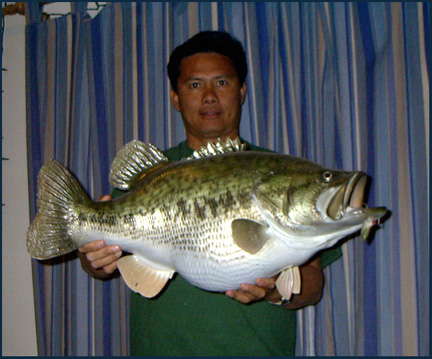 Ben' mounted 18.12# monster largemouth bed fishing bass from Miramar Lake.
Back to Michael Seewald's
Fishing Reports
Bass Fishing Homepage

reset 10.'08