Sunday, May 27th
N. Varazdin - bass, pond fishing

Click photo to enlarge.
My new friend Tomislav Lončarić (Tom), took me to some of his
favorite bass fishing holes, where I got my first Croatian bass- cool.
I'd met Tom online through a bass fishing website, BassResource.com, and he go's by the handle 'frog'. Not frog from tossing the lure, but from wearing green when in high school for sports I think, he's tall and thin, so the nick-name. He was nice enough to show me his 'honey hole's'.. He even loaned me his high quality fishing pole (I had a cheapie telescoping one from Italy a few years back, works but hardly) to use while I'm in the area.)
Of course we hit it off well, we both love the sport. He had bought me a one day license, which ran 60 kuna ($10 USD), and would not take money for it. Then he got us a couple of beers for the lake (lunch we'd come back for he said) and we went over the main river north of town (Varazdin, where he lives, it's in far north Croatia), through a few villages, and about 20 km later we got out and proceeded to get sun burnt, as well as catch fish - well, Tom did, a dink, about the size I got later in the day, and pictured above, although we could see one pounder swimming around, none wanted the variety of baits we tossed at them.
About three p.m. he had to go, so we found a neat restaurant and had Greek salads, and I got an order of Bolognese spaghetti, which would come in handy as I again would miss finding a place to grab a bite later and as I could not finish it doggy bagged it to go.
I went back and tried my luck at the river, looked great, but nada. Then I found the ponds he'd taken me to, a bit tricky, a lot of villages and turns, and started to get hits on the fluke, but alas, I was out of practice and missed the first four. I finally got one, and the stripe was off the back, see photo above, of the fish and the pond.
Monday, May 28th,
Lake Trakoscan bass fishing.
As Tom had told me about two lakes locally that had bass, as well as other gamefish, Lake Trakoscan being one, I decided to go to those areas (only an hour away) and check them out while making photos. The first was very nice, I almost made a nice shot of the lake at first, walked around it (it has a castle next to it, Trakoscan Castle), but the bass are far and few between. I did stop and toss a fluke at the far end, had a giant explosion at a pond across the street, but nothing stuck. It tried three times over the one hour of trying (kept going back).
Heard about Ivanic being better, and even though I got an apartment nearby, did not find it for a few days, it was not open until Friday the 1st anyways, in honoring the bass bedding season (closed April and May).
Friday, June 1st
Lake Ivanic (group of large ponds really) bass fishing.

Made plans to fish the opener with another internet connection, Zdravko Savor. Here is his blog: http://fishingincroatia.blogspot.com/
I'm glad I saved my first day off (worked the Sunday the week before making art in Rovinj, the coastal town, the light was great) for this day, we had a blast. I started early, around 7, he was to drive an hour north to join me at around 10 a.m., which he did- he lives in Zagreb, the countries capital.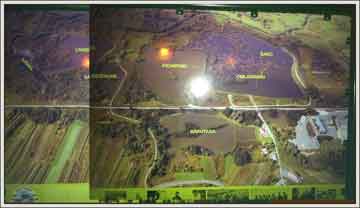 Click on image to see larger.
Here is Ivanic lakes, a map they had which took two shots of my iPhone to capture.
Stitched together in Photo Shop.
It rained most of the day, and as I did not bring my rain gear, I had to stuff my golf umbrella in my jacket to hold it for me most of the day, the winds wanting to rip it out and take it away sometimes.
But the fish did not mind. I got 11 bass over all, six before Zdravko show up, how fun. These don't get any bigger than 4 lbs, a lot smaller than our California ones, so me getting three at about 2 pounds, each impressed the local pros, they did not fare as well. (Did not think much of it at the time, they are about average size back home).
I'd continued with the fluke, like I had at Tom's ponds, and the bass loved 'em. Mostly fished herky-jerky along the surface. The first came after getting a monster (about 4 or 5 lbs) try to inhaled it off a bush in the corner, but upon casting again I got a smaller model, about 2 pounds. Little did I know that is considered a large fish here, four being the lake record!
I continued working to the back of the lake, getting more smaller ones, some way out in open water, most along shore.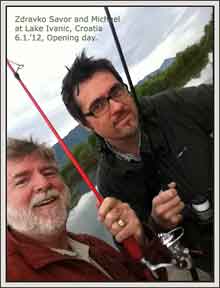 Click on image to see larger.
Here is Zdravko and I at the end of the day, I'd just got the one below.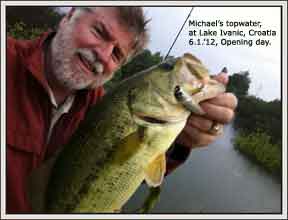 Click on image to see larger.
Wow, I really got into some nice ones.

Saturday, June 2nd.
Lake Ontario pike fishing.
On Saturday, I worked my way to Zagreb and spent a few hours with Zdravko trying to get my first pike fish. Met him at a freeway exit at 10 a.m., as planned, and we made our way to a large aqueduct not far away, called Lake Ontario, a catch and release only lake. It's famous for the pike that come out of it. No bass are there.
We threw everything, me mostly topwater as I heard they bite that too. But as the lake ranger said when he came over and sold me my one day fishing permit -$15, no fish were caught all morning, which is unusual, and most guys had left already. We tossed a lot of large plastic swimbaits, like we do for large ocean calico bass, and the same colors, bright, but no go after five hours of trying.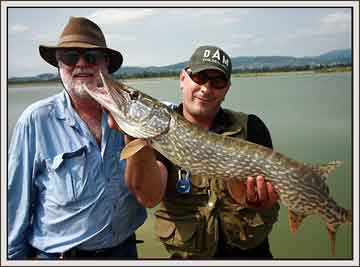 Click on image to see larger.
This gentleman got three in just 15 minutes, the first, 50% bigger in size and
the one that made us stop our car and get out to see as he fought it, got off
at the net.
But I did get to see a couple landed just before taking our lunch break at about 4 p.m. One, over 3' long, got off when someone tried to help the guy net it, so we did not get to see it. But he caught two within the next 10 minutes, here is one shot of me with the guy. (when I get it).
Sunday, June 3rd
Tournament Day- Ivanic
I was blessed with getting invited to participate in a national bass fish-off here against 25 of the countries best fishermen. This saved me the daily permit fee, they said it'd be waived.
Tom and I were already planning on fishing there anyways, and we would be a 'team', not that there was any prizes, as it's for the top few finishers to represent the country in the World Bass Championship, to be held in Spain this year, and Venezuela the next. Was told to be there at 7 a.m. for free breakfast and sign in, the tourney would start at 8 and run till 3 p.m.
I met Tom and his brother Rajko Loncaric, who was going to have to leave early, and another friend of theirs, at 7 a.m.. We had the complimentary breakfast (sausage and bread), and I got instructions on how they run shore fishing tournaments. You call for a 'official' who weighs your fish, there are five or six guys spread out over the pond that are waiting to do so, interesting. And was all start at exactly 8 a.m., all from the same shore, about 10 yards apart, for the first 15 minutes, then you allowed to fish anywhere, but no running to spots. I drew # 5, and none of us got any, then all spread out after the 15 minute bell went off.
Overall, It was so windy your would cast one way, and lure wound end up a mile away. Very trying conditions. I, as well as most guys, did not get anything, the wind might have been a factor to stopping their interest in 'biting', as they didn't. It was all shore fishing, they don't have big enough lakes to need boats basically. If I'd caught the same ones from two days earlier, I'd have won the tournament.
I 'go big or go home' Seewald tossed the Super Spook, as well as some other topwater baits, but nothing wanted them today. It was clear, which did not help me, although everyone here says clear skies gets better topwater action. I had some miracle moments as I got back the Super Spook twice, as one it snapped off during the cast, shooting some 50 yards away, but as it was directly in the wind on this particular cast, with lots of prayer, it came floating back to me in about 5 minutes, stopping just short of shore caught on a stump. I took off pants and shoes/sock and went out to get it, not even deep.
The second time was minutes later, trying to throw it down an ally of opening between trees, sideways to the wind. I knew it was 'iffy', and a shorter cast had worked, but I wanted it further down the ally, as fish you catch usually have not seen a lure lately, so you try for places maybe nobody else had. The lure went there, but the braid got looped over the brush nearby, and nothing I did got if off, so I pulled hard to snap it, knowing that usually means losing it. But at is snapped off the braid the lure flung itself towards me, I'd never seen this happen before like this. BUT it was just out of reach from my rod and blowing away into some brush. Hurriedly I went and got a long branch I'd used earlier to fetch one 'Italian test lure' Zdravko had given me the day before (which I also got back twice this day- WOW). I was just able to reach it before it got out of reach, TUL!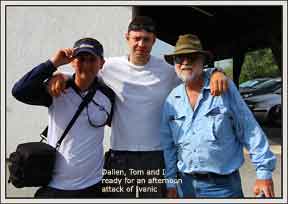 Click on image to see larger.
Dalien, Tom and I pose just before going out for an afternoon session. Yes, Tom stands a head above us, and I think he even bent down a bit. The
wind was still howling, and the bite still tough.
We had a great lunch afterwards. Then Tom, Dalien (Daniel Vignjevic- a fishing author and photographer I met during the tourney who came over and introduced himself as a friend of Zdravko's that had told him about me), and another gent and I went back out. By 7 p.m. our luck did not improve, the wind did not die down and Tom and his friend Nenad Ujlaki decided to head home, an hour north.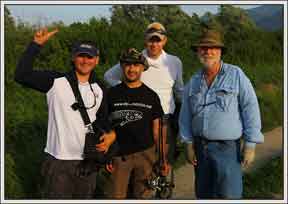 Click on image to see larger.
Dalien, Nenad Ujlaki, Tom and I pose for a final farewell photo. Nenad and Tom
had to leave around 7 p.m., while Dalien and I continued to fish till dark.
Dalien and I kept fishing, first back to my honey hole, the 'peninsula', where I had a 2# bass try to inhale my frog the last five minutes of the tourney, and then around the whole lake again, fishing till dark, 9 pm, no luck.
We had a nice chat and dinner back in Lepoglava, my regular restaurant, and I hit the sack at midnight. It is a nice fact that most of these guys spoke very good English. They almost all report learning it from cartoons when they were kids.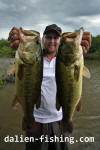 Click on image to see larger.
Daniel (Dalien) Vignjevic with some lunkers from a trip
to Lake Borovik last summer, making me water at the mouth to get there now!

BUT I WAS told about a lake that puts Ivanic to shame, Lake Borovik, with the average size going up from 1/2 pound here, to about 3-4 pounds there. AND it's only 240 km away, to the east. Not the direction I was planning, but what the heck, I can make art anywhere, so I'm planning on heading there now.

http://dalien-fishing.com/trophy-bass-from-lake-borovik/
Tuesday, June 5th
Lake Borovik- Nasice
3.30 pm. Got in late last night, it had really come down as I drove here; lightening; hail, and rain so hard full speed wipers did not help much to see, scary really. Tom's brother, Rajko, had worked it out for me to stat at an apartment for free, they had some credit from the music school he teaches at, TUL! I negotiated another night at 100 kn., as I know we will finish late and no sense in trying to go to Zagreb and looking, that's as far as I'd get.
Just got back from checking out the lake, it's big and at the far end lots of trees stumps show as it's shallower. It was raining still, but not too hard.
Purchased some 40# braid for my ultra-light ( I know, a bit weird), but now I have enough line on it to cast, plus I can fish a frog in the cover. Before, with the 8# mono on it, I wouldn't dare. Just waiting for a call from my friend Rajko, who is going with me this afternoon.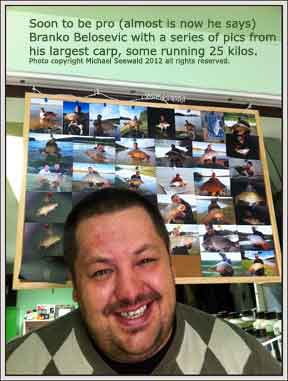 Click on image to see larger.
Branko Belosevic, employee extraordinaire at 'Venator' hunting and fishing
store in Nasice, was a big help to me, and shared enthusiasm for fishing,
even though a different species. He said he might give bass fishing a try,
he knows it would be more exercises than he gets now.
He called about 4 p.m., said he'd be over in 15, and so got there about 5 p.m.. I thought it'd be nice if the permit was for 24 hours, instead of till the end of the day, and he informed me, actually, it was! Cool. We arranged for me to get a ride with the dam keeper to give me a ride to a nice spot, via his boat, at 10 a.m., then we drove to the end of the lake, left side (right side was pretty muddy, probably Rajko could not get through he said, I'd not tried it).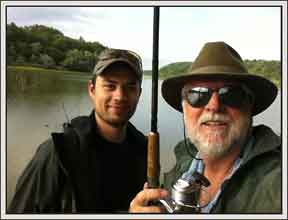 |
Click on image to see larger.
Rajko Loncaric and I, Ready to whack 'em. Me with my new Venator rain gear,
tired of stuffing an umbrella in my shirt to fish in the rains.
We fished various baits, spinner baits, Spooks, flukes, Senkos, all for naught, not even a bump. Of course, it'd rained all night and most of the morning, and was cold, so a winter storm put them off. I lost my large yellow and black Super Spook first cast, the one that miraculously was saved from being lost twice over at Ivanec. I thought maybe come back the next day, swim for it, but the water was a bit cold, I'd see. We finished by going over to a pond by the dam, and I got hooked up twice on small bass, (not so small by standards here come to think about it, 10 inches or so), they both got off.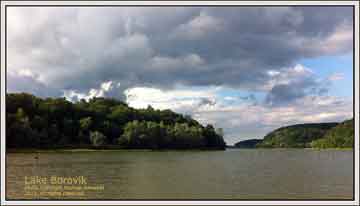 Click on image to see larger.

Rajko and I stopped to capture the beauty of a clearing storm that afternoon. This was from the third cove, almost to the end, where we started, a few hundreds further down the lake. You can't see the dam from it, but here we could see a little bit of it.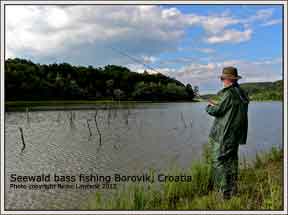 Click on image to see larger.

Rajko shoots one of me working a bait at Lake Borovik
Wednesday, June 6th
Lake Borovik- Nasice
Up at 7:30, breakfasted at 8, and hit fishing store to see if they had worm hooks, they didn't. I had one left, that would have to do.
Started out at the pond that Rajko and I fished last night. I got one hit at the dam, and the 40 minutes went fast, as I was to meet dam keeper Zdenko Mikic at the dam. He offered to give me ride to a good spot 2/3rds of the way down the lake, on the right hand side.
I got there about 10:10, and in about 5 minutes he pulled up in his boat and took me out. I asked if he'd help get my Super Spook lure back, and he did. We had to go an extra mile, and at 5 mph it took a while, he has either a 3 or 5 hp Mercury motor, the number was hard to read. When we got to where I'd lost the lure, in a tree top that barley came out of the water, it was no where to be seen. I had been afraid of that, and scanned the area, hoping it would have floated towards shore, instead of away. The wind was blowing away from it last night, I had a bad feeling. But as I looked I saw something a bit bright on the shore, it could be yellow (the color of the lure), I pointed and he headed over. Sure enough, it'd floated to shore and got half buried in mud, almost could not see it. This was now the official 'miracle lure'. I'd lost it twice last Friday, and got it back both times.
He then took me to the best spot on the lake, but as the day before they had shut down, the same results were to be today. I tossed that Spook quite a bit, once getting into a tree but this time I had the lure on the new braid, and it was enough to pull it off (not that I was worried, the ranger was coming back w/ his boat to pick me up at 1 p.m., and we could get it back).
After an hour of that I put on 'the bass counter', a popper of sorts, with a big hook out the rear/back, facing upwards. Pretty weedless, and makes a lot of commotion, but the down side, it was reported by everyone, was the fish don't get hooked on it. That didn't matter, none hit it.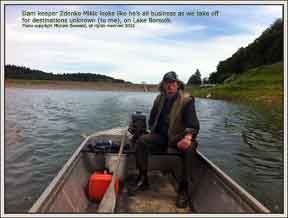 Click on image to see larger.
Damkeeper Zkenko Mikic looks very serious
as he takes me to places unknown (at least to me).
I put on the spinnerbait, but lost it after 15 minutes while talking to Domagoj Bilic, who works for the national water district, Voda, and thus was allowed to have his own boat, and did. I then tried a Senko, the last resort to get the stripe off the back, but even that didn't work, oh well. As Domagoj was about to leave I asked if he was going back to the dam, he said yes and would give me a ride. At that point we saw Zdenko coming in the distance and waived him off.
Dalien pretty much knew how we did, he gave me a call for blow-by-blow updates daily, but there was, unfortunately, the same report- you should have been here yesterday kind. ;-/
When I got back I decided to stop to eat my sandwich and have a beer at the campground by the dam, then try my luck one more time along it, with the Spook. A third of the way fishing it a young lad came over and motioned for me to follow him, I'd seen him by the rangers hut earlier. I told him I had a license, but he still said something in English, about a boat. Did I own for the boat ride? Was I in trouble for fishing the dam? (Rajko had told me it was not allowed, but Domagoj said earlier he was going to fish it, and when I gave him the warning he said, 'not me, I own the lake', I knew he was 'kidding' (but as he runs the water district, and then I saw him in that boat, I finally realized he did, in a way, 'own' the lake.) Thus I thought it ok for me to fish the dam too, since I now knew the dam keeper and the 'owner of the lake'.
When we got to the rangers house, I found Domagoj and 20 of his contemporaries were having a BBQ lunch and they invited me to join them. They had 'roasted' some beef, potatoes and onions, in an iron pot buried under coals, all cooked in their own juices. UMMMM!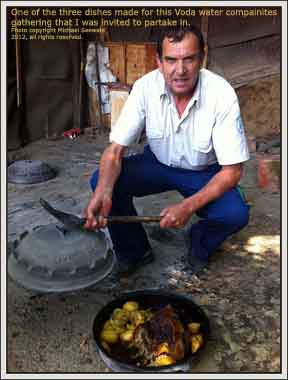 Click on image to see larger.
This system kept the juices in the food, and it
just fell apart with the touch of your fork.
We chatted a bit, they kept trying to get me to eat and drink more, but I had to get going. I went out and finished fishing the entire dam, but alas, Lake Borovik was not going to give up her bass easily to me this time. Maybe in the future.
I said my goodbyes to Rajko as I returned his gear back in Nasice, along with some money for the lost spinnerbait, which he almost did not let me pay for, we had a real 'no you keep it, no you take it' moment, luckily I won out. One thing I can tell you, the Loncaric's are good people, as were all the fishermen I have met over here.
Thanks guys, hope to see you all again, and thanks so much for the memories I'll never forget. Tom threatens to come and visit, I hope so, I'm going to put him on hogs he'll never forget. And thank-U-Lord for letting me meet so many of your better creations (these men), much appreciated.
To read my Day-Journal of the
Croatia trip, click this.