One of the many public service announcements brought to by the friendly folks
at Seewald's art gallery. Don't forget to help an artist out with a small, or large donation: donation f o r m.

As we owned a gallery in Del Mar for 10 years,
the Valerie E. Wong Gallery, we figured we knew
enough about it to refer some folks.
Some great places to visit, eat, etc.,
while in the wonderful community of
Del Mar, California.
One of Seewald's top two favorite restaurants in San Diego is actually also in Del Mar! It is Sbicca American Bistro, owned by Seewald art collectors, Dan and Susan Sbicca.
Wine Lovers Tuesdays and Thursdays
Any bottle of wine on the wine list is 50% off on Tuesday and Thursday nights. Offer also available in the bar.
215 15th St
Lunch Mon-Sat 11:00am- 3:00pm
Sunday Brunch 9:00am- 3:00pm
Dinner Nightly 5:00pm
Tel: (858) 481-1001
Fax: (858) 481-5591

Please join Dan and Susan Sbicca and savor award winning Modern American cuisine at its most creative and flavorful.

Enjoy ocean-view terrace dining, a full bar and an extensive wine list, while dining with good friends at Sbicca in the village of Del Mar.

Michael's
recent visit- 2.3.'03

Interested in mouth watering food combined with a cozy yet friendly atmosphere right here in San Diego? After 40 trips around the world creating museum award winning images I've learned a bit about food. So the next time you visit my wife's gallery here at the Del Mar Plaza to see the latest work the Lord has blessed my eye with remember this suggestion. Go to Sbicca. It's catty-corner from us on 15th St. in old Del Mar.

The friendly owners, Dan and Susan Sbicca, are personal friends of ours. Valerie and I have brought so many of our collectors here we've stopped counting. One couple, Michael and Karen Nishimura, came back twice within the week with their friends. That's impressed! It's that good though.

Last night we had the tenderest Filet Mignon, covered with a mountain of shoe string potatoes, perfectly crunchy, with a side of 'steamed but crisp' veggies. That was right after the spicy crab cakes and the nut, cheese and raisin covered arugula salad and before a dessert too good for you taste buds to hear right now. And although we split the entire meal we could not finish it all! That's value for your bingo-bucks.

Their new restaurant, called Meritage, just opened on the Old Coast Hwy in Encinitas. Immediately popular- I'd get reservations no matter the night.
Seewald's other favorite restaurant is also in Del Mar!

Kipp and Lisa Downing, own the Pacifica Del Mar Restaurant in the Del Mar Plaza, just above the Valerie E. Wong Gallery, are also new collectors of Seewald's art.

Here, everything is prepared from scratch, and the restaurant is rated 'top 4' in San Diego County.

(Besides adding a few Seewald's to their home, they just re-decorated the restaurant with his gorgeous work.)

"Personally, I rate it #1, but then again I'm biased.... they collect my work!" ms

This is the 'Mustard Bar', the first part of the Restaurant you see when you enter. Note the beautiful ocean aquarium located a little further back.

Kipp's second location is up in Palm Desert, Calif. (next to Palm Springs).

A sample menu follows this photo of the
Pacifica Breeze Cafe. Located just above it is the actual restaurant, which you can just see the umbrellas sprouting from it's roof.

We hosted a sit down dinner party here recently, and here was the Dinner Menu.

Appetizers
(Choice of, Platters or Passed)

CRAB CAKES
with Cucumber Salad
or
SHRIMP KIM CHEE
served on Won Ton Chips
or
BRUSCHETTA
with Tomatoes, Shiitake Mushrooms, and Brie Cheese

Starters
(Choice of)
SOUP OF THE DAY
or
ORGANIC MIXED GREENS
with Gorgonzola, Glazed Walnuts and Balsamic Vinaigrette


ENTREES
Entrees
(Choice of)

PAN ROAST MAHI MAHI
with Sweet Potato Hash and Ginger-Scallion Buerre Blanc
or
PAN ROAST CHICKEN
Roast Garlic ­ Noodle Galette and Spicy Roast Tomato Sauce
or
GRILLED SUGAR SPICED BBQ SALMON
with Chinese Mustard and Garlic Mashed Potatoes
or
GRILLED FILET MIGNON
with Garlic Roasted Mashed Potatoes and Spinach


Dessert
(Choice of)
PACIFICA'S CREME BRULEE
or
PEACH and APRICOT CRISP
or
SORBET OF THE DAY

(I had the Mahi Mahi, and Valerie the Salmon. The salmon turned out to be the one 'to die for'. Also, everyone raved about the filet mignon melting in their mouths.) ms




This is the same view from our gallery looking west, over the Pacific Ocean!!!

The Breeze Cafe, part of the Pacifica Del Mar Restaurant, is located just below the restaurant. It is also, basically, on the same level as our gallery.

1555 Camino Del Mar, Del Mar California.

Located on the old coast hwy, in old Del Mar. Underground parking (First two hours free w/ validation).

You can go visit their site direct: http://www.pacificadelmar.com/


Then again, there is a hidden shop well worth your visit...
The Frustrated Cowboy
Owned and operated by more Seewald art collectors, David and Carol Goodell,
the friendliest folks you'll find in Del Mar.
The shop has anything cowboyish- hats, boots, art, memorabilia, etc..

A fun place to visit.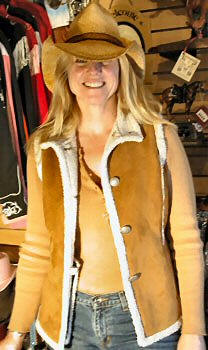 Here is their description of their store:
Howdy! Our store is dedicated to the frustrated cowboy in all of us. We've got everything you need to turn your home or office into your very own home on the range!
We think you'll really like our Pendleton goods, Golden Gate cowboy hats, homewares, picture frames and unique mirrors that fit your home, ranch, or cabin. Give them as gifts, or keep 'em for yourself!
We also have a full line of Michael Garman cowboy and Native American statues, prints by Bev Doolittle and a whole bunch of local artists, not to mention wearable art: handpainted T-shirts and denim jackets -- come on in, and take home a little bit of the ol' West.
Meanwhile, if you can't make it in, browse our online catalog and order by phone, fax or email!
Website: http://www.frustratedcowboy.com/
One of the many public service announcements brought to by the friendly folks
at Seewald's art gallery. Don't forget to help an artist out with a small, or large donation: donation f o r m.

reset 10.'08
directins to del mar california, seewald, Valerie E. Wong Gallery, Seewald's, Michael Seewald, Valerie Wong,
Del Mar Plaza, San Diego Museum of Photographic Art, Del Mar, California, Art Calendars, limited editon art, photos,
photographs, fine art photo, seewald, Valerie E. Wong Gallery, Del Mar, Ansel Adams, Edward Weston, Seewald's,
Michael Seewald, Art Calendars, photographic art calendars, limited editon art