We carry a beautiful line of art glass.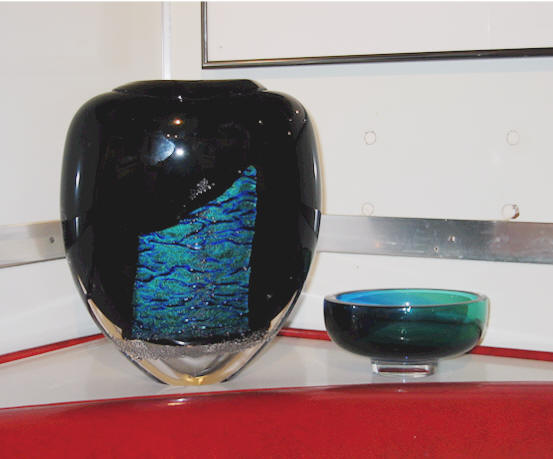 "Black Beauty" oval/flat vase- $500. 9" wide, 11.5 high.
Blue-green round bowl- $180

Master glassblower
Buzz Blodgett.

Born Waldo L. (Buzz) Blodgett in July of 1951 in Los Angeles, Ca., Buzz was raised surrounded by art since his father, Wally Blodgett, was an ceramic artist. "Dad was the one that had the desire to work in glass first," Buzz said. "Val Sanders of Palomar College taught my dad how to blow glass back in '69. Within a few months we had our first furnace in operation (he now has half a dozen). While watching him I got hooked, and we began learning and experimenting together," he continued.
"We began selling our work while I was still going to college," Buzz commented, "on weekends we would blow glass and during the week I'd be in class studying. The day after receiving my B.Sc. degree in chemistry at San Diego State University in 1974, I began working full-time at glass! We developed a line of blown glass wind chimes, which sold across the entire country."
In 1978, a Swedish glassblower visited the Blodgett family for 6 months and taught them many new styles and techniques. Infused with this new knowledge, new designs began to emerge from the studio, along with a large improvement in the quality of their work. "I was always impressed with the frozen liquidity of the glass, which seemed to mesh with my love for the ocean and surfing", Buzz exclaimed.
After Buzz's father passed away in '87, he took over the operation of Blodgett Glass. His love for the 'art side of glass' has now moved him more towards that market, and he is being represented more and more by galleries and fine art glass stores.

Click to see the exquisite detail.
Work Description:
'Sea Foam' (using 'bubbles' in the decoration, enhancing its liquid appearance) is Buzz's 'trademark style'. This look is complemented by his use of only 'transparent colors', and the most flowing shapes he can possibly make.
These bubbles are made using a chemical, soda ash, which is used in the melting of the glass. The soda ash (similar to baking soda) is placed in between the layers of glass and releases the gas when the new layer of hot glass is placed over it.
All Blodgett glass is completely hand blown, without molds, using a high quality, low-iron, lead-free glass. While blowing the work Buzz oversees a team of three skilled glass-blowing assistants that grind, polish, and pack all of his work.
Partial List of Exhibitions:
1975: Touch of Glass, Wally and Buzz Blodgett, San Diego, CA.

1976: Corning Museum of Glass, GAS Members Exhibition, Corning, NY.

1978: Touch of Glass, Glass Show, San Diego, CA.

1990: New York Experimental Glass Workshop, Essence in Perfume, NY, NY.
1990, '91, '92, '93: Del Mano Gallery, Perfumes and Paperweights, Pasadena, CA.

1994, '95: Phoenix Rising Gallery, Post Pilchuck: Beyond the Glory Hole, Seattle, WA 1996: Fanny Garver Gallery, West Side, Featured Artist, Madison, WI.

1996: Trios Gallery, Hot Glass, Solana Beach, CA.

1996: Phoenix Rising Gallery, Glass for the Mind and Soul, Seattle, WA.

1997, '98: L'Auberge 'Hallway gallery', 'Seewald/Blodgett', Del Mar, CA.


reset 10.'08
END