Answered Prayers
by Michael Seewald
PS I love thanking the lord, and I do so a lot with my acronym TUL (Thank U Lord).

9.11.'10

Well, I've decided to add a new page in honor of my God, my Lord and Savior Jesus Christ, his Father Yahweh (aka God, God the Father, the Lord, the God of Abraham, Isaac and Jacob, YAHUSHA the Son of the living Adonai of Ysrael YAHUHA) and also the Holy Spirit (aka Holy Ghost, the Comforter). One God, but three 'persons', aka 'the trinity (don't ask me how it works, I just know it/He/they do/does).
In honor of what?
In honor of so many miracles, aka, answered prayers. I have so much answered prayer that I named my bass boat 'the Answered Prayer'.
I know one thing, GOD loves us, and LOVES to answer our prayers. Not so much as some nutty TV evangelists who are actually clueless and deceivers of folks that the Lord wants us all rich and famous and driving brand new SUV or Porsche's, but that he wants to make sure we have the basic needs of life, and quite a few blessings of 'extra things' too. But all this including miraculous healings, but then again, sometimes not for the 'bigger picture' or plan he has for our lives, like sometimes dying sooner than later so we can enjoy Him face to face- for eternity, not a bad thing for a believer huh?
Besides, and because, the best thing He gave us, for us believers, is eternal salvation through the free gift of Jesus' dying for our sins on the cross, naked and alone! What better gift could you want than eternal salvation? Now I know, that alone is enough to get me excited, and I didn't always believe it, but his answering prayers to PROVE to me that HE was real, way back when I was 'searching', led me to believe I could trust in Him, and His word, which he proclaims never comes back void- Halleluiah!
Also, it's good to write things down so we don't forget the blessings when times get tough and we wonder, it's only natural and human, if we really are loved by this God in Heaven like we thought we were.
Even the Jewish nation constantly put reminders up (such as a pile of boulders where the Lord dried up a mighty river so they could cross, etc.), to remind them of God's deliverance. Even Passover was meant to remind them yearly.
Anyway, blessings to all who believe, and may those that don't be encouraged, so that by giving your life to Christ it will be the most exciting thing you could have ever done- what's more important than eternal salvation? "Nada" as my Mexican friends would say.

PS I love thanking the lord, and I do so a lot with my acronym TUL (Thank U Lord).
Miracles, from the most recent....
6.21.2013

EE945853330CN
About some Cuba Miracles
(Before I've even left)

Well, I've had a bunch of miracles over the past couple of years, but forgot to post them. But this latest miracle is just one in a series of them for my upcoming trip to Cuba. Here is the string of them and how it's worked out so far.
Miracle number 1.
Well, getting in and out of Cuba was becoming a problem for me. You see, it's a destination I'd put on my list of places I'd like to make art at. And then one sponsor said he'd take eight sponsored images, so it was then put in concrete as one I was going to go to. Then, about three weeks back, I kept getting butterflies in my stomach every time I thought about having to lie to customs officials on where I'd been while visiting Mexico (the place most Americans go to Cube through, as it's illegal from the USA, for the 'most part').
No matter how I explained to the Lord how 'everyone does it that way', I still got an uncomfortable feeling in my gut. I finally realized that this was just not going to work, and that no matter how 'other folks did it', it was NOT His way.

So, I prayed for him to help me out here. If that was not the way, how then? I did a lot of research, some folks were now allowed to go there, 'legally', buy joining an 'educational tour', or one of the other ones now set up. Here is some info from the article linked above:
" In terms of hotels, "service may not be quite as good and the Internet connection is incredibly slow and frustrating," said Ms. Moore of Distant Horizons. But, she said, "they have all the facilities you'd expect: swimming pools, little gyms. And there are a lot of very good private restaurants."

Don't expect to stock up on those coveted Cuban cigars, however. Travelers aren't allowed to bring cigars or rum back to the States, according to the Treasury Department.

Demand for Cuba is so strong that tour operators say that many of the trips already have long waiting lists. Learning in Retirement, an educational program associated with the University of Wisconsin in La Crosse, which is offering a 10-day people-to-people trip in April, said more than 65 people have already expressed interest for its 35 spots. "That's just through word of mouth," said Burt Altman, a retired professor who organized the trip. "We haven't even put out the itinerary."

"It's the forbidden fruit," said Mr. Popper of Insight Cuba. "It's 50 years of pent-up demand for a country that 75 percent of Americans really, really want to travel to."
But, most of these tours are VERY EXPENSIVE, and aren't very long, and are very restrictive on what I'd get to see or do, so they would NOT work for me. I travel, as a semi-starving artist, on a shoe string budget and go where I wish, even when I snuck into Russia, without a visa back in '92.

Anyways, with more research, and prayer, I found out that if you go on, basically, a missions trip it is legal with the State Department, so I decided to do it that way. (This was after one collector of mine had told me he'd gone many times, and he'd paid someone he found $300 for some such letter, and he was an atheist- what the heck?).
I had already found a sister church in Havana to ours, a Calvary Chapel, and then I did some research and got contact info, through a facebook page I'd found, with a Calvary Chapel in East Anaheim. (I figured if an atheist could get some letter, that he should not of even rec'd, I could too; but one that was legit, and one that I would be really working for, as I could help teach the married couples there, and the youth I could work with, etc.).


Click photo to enlarge
Valerie and I went up to the Calvary Chapel E. Anaheim
to meet Pastor Ozzie, the connection to Pastor Ricardo in Havana.
He had just finished preaching to the Spanish speaking folks there (father's day, 6.16.'13), where we attended the English speaking one presented by head pastor Bob Kopeny.

So, after contacting the missions pastor in Anaheim, Ozzie, and getting tips, and a suggestion I contact, and get, my church to write a letter authorizing me to go there for a 'look, see, learn, help and report back' missions trip.

The part now that I prayed for, as we were between having a full time mission pastor at this time, was finding someone that would be willing to write such a letter for me, from the head pastor, Mark Foreman, to his assistants and ex-missions pastors, etc.. With much prayer, and about two weeks of waiting, an e-mail came through, that a letter came forth and authorized me to represent our church over there, TUL! My God is an awesome God, I'm now good to go, and don't have to lie at the border about my not having gone there, that is not of the Lord.

Miracle number 2.
BUT, while I was waiting I started to do more research of what camera I might switch too, as digital 35's were getting so good they were getting close to the quality of my 2 2/4" negative medium format one. But the more I looked into it, the more I realized I'd need to buy a few more lenses to make it all work.
The perfect alternative would be to just buy, as I soon found out with more research, a back for my already existing great Hasselblad system. BUT I came across, time and again, the same one that had stopped me for the last few years, the price of a digital back (as my 'backs' are removable on the medium format camera, unlike 35mm ones- thus making it easy to shoot both B&W and color of the same scene, without needing two cameras).
But, as I had the monies from my sponsor from the eight sales, as well as a couple of others, I thought I might have a shot to buy a good used one, although even a 20mp one was expensive, and 20 mp was nowhere near the quality of the ones they now made, a 40mp, a 60mp, and now a 80mp (which cost, at this point, some $40K).
BUT while keeping an eye on eBay, I found one in Hong Kong for ONLY $10,5K, and it was a 60mp, called a Leaf Aptus 65! COOL! But, that was still a lot of money, I'd have to go into debt, and we just got out after many years of prayer and scrimping. I prayed the folks would take an offer of less money. It was not an 'offer' type of listing, so the chances were slim to none, NOT ONLY THAT, it was listed at $10K LESS than others on the market.
BUT GUESS WHAT? Last Saturday, after more prayer from Pastor Ozzie about it, and me feeling comfortable with then making an offer, they accepted it- $9,250K. TUL! So, I put it on AMEX and paid off a couple of thousand right away. The shipped it out Monday.
BUT, guess what? I get an email from the seller on Sunday, the next day, asking how much I wanted to claim I'd spent on the purchase, that customs would need to know, to collect the duty! Oh man, I did not even think about THAT, I'd bought a few things from China in the past year, via eBay, and they never asked. Why? Because they were about $5 each, with free shipping, so that would not incur any duty.
So, what to declare? I read up on it first, many folks said that it varies in amount, with some claiming up to 40% of value, some said 3%, seemed no rhyme or reason. Either way, I wrote this to the guy,figuring no one but he and the Lord would know, but because my Lord knew, why I had to decide/write this:
Dear foto****,

I hope, and pray, it does not incur high tax, but if it does it does. As a Christian and follower of Jesus my wife and I do everything 'above board', God takes care of us.
Thanks for the concern. Will it go out today?
Need it ASAP.
Thanks.
Well, I prayed the Lord work work this out somehow where we would not get hurt too bad with the tax. I left it in His hands.
Then, here is what he wrote back:
I will declare a relatively low and reasonable value to help minimize taxes. It will go out tomorrow morning.
Well, that's not how we figured the Lord would answer our prayer of paying a lower tax, the guy on the other end deciding to lie for us! WOW. But we still praise Him, it is answered prayer.
Miracle number 3.
BUT, guess what? As I'm expecting it in three days, via EMS shipping, I do a search and notice it is 'stuck' in customs!!! It got there yesterday, and a search on the shipping number, EE945853330CN, the title of the miracle on top of this post, showed it was still there this afternoon. WOW! I did not expect it to be there but to get scanned or something. Can it take long? And if so, how long? I then filled in a request, online, to be notified by USPS of updates on the package.
Then I did a search. WOW, some folks reported it took two to three weeks sometimes. The quickest was like three days- OUCH.
I called the wife, we needed to pray. I need to get this so I can;
1. try it out, test it, I've never owned one, and
2. get going on my trip, so I can return to teach a three day class just four weeks from now. I already have one student and it's a big part of my bread and butter.
As I want to be there for three weeks I'm up against a deadline. So we prayed an hour ago (over the phone, Valerie is at work and I'm at home working) that the package would continue on it's way quickly.
I then hung up and went to check e mail, not to see if it was released that quickly, God's not THAT BIG, but just to see if anything important had come in (we get about 10 per hour- 95% spam as usual), and guess what? There was one e mail, and it was from the USPS, and it reported an update on EE945853330CN, that it'd just left customs. TUL!
The saga continues... will I get it later today, it's 4 p.m. now, or tomorrow do they deliver on Saturday's if it's Express? Don't know, will have to go look. Maybe Monday then? Whatever, it looks like my goal of next Tuesday might be a reality.
Miracle number 4.
Guess what, the next day we rec'd the package, on a Saturday (was not sure they'd deliver on Saturday's, but regular mail is). The doorbell rang, and a postman stood outside. I'd grabbed my checkbook, in anticipation of having to pay the duty on the part. "How much do I owe?" I asked him.
"Nothing, just a signature" he replied. What, no fees? I did not expect that, ALTHOUGH THAT IS EXACTLY WHAT I'D PRAYED FOR!
I bragged on the Lord to the postman, explaining how I'd prayed somehow I would not have to pay anything. He was impressed.
So, I've been playing with the new back, seems to work fine. TUL.
Answered prayer, or, 'How BIG is your God/god?
First posted on WesternBass fishing website, with byline "by Otay Michael", my user name on this and many fishing sites as I grew up fishing Otay Lake in Chula Vista, Calif.
» Thu Aug 05, 2010 10:18 am

Does God answer 'small prayers'?
AKA The miracle of the
resurrected refrigerator.
Well, I had God answer another prayer for me, another 'miracle?'. I'll let you decide, but I think so. But funny, I had this discussion with a fellow believer three weeks ago, on answered prayer. We both believe in a God, and that Jesus is part of the Trinity. Now we can't explain how God is One, yet three also (Father, Son and Holy Spirit, three 'persons'!), but that's ok, I like a God so big you can't figure him out- He made it that way too!

Anyway, he did not believe that God answered all the 'little' prayers. Guess little is different for each person, but I said since He knows, He states, the amount of hairs on our head we could trust Him to know about every little thing! You see, He knows how many if we should ask, He did not say it had to be a special time 'when he drops in and thinks about us', such as the day you were born, or died, or our 21st birthday, but at ANY time.

That means, He knows an awful lot about each and every one of us at ALL times too. That's AMAZING, and where I get the chutzpah (yeah, I had to look up the spelling, I'm not Jewish, just 'grafted in') to ask for all kind of things. This has been learned through the studying of the bible, and how He answered so many prayers to so many folks, and by example seeing other folks (mostly some of my younger brothers- they 'believed' first) do so before I came to believer (that's one of the things that got me interested actually- besides their 'peace of mind' about everything- something I, nor they, had much of).

Jesus said you have not for you ask not. Heck, He even gave me my idea for the sponsorship program, which got me on some 55 trips around the world on other peoples money to make my art, TUL. (Thank U Lord).

I could write a book on all my answered prayer on my travels alone, but He says the only thing He asks is to share them for His glory, so here is my latest (the previous one was on getting a spinnerbait back from the depths, he gave me the idea, then provided the miracle, while I only argued with Him that it would be foolish to even try- how cool is that?!!- I bragged on Him for that on another site.

So- I had an old refrigerator that needed to go back into service, some 15 years after getting it for a home we never ended up getting, so it sat stored in our apartment garage- now 6 hours 'deep' in stuff stored in, above and around it- could not even see it. It would now store my negatives in the freezer, from all my trips, keeping them from deteriorating -the old freezer semi-bit the dust a few months back, keeping things cold but not frozen, refrigerator part not even.

This was two days before my trip to teach in Carmel/fish the Delta, two weeks ago- after digging it out I took it to the shop and spent two hours taking off the front door, moving 'stuff' and generally making enough room to maneuver it through the place to a spot that would work (too big to go into the far back room, door too small in this old building), then let is set for two days before plugging it in. The morning of leaving, while taking care of last minute things, I hoped for the best (should have prayed) plugged it in and checked it after an hour- nada, no cold air blowing out what-so-ever, freezer OR refrigerator vents! Bummer, all that work, and no extra money to speak of for another! I turned it off- would have to deal with it later.

When I got back I decided to 'lay hands on it', as I've done for folks needing healing, as well as machines believe it or not- most of them healed- and prayed in the name of Jesus to 'work again' (and promised I'd brag on Him as I always do). Plugged it in and went home.

Well, the next day I went in and the thing had frozen the test water I'd put in the thing- DANG, what an awesome God. Well, my believing friend, like I used to think, thinks God is TOO busy to answer the small stuff; too busy with global warming, wars, starving in India, etc. to 'worry' about things like my little bat-fish upside down and dying in my fish tank (which was healed after praying 20 years ago now- dude at fish store, after explaining the situation, said the only way to 'heal' it was a 50% salt water change of my 50 gallon tank for a week- I came back and said 'sorry dude, the guy at the fish store said your going to die', then laid hands on the tank and prayed, next day it was fine- next time I saw that store owner I told him of my miracle, he stood jaw agape!).

Well, I guess my God is a lot bigger than his, and getting bigger every day. The neat part is that knowing He is so concerned about me, and millions of other believers also petitioning him for this or that daily, is that He must be hearing my every communication directly and immediately. Is anyone else's God doing that? If you have your God figured out, and in a little box ready to say, "I've got God all figured out, look here', well then your God is pretty small. Mine is SOOOO big I'll never figure Him out, or put Him in a box and again, getting bigger every day, making it all the more difficult to even try!

TUL.

PS If you should ever want to meet this/my God, if you don't already know Him, He's waiting to introduce Himself and walk with you in the afternoon hours through the gardens- we were meant to anyways way back in them at the start. Yes, He's willing to show Himself at your request, though being tested to prove He's real- no hocus pocus, but be ready to have your mind blown with something if you do pray for it. Ask, and you shall receive. Could write a whole story on this with my personal 'revelation' from Him, but that's for some other time.
Prayer to find a Dermatologist
that would trade services for art.
9.12.'10
Well, Valerie and I have been praying in advance of this meeting for about a week, that this dermatologist would go for a trade - services for art - I really need to be looked at and we know that waiting is not the answer (possible skin cancer to be removed before it becomes problematic, ie DEADLY). I needed insurance (the prayer type), thus the prayer request to 'our prayer warriors' a few hours earlier; you can never have too much prayer right?
But first, a little history. First realize I do a lot of trades, some professions are easier to work them out with than others. When I sold advertising just out of college, I learned if from veteran businesspeople, especially one jewelry store owner, he ONLY did trade, jewelry for advertising. This locating a dermatologist was becoming difficult, they make a ton of money and don't need art for the offices, they usually have their interior designers take care of it, and their homes the same. In the past two months of trying, I'd been turned down by one (I like your art, but it's not my style- wonder what he would say if he'd seen it in person, instead of the internet website? So much nicer in real life), the four others I'd contacted never returned my e-mail inquiries of even possibly entertaining the thought, oh well!!?

Ok, here is how the meeting went; right off the bat, this guy's office was on the same street that Valerie's dental implant surgeon was on, the one that had done some surgery on her a few years ago, in trade, and the one she just made another agreement to trade implant surgery for another piece two weeks ago (that trade was answered prayer in itself)! My prayer was that it would be close enough, as in the same building and same floor, close enough I could just march him over and show him the quality of the work he could trade for, maybe even get a testimonial from the other doctor- but what were the odds? Not to good, but it got better as I got closer, as it WAS in the same area, in fact it was one of three three-story buildings her doctor was located at behind a hospital. As I got closer, I saw it was in the same building! And as I parked, I realized it was on the SAME FLOOR as it was suite 325, third floor! OMG! How big is the Lord? Quite big and getting bigger every year is my answer. It showed me his fingerprints were going to be all over this meeting and I relaxed about the whole thing right then and there. Would it be important? Well onward with the story.

As I entered his office, my prayer was that the Lord would lead; I had no' sales pitch' planned, just wait for Him to lead with the Doctors questions. I filled out the required paperwork in the reception office to some degree when a staff helper took me to a room and went over the same questions I was answering- allergies to antibiotics? health problems? ancestral cancer problems, how I heard about them, etc., and then waited for just two seconds and the doctor came in.
Right off the bat, after he introduced himself, he looks at the paperwork and mentioned that I'd been referred; I said no, it was the internet search, but then again, yes (I now remembered I'd just told his assistant that another dermatologist that had visited my Del Mar Gallery last April had suggested I find one- when he saw the spots on my face). I now added he had got me to thinking about getting my face looked at by someone, and said this Dr. was interested in doing a trade, but that he lived in Los Angeles and knew I would not drive that far for treatment- right he was (It's a two hour drive, north, of San Diego).

That led into me stating that many folks had come to me for trades, not necessarily me to them, and that it's the only way I could afford many of their services, for myself or my wife. I then stated trades were a big part of my life, mentioning I had not even paid for a haircut in 30 years, etc..

At this point I held my breath, he must of known what I was getting at, but he didn't kick me out, so I continued. I said I also had dentists and chiropractors that traded, and that even the doctor next store was currently doing a trade for my wife's dental needs! I said if he was not interested there were plenty of dermatologists around and that I'd just keep looking if need be (take away the possibility of my spending my 'trade dollars' with him- I learned 'they' will want it all the more when you take it away- wisdom from the Lord). Again I held my breath, and again did not hear he was not interested.

I mentioned all of this to him before he inspected my face mind you; I wanted to make sure I was not going to get charged for this consultation in 'cash', but in trade, which is what I told the receptionist when she asked for my insurer. I'd learned not to mention anything about a trade, they turn you down before approaching the doctors themselves I found, more wisdom from the BIG GUY upstairs. I then reached down and picked up one of two unopened art calendars I'd brought in and showed him. He asked if they were paintings right off the bat, they looked too painterly to be photos he said. No, they were photos I assured him, just that most folks thought they were paintings also -he was impressed, TUL (thank U Lord- obviously if he wasn't, it would be a deal breaker).

And then I told him many folks, unfortunately, thought that since they had a camera they too could make photo art, just snap away. He said he knew better, HIS DAD HAD BEEN A SERIOUS PHOTOGRAPHER TOO, and knew how hard it was! What WERE the odds of that? More fingerprints, I could really feel I was floating on a bed of prayer.

I asked if he understood how difficult it was to be an artist, that even though the work has won many awards and that folks think they are paintings, they don't necessarily separate themselves from their wallets over them too readily. (Needed to make the point that even though they are nice, and pricey, and worth it, I don't necessarily make a lot of sales, otherwise he may expect me to pay cash for services huh, maybe someday). He said he could relate quite well to my 'situation', "as my sister is a starving artist too" (What are the odds of that?) "And I just gave her a free $10,000 face lift! " So he was now in my corner, sort to speak, T.U.L., with some VERY GIANT fingerprints appearing all over the place at this point.

We then continued with the exam, and he was very thorough and studied my whole body, finding many spots that would need freezing, or some special areas that would require a type of special light treatment that would need to be performed, plus some that would need to be removed surgically ASAP. His assistant kept track of the procedures he rattled off, and their costs, as he studied me from head to toe. She then got the calculator out and figured it would be a couple of thousand in fees, and then he said "Hey, I'll get a nice original too!".

"Yes you do" I told him quite calmly, (inside I was jumping up and down, the Lord and I were high-fiving, we'd come to an agreement, he had gone for it in total- T.U.L. again).

I then asked if he had two seconds to go next door to see the quality of one of my large originals (24x30, framed to 32x42) the one in Valerie's Drs' office. Yes he said, and as we went in that Dr was in, AND BETWEEN PATIENTS and as he noticed us looking at my art he came over and then ranted about it, and about his delight to get another one soon, THANK U LORD. The two guys knew each other to boot! (This was all to amazing, even I did not 'script' them knowing each other, only that they would be close enough that I could take him over too- the Lord has a sense of humor). They chatted for a minute then we left with 'my' dermatologist now quite satisfied I was who I said I was, and that other doctors, sure enough, were very happy with my services/trades.

Anyways, as he left me at his front reception desk he instructed them to make an appointment for me to start with skin lesion removal next week! Thank you Jesus, again and again.

Many thanks to you all for prayers sent, past, present and future. Like one of you responded, it will be interesting to see how the Lord works this out. They knew if it wasn't this way, it would be another. We DO serve a mighty God.

Remember, when the Lord answers prayer, He only wants one thing in return, and that is to brag on Him.

Michael, the bragger on the Lord.
11.12.'10
The miracle of the ever running light bulb...
Prayer to keep the exhibit light running through the entire second day at the photo expo on my 'boat battery' scheme.
Well, this one is very interesting. You see, the first day of this event I had brought my own power to generate electricity to light up the art at my booth. Why? Well, the places that have expos use buildings that have somehow been 'absconded' by union electricians in that they require you to hire them to bring electricity to your booth, $80, and then charge to plug in every cord that you have at about $25 per plug!
Now, having paid $500 for the booth, and things being kinda slow (sales) I tried to figure a way to save money and yet have a few lights on my art, which always look better lit up. The fees for electricity, as you see being so absorbitant, would mean I'd have to forgo this. BUT, I got a great idea, TUL, to bring my own electricity in the way of bringing my heavy duty trolling motor batteries I use on my boat. I found out I'd need an inverter (thank you pastor Paul Owens's for your advice on this while of my way back from my Texas photographic/fishing adventure just the day before), so I'd purchased one so I could use my 12 volt batteries with my 120 volt lamp system.
The first day the fully charged batteries, surprising, only lasted about an hour each, but I thought what a blessing, the electricity with extensions was just behind my booth, no 'official' help needed. So after the three batteries were used up, about three hours, I just plugged my cord into the extension, problem solved.
That night we went to church and the message was on Judas and how his stealing from the disciples community expense bag (he was the treasurer), at first probably a little, then more over time, eventually led him so far astray that he ended up 'selling the information of where Jesus would be' so the Pharisees could arrest him away from the crowds; and he did so for 30 pieces of silver. (Of course he realized his curse later and went out and hung himself, his guilt too heavy after trying to return the 'blood money').
Well, I squirmed in my seat knowing the contract stated you were not supposed to use the electricity if you had not paid, so I vowed to not do so to myself the next day. After all, integrity is not what you do in front of folks, it's what you do when no one is looking, right? Right.
The next day, going in with three freshly charged batteries, I plugged into the first at opening time, 9 a.m.. But knowing they'd not last long, I was soon tempted to just plug it into the wall, but no, I kept my word to myself, all the while thinking 'who really cares, just go for it', but didn't.
The first went out after an hour and some minutes, the second the same, and it was now 11:45, and with over 5 hours left of the show I switched to the third and final batery. I then prayed for a BIG miracle, knowing it would be needed for it work that long.
After an hour and a half I was restless, knowing any minute it'd fail, and I'd just be semi-dark, but I was determined to be resolute, if it went it went. BUT, after hour two, then three, and then even after FOUR hours the bulb still shown bright, and my art looked good. I double checked the cords, had I 'accidentally' plugged it into the wall instead? This was not making sense, was the Lord really honoring my prayers with a miracle? No, that cord to the wall was still unplugged and this bulb was into my batter still. But how long would it last?
Then it hit 4:40 and I thought the miracle had gone on long enough and then unplugged it. But no, I re-plugged in it a moment later, I would leave it be even if the attendance was trickling down to a few folks per hour, I was staying till 5 and so was the light. "Don't chince the Lord out from his entire miracle" I thought. Well, at 5:05 I unplugged it as I now packed up. I did tell one lady that said she was sick, after telling her I pray for her, about the 'light running miracle' at about 4:30. She said 'like in the bible, with the oil that kept burning miracle', I sorta remembered it. Then I told another exhibitor as I packed, and also my protégé Dan back at the gallery, whom does not believe in God. And now you. Why? Because all the Lord wants is His glory for the miracles He performs, and rightly so or how would folks find out He is so gracious and so caring about each little thing in our life, TUL!
PS I remember after un-hooking the batteries, and knowing some were older than others in age, that I thought to myself "I bet the Lord used the oldest battery to last the longest, the one that should have gone out faster, I know He has a sense of humor". I scanned the stickers on each battery, indicating the year made, it said '07. Sure enough, the other two, dated '08 and the '09, had died quicker and shouldn't have! TUL again.
PPS Chanukah: Miracle of the Oil
The miracle of the burning oil:
According to the Talmud (Shabbat 21b), once the victorious Maccabees reached the Temple, they could only find one oil jug with the high priest's seal intact. Worse still, the oil in the jug was only enough to last one day. A great miracle occurred and the light lasted for eight days.

Cont: http://www.mazornet.com/holidays/chanukah/background-oil.htm

Miracle of the spinner bait retrieval.
5.26.'10
Barrett Lake, California
Went to a favorite fishing lake in San Diego county at sunrise and got a nice 4 pound largemouth bass close to the docks right off the bat- she fought like a bat out of hell- those northern strain bass never cease to amaze, on a new Booyah spinnerbait blade I got at Wally world (WalMart) the night before (to replace the blade I, by hitting a tree full force, and the fish by eating it so much, destroyed last week! (TERMINATOR T-1 SPINNERBAIT- 3/8 WHITE CHARTREUSE), of which six arrived today from my eBay purchase for about $4 each last week.

Took photos of the fish, then next cast let it sink to the bottom by a large sunken tree, mostly the tree was submerged as many are now, and got it stuck in a bush. Pulled hard, not that hard, but it broke off. BUMMER! It looked to break at the knot, the line had a bad curl on the end- 12# Maxima fluoro. No similar replacement lures were in the tackle box. Oh my, not good! Note to self, change line, bring more back up blades next time.



Click photo to enlarge.
Looked to be a great day, a four pounder right off the bat.

Tied on the similar bait, tossed it, and the frog, for 15 minutes for nada, and as I started to get ready to start the motor to leave the area the thought came to pray for a miracle to get it back! "But Lord, what kind of miracle would it take" I asked Him? Well, a lure deep down in a bush, which had sunk down about 10-15 feet, with no line on it would be (near?) impossible to get back, unless a miracle did happen I figured.
It would need to somehow now get to be on top of the bush when I went back to take a look-see, as how else could I ever get it back? Promised God if indeed this miracle happened and I retrieved it I'd gladly make a report about it/HIM, giving Him the glory. But I really doubted it, but it's not up to me, but Him right?

Nothing but dark green water was visible when I went to the spot however, and I did not even see the top of the bush it had got caught in (12" visibility- stained green with algae bloom). Thought, oh well, maybe the answered prayer would be a semi-smaller miracle, me sweeping my rod down into the depths and snagging the lure off the bush somehow. Tried a few times with my new 7'3" Dobyn's frog rod but did not even feel the bush, let alone a lure. So much for that idea, and with the last swipe still nada, I gave up.

BUT as I lifted the rod out of the water to go, to my amazement, a bit of line was caught on the rod tip. I thought maybe I snagged someone else's line, my lure was line-less, laying on the bottom, too deep to reach, right? Well, I quickly grabbed the line as it slipped off and started to sink down to Davey Jones Locker and pulled on it. It looked like my flouro and the line headed a couple of feet away, and down. I pulled, it was stuck on something. Could it be maybe mine after all? Naw, mine had that curled broken line, indicating it broke off at the lure.

Took the rod and started trying to follow the line down with the tip, but with arm extended and hand into water could not feel the end of the line/lure. I did manage to get the rod snagged into the bush once, the braid catching on something, but it looked hopeless as the rod did not hit anything after a few valiant tries. Ok, one last extended stab at it before giving up and then trying to pull it up, most likely then breaking it off, whatever it was. But I then felt it hit something. Jiggle wiggled for quite a few seconds, line in one hand, extended rod in the other, chest against the boat's railing, pushing the rod even deeper, staining with all my might, with nothing happening. AND THEN the line in my hand started pulling up the line a little, then with rod twitching, even more easily she came up. AND then, there she was, my new lure. Thank U Lord. I could not go back to fishing with the best bait for that lake, at the time of year!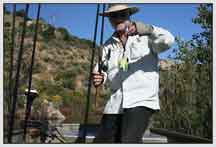 Click photo to enlarge.
Here is a photo or the lure, freshly retrieved from the bottom of the lake, pretty much now a miracle bait in hand


added 9.11.'10