Fish Reports
So. Africa Trip
My World Record bass chance
How to fish frogs
Diamond Vlly Lake story
San Diego Bay fishing
Martinez Lake story
Our Bass Boats
Friends pics
Seewald Cajun Recipe
How to tie knots
San Diego Lake Schedules
Top 25 Bass
S.D. Lake water levels
S.D. Union-Trib article
Mattlures Jitterfish review
Fishing gear Insurance Photos
f

Many men go fishing all of their lives without knowing
that it is not fish they are after. ~Henry David Thoreau
____________________________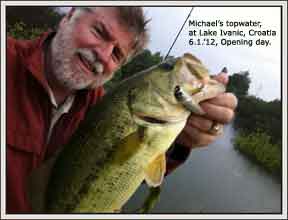 Click on image to see larger.
"Wow, I really got into some nice ones."
Michael on his recent trip to Croatia, to make
art, but took time off to wet a line!
Full REPORT HERE

____________________________
Michael was born with a camera in one hand, a
brush in the other,
and a fishin' po' in his mouth!!!
Michael Seewald's Fishing
Home Page
Follow Michael Seewald's in-depth fish reports (on links at left)
after reading the following interesting articles.
Also note our new 'How to' fishing book suggestion
section- readings on improving your techniques, etc.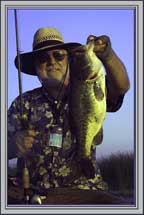 Seewald at Clear Lake, CA., 7-'08. Click to enlarge.
Into fishing? Especially largemouth bass?
Millions are, as is Michael, and he has fairly recently (2003)
taken up his childhood hobby, especially bass fishing.
____________________________
And, he has got so proficient, and tied it into his travels so well,
the outdoors writer for the San Diego Union Tribune wrote an article on him!!!
Photographer expresses his love of nature
Saturday, January 16, 2010
An award-winning photographer and avid fisherman, Michael Seewald knows that a great photo presents itself about as often as a trophy largemouth bass.
"Our eyes process 32 frames per second, so there are about a million photo possibilities a day, but which one is worth stopping for and making a piece of art out of it?" Seewald said. "I'm always looking for the perfect photo, and I never know what it is." ...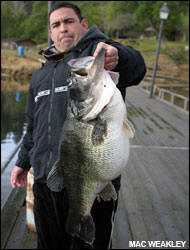 3.20.2006
World record 'largemouth' bass.
Photographed and released; this 25.1-pound largemouth bass was caught, and then released by Mac Weakley at Lake Dixon, in N. San Diego county California. It would have been an 'official' world record had it not been 'snagged' (which is illegal in California). It is held here by Weakley's fishing partner Mike Winn. AND it was 'almost' caught by Michael Seewald less than one month later; read that incredible story here.
UPDATE: 'Dottie', as she was called due to the dot on her chin, passed away as of May of '08.
____________________________________
Below: Valerie (Michael's wife) first bass article.

Napa Sonoma Fishing Trip May 2003.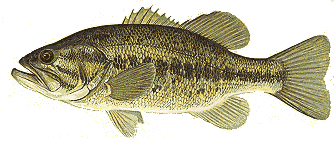 Miracle at Otay Lake
A true fish tale by Michael Seewald
or 'How I got back into fishing'.
Written Oct. 22nd, 2002
It was the worst time of year to fish the lakes, but I went to my old stomping grounds in Chula Vista, in south San Diego county, to fish Lake Otay anyway. While there, a miracle happened, and this is a fish story...uh, I mean this is my story.
It was really weird, and it all started at Fairbanks Ranch golf course. While talking with a childhood buddy, Dr. Russell Dunnum, (Russ) now also a collector, at a fundraiser I was donating to, we reminisced about the 'good old days'. He brought up the fact that our old fishing hole, Otay Lake, now has houses built all the way to the lakes edge. This lake was 10 miles from our house, and there was nothing but canyons all the way there- sad. But, in the beginning of the summer of 2002, with just the mentioning of 'Otay Lake', I felt an old passion from my youth, FISHING, start to stir! It was not long before it was so strong I could think of nothing else.
But, before heading out for the first time I had to check out my 30 year old gear which I was still taking with me every time I moved. I picked up my old pole with my trusty Mitchell-Garcia 302 spinning reel on it (these were 'hip' back then). After two cranks of the handle it fell off. I looked at the metal handle dangling in my hand and saw the plastic pieces on the ground that the handle used to fit into. I then realized plastic must have less than a 30 year life span in some cases. Obviously it needed replacement, and so I was off to my favorite local fishing supply store, Sears.

But what the heck, Sears no longer carries fishing gear anymore? Boy, how things have changed. I then went and found my 'new' favorite fishing supply store, Wal-Mart (well, also the Sports Authority now). There, after getting sticker shock on the price of fishing gear nowadays I walked out the proud owner of a brand new Mitchell reel... along with new line, new style lures, and an even more urgent need to get the line wet. (Note: Later found out these Mitchell's are not what they used to be).
August 7th, 2002

With a mix of new and old gear I took a trip out to 'Otay' on my next day off, Wednesday. My first trip out
She rowed the boat while I both cast here and there and 'coached her' from going in constant circles, which happened more often than not.
was made at mid-day in the beginning of August, and as usual it was about 90+ degrees, cloudless and dry. Rattlesnake and earthquake weather. While driving the two miles along the lake to get to the concession stand I was overwhelmed by the fact that tall reeds now infested the edges of the lake. It was virtually impossible to fish the shore, like we used to do, by just walking around it.
Although I brought the gear I was not sure I wanted to fish; during the middle of the summer the fishing is usually at it's worst. The fish go real deep as they have no eyelids as the light bothers them, (or so I thought, I've since learned otherwise) which makes it tough to catch them. Plus, the heat makes it miserable to be out there. But, I met a nice older black man who gave me some pointers on the lakes conditions nowadays... and he was nice enough to give me his rental boat and permits, as he was leaving the lake early anyways! So, although it was too hot to go out my enthusiasm got the best of me and I was soon rowing out along the shore practicing my casting, which was also rusty. I left the lake at dusk, fishless but excited to be fishing again.
August 14th, 2002

The lake is open Wednesdays and weekends, but Valerie and I both have to work weekends usually, so the next Wednesday I took Valerie out with me to show her how great this 'fishing thing' was. She rowed the boat while I both cast here and there and 'coached her' from going in constant circles, which happened more often than not. (By the third time out she was a pro rower, albeit a tired one. She was also easily talked into investing in a trolling motor.)
We weren't 15 minutes into the day when Bam, a nice 2+ pounder hit my old Rapala lure. I fought him in like an old pro, showed him off to Valerie and, without much thought, tossed him right back into the dark green water.
I told them that for me heaven would be having Jesus fishing in the boat with me, and on every cast we would catch a 'lunker' bass!
Valerie screamed "What are you doing?". I told her I thought he would be much smaller than the others I would hook up later, so we would not need him.) Uh-huh. In retrospect, I agree he sure was a lot bigger than the trout you get at the grocery store that cost us about five bucks apiece! She had to open up the gallery at 10 am., so I drove her back (90 miles round trip) and returned later in the afternoon, after the heat of mid-day had passed, to finish the day by myself.
What heaven would be like? This question came up at our 'home fellowship' after this, my second time out. (Home fellowship, or 'small groups' as it's called, are where many Christians meet mid-week to go over the pastors message from the previous Sunday at someone's home. We also pray for each others needs as well as friends that might need it, sing praise songs to the Lord and then have dessert and coffee afterwards). I told them that for me heaven would be having Jesus fishing in the boat with me, and on every cast we would catch a 'lunker' bass (that's what you call a really big bass)!!!
Miracle day August 21st, 2002

Well, the next time out I went on my own again, and reached the lake by 5:30 am. (It's a 45 minute drive from Del Mar, so you know I have the 'bug' bad as I usually get up early for nothing... ever! Well, maybe a photo once in China, but that was it.) It was STILL DARK and the bass where starting to wake up and feed on the small shad on the lakes surface, making those loud splashing noises that give fishermen chills of excitement. Five fishermen waited anxiously in line in front of me. The lake attendants, man and his wife, live in a trailer behind the
By 6:05 I was already trolling an old 'rebel' lure and got hooked up at 6:10, just 100 feet from the dock.
concession stand. (This is new since I went there before, and not the same charm the old stand had.) We waited for them to get out of bed and sell us the tickets that would make it legal to fish, and to rent boats if needed, which in my case it was. They opened the sales window at 5:45 to mutterings from the first fellow that it was almost noon and that the fish had probable stopped biting! The attendant reminded him that the lake does not 'officially' open until 6 and he should be happy that he got it 15 minutes early. I got my full day rental row boat ($12.00 for the day) and my daily permit -$5.00, and ran down to the boat dock and loaded up my boat.
By 6:05 I was already trolling an old 'rebel' lure and got hooked up at 6:10, just 100 feet from the dock. I lost him but cast right back out and hooked up with, maybe, the same fish. After a few minutes I landed him, and dug out a stringer -a special 6 foot long nylon line to put your fish on- and then put him in the water to keep him alive under the boat. I went back to fishing, feeling really good that I already had one. (This was obviously before I learned it was not cool to keep your fish, a 'catch and release' system was more acceptable to bass fisherman nowadays, so there are more to catch every time you go out, making fishing more fun).
By 10 a.m., the sun was already relentless and I had rowed across the lake to the dam area (see photo and see dam located behind my left shoulder). Actually, the wind was up and it was more of a 'blown across the lake' effect that got me over there. I still had only one bass on the stringer but had lost a really big one on a new salt water lure I had purchased (a Storm soft small swimbait, but I found out it's really used for freshwater just as much). It looked like a rubber shad and I knew it would be a bass killer. (This is the same lure I gave Valerie to use that she caught her 'first ever' bass on later in the month, see article that follows). Another one I caught was slightly smaller than the one I had caught previously and I tossed him back to grow some more, he was about
After letting the top water lure float there for a few seconds I twitched it, supposedly making it look like an injured fish, and immediately a large bass attacked it from below.
a two pounder.
I noticed a dark patch in the water along and in front of the reeds, so I cast the Rebel lure, which looks like a long, thin shiny fish, just above the dark area. (I found that dark areas are boulders or weed beds, an area a bass loves to hide in, for coolness sake in the summer, and for an ambushing location for unsuspecting minnows, crawfish, etc.). After letting the top water lure float there for a few seconds I twitched it, supposedly making it look like an injured fish, and immediately a large bass attacked it from below. I lunged back, set the hook, and prayed like crazy that the Lord would keep it on the line. After a few minutes I landed another nice size fish, even bigger than the first. I kept fishing until the heat was too much and rowed back to the dock and took a break.
I weighed the two fish at the docks scales and found the first was a 3+ pounder, the second, at 17" or 18", was a 4+. Found a place for lunch a few miles back towards downtown Chula Vista and then tried to take a nap under some eucalyptus trees in my van back at the hot lake. That not working too well after a couple of hours of chasing a pesky fly off my face, I hit the lake again around 5 pm. (Stays light till 8:30 p.m.)
No sooner out than I tied into another large bass about 100 yards from the boat dock. It was another 16", 3+ pounder. I could not believe how blessed I was becoming. I started to pray that I would actually get my 'limit', (5 bass is the legal limit, nothing allowed to be kept under 12") which was my prayer in the beginning of the day anyways, and one I really expected the Lord to answer. I caught another 2+ pounder and tossed him back, and then I caught another 4+ pounder an hour later on the twitch method casting towards the middle of the lake, in deep water. But this bass hit it less than two seconds after it landed, before it was even twitched. Three guys in a boat not too far away kept talking among themselves about how I was so 'lucky' and wondered what my secret bait was. (The lake makes sounds travel so well you think someone talking a mile away is only 50 feet away.) So now I had four nice size fish and had tossed two smaller ones back. Officially I had caught my limit, as the two 2 pounders were over 12", but ethically was another on the limit. I wanted another 'real keeper' to
The three guys that took my picture said they had fished there all day and had caught nothing.


Click photo to enlarge.
Here are the four of five caught in one day. Back then it was a big deal.
Of course, nowadays we don't keep the bass, but take their pictures and let them go.

count it an 'official official' day. Dusk was happening and I rowed over to the three guys in their boat and asked them if they would take a picture of me and my four fish while the light was nice. They marveled at my bass's size and stated so as I slowly rowed back to return the boat. I realized I had 10 minutes of light left.
I went and walked along the lakes edge just 100 ft. from the dock, one of the only places left that I could fish that was not tulle covered, and tossed the lure. Something hit it but I did not get a good hook set (a term meaning to actually hook the fish) so I immediately cast again and another hit it hard. I fought him in over a large growth of weeds and landed another 3+ pounder. I knew I had enough fish for quite a few meals already, so I let him go. (Valerie still liked them at that point, but has come to think they are a bit 'muddy' flavored; I already had since childhood). This made the limit of 'decent size fish' official. WHOOPEE!!!
Another fisherman, just to my side, said "Hey, I would have kept him, why didn't you give him to me?"




Click photo to enlarge.
Photo copyright Valerie Seewald

I did not answer him, and although I had not heard of 'catch and release' yet I knew if you did not need him you may want to come back and catch him when he has grown into a 10+ pound lunker. That is the premise and the practice now.
The miracle of catching my limit during the hardest month to do so was something I will never forget. In all of my youth of hundreds of days fishing Otay I had never had such a day, not even on the nice overcast days when they bite more often. Half of all days netted nothing, the other half maybe one or two, three at the most- and those were mostly one to two pounders. Bass fishing is not as easy all of the other types available there, i.e. bluegill, crappie, catfish, etc., but it is the most exciting. (The three guys that took my picture said they had fished there all day and had caught nothing. When asking what I had caught mine on I showed them. They replied they were all going to Wal-Mart to get that lure that very night?!).
Last week (10.16.02) I went out again just for a two and a half hour slot, at dusk. Just before going out I noticed a bass tournament was just wrapping up. I asked the 15 men how big was the winning fish. They said 2 -1/4 pounds. 2 -1/4 POUNDS!!! Heck, and I only had a row boat and did better than that! ;-)
Thank you Lord for going fishing with me this day. A total of seven fish, some kept, some caught and released. A nice limit, with over 15 pounds of fish kept. Fish tacos here we come. MS
Note- 2004: We no longer keep the bass we catch,
as we found out 'catch and release' is the only practiced method amongst 'professional' bass fishermen. Heck, we want to be professional too, don't we? And they are right, heck they stock catfish, and trout in the other local lakes, better eating fish anyways, so why not toss the bass back. Besides, if you take them all home what's going to bite next time you go out? Please practice catch and release, at least bass wise.
Update post 6.'08: Of course, nowadays I've learned quite a bit more and it is not all that uncommon to get a limit of 5 or more bass in a days fishing, and at some lakes I've got 30! Heck, one day last year I got three at about 6 lbs each at Otay, with some smaller- WOW! That's a lot of growth in skill level since this post. But Otay, as well as many lakes, can still humble you quick too. A skunk (meaning wow, you stink, as in can't catch a fish) is always a possibility at most any lake.

The charm of fishing is that it is the pursuit of what is elusive but attainable,
a perpetual series of occasions for hope. ~John Buchan
Valerie's First Bass

Valerie, my lovely bride, caught her first bass, a nice 16", 2+ pound Florida largemouth, on her third day trying at my namesake lake, Otay (only proper, that's where I caught my first bass, only it was 40 years earlier!). She had thrown and caught her soft Storm jerkbait, for the ump-teenth time, up into the tulles on the shoreline. So I had her cast towards the middle of the lake to practice controlling her casts. We needed her to be able to stop the lure from going it's full distance by using her hand as a type of brake on the line. While she was practicing this technique a bass tore into her lure and immediately jumped for her to see. She was so excited while playing the fish, and even more so after landing it. She yelled, only after seeing it jump, "I think I've got one". She did not know what to expect or how it would feel, but now that she has caught many of them she feels better about everything.
Valerie with her first bass- 17".
Otay Lake, Chula Vista, California,
6:15 pm., Sept. 18th, 2002
(On a shad type looking soft plastic lure made by 'Storm'.)


Click to enlarge.
A fisher-woman is born!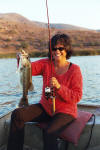 Click to enlarge.
Valerie and her first bass.
Update 6.11.03.
While fishing Otay Valerie tried her luck with a Senko plastic worm whilst I tried my skill with one also. She kept saying "I hope you catch one so I can see that these really work", as she had not seen me, nor her, do that before with this type of lure. Sure enough, just after a certain cast near the end of Otay Arm one picked up her worm while sinking and made a bee-line towards elsewhere. I saw her line moving so fast I yelled 'start reeling, you've got one'!. (She did not know that the line peeling out fast meant anything yet.) She caught a nice 2 pounder, which I released by accident, as I tried to land it by picking it up by the line. Lazy ways do not work.
(Professional landing net now in boat.)
Bill Siemantel's
Big Bass Zone
Michael Seewald 'Book Suggestion of the Month".
Get this, or click on this link to get some of the following
books, ASAP if you want to get to be better bass fisherman fast, he did...
The following images are from a trip to Napa/Sonoma
the first three weeks of May, '03.

A 5.5 pound largemouth bass.
caught at Lake Hennessey, near Napa Valley, in May of '03.
Was caught on a pumpkin colored Senko worm.
"I just loved this area! Most of the lakes, unlike San Diego, did not have a daily permit charge. I'd see a nice area and stop, unload the pole and start casting. Caught lots of hungry bass. Not only that, the lakes are sooooooo pretty. Beautiful oak trees dot the rolling green hills around each lake. You'd think you died and went to heaven.


Click to enlarge.
Michael's first 'frog fish'. Caught in friends Jim and Judy Murphy's 'front yard pond' up in Santa Rosa California. He bit on an artificial floating frog bait.
"I thought I'd hooked into a weird bass. I'd cast
under the weeping willow tree knowing a bass was
sure to live there. Upon the lure splashing down
something lunged from the side of the shore and nailed it.
As I fought it I kept wondering why it kept trying to
get to the shoreline, instead of out to deeper water as most bass do.
I soon found out, as when it was close enough I noticed it was actually a large frog.


Click to see what's in my tackle box.
It is a very detailed image from the Canon
Power Shot S45 digital, 4 mega pixel camera.
Back in Jan. of '03 the top dog for it's price.
Update 6.08. I now shoot a Rebel xti for my 'snaps', a 10.1 megapixel camera
with interchangeable lenses.

There's a fine line between fishing and just standing
on the shore like an idiot. ~Steven Wright
Old Pic's
Michael was an avid fisherman as a youngster. Here are
some old memories of his and his family's.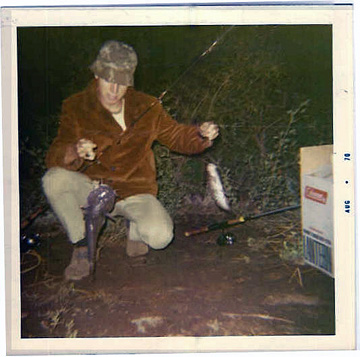 Michael back in August of 1970 with two channel catfish,
caught at the same time. Yes, you had to poach Sweetwater Reservoir back then!
(There were no lakes back then, unlike now, open for night fishing.)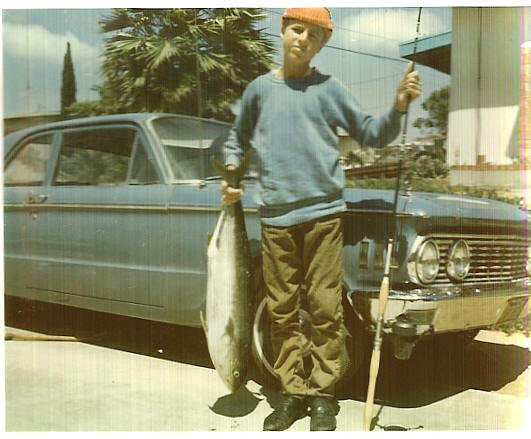 Michael with a 42", 21 lb. yellowtail,
caught Oct. 20th, 1968.
The great white hunters:
Mike Caswell, Michael's old hunting buddy,
and Michael pose with a fresh coyote kill out past 'Brown Hill',
Chula Vista, California. January of 1970.
(Shot on the run from over 100 yards with 22 caliber rifles.)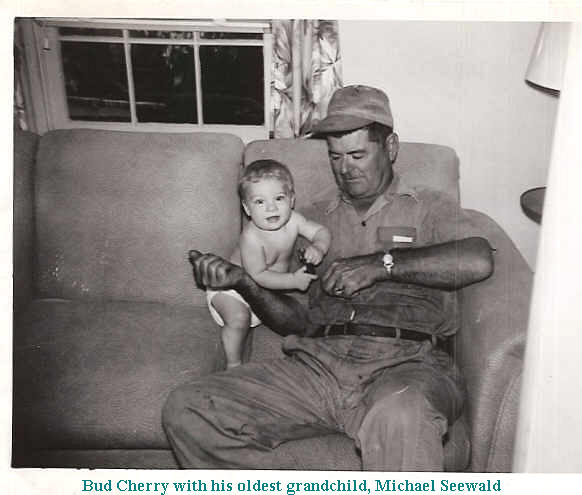 "My best fishing teacher was my grandfather, Bud Cherry. I was fishing before I could remember with him. He was an auto mechanic that had a home right on the Chesapeake Bay in Norfolk Virginia. I would go out fishing with him to catch croaker or crabbing to get bushels of crabs.
When out fishing he would tell me "Michael, I can 'feel the fish swimming around my line now", and sure enough, moments later he'd set the hook and be reeling in another dinner sized biggie. I still don't know how he did that!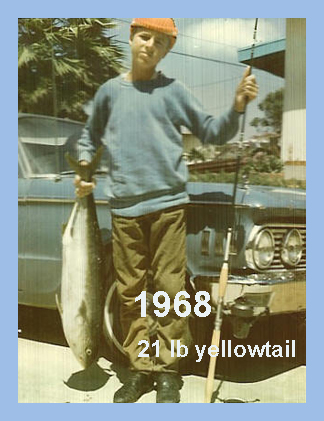 More stories:
I had my chance at catching
the World Record bass....
Seewald's bass fish Diamond Valley Lake
historic Opening Day. 10.3.'03
Martinez Lake, Colorado River trip articles.
_________________________________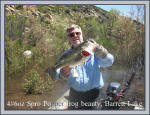 Click on photos to enlarge.
A 4lb 6oz Northern bass pulled out of Barrett Lake on a frog.
Michael got three this size at this area on two trips. Some he has
landed have weighed up to 8 lbs!
Want to learn 'How to fish a plastic frog' to land lunker bass,
let Michael teach you with this in depth 'how to' article.
_________________________________

Re-set 5.04/ 637-2.'05 / 6,468 4.'06 /16,200 1.'08
reset 10.'08, as all pages were.
Don't forget... take a kid fishing, they'll cherish it their entire life!
Or help one on shore you might see struggling, make a difference in life, and IN a life.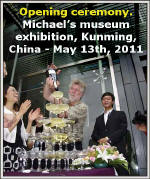 Click to enlarge.
Michael at his opening day ceremonies,
Kunming Museum, China, May of 2011.


ishing tips for bass fishing, Seewald's fishing tips for bass fishing in southern california, and deep sea fishing, catfish fishing for channel cats and flathead catfish, stink bait, lunker bass, bass boats, bass tracker, johnson motor, minn kota trolling motors, tips, Seewald's fishing tips for bass fishing in southern california, and deep sea, martinez lake, san vicente,lake maps, poway lake, sonoma lake, fishing tips, seewald, Michael Seewald, otay lake, diamond valley lake, lake castaic, rapala lures, rebel lures, fishing tips for bass fishing, Seewald's fishing tips for bass fishing in southern california, and deep sea fishing tipsSeewald's fishing tips for bass fishing in southern california, and deep sea fishing tips, seewald, Michael Seewald, content="fishing tips for bass fishing, Seewald's fishing tips for bass fishing in southern california, and deep sea fishing tips, Seewald's fishing tips for bass fishing in southern california, and deep sea fishing tips, seewald, Michael Seewald, sinko fishing, fishing sinkos, martinez lake, squaw lake, sonoma lake, dixon lake, otay lake, san vicente lake, poway lake, colorado river fishing, channel catfish fishing, bass boats, lures, yozuri fishing line, san diego lakes, diamond valley lake, hot fishing, mexican waters, fishing for bass, bass and catfish, bassmasers, bass clubs, bass fishing"> ryMichael Seewald's photographic artwork, Valerie E. Wong Gallery, Del Mar, Californiakevin van dam, michael iocanelli, dean rojas, frog fishing tips books and reference for bass fishing in southern california, fishing tips for bass fishing in southern california, books and info on deep sea fishing, books on catfishing for channel cats and flathead catfish, stink bait, lunker bass, bass boats, bass tracker, johnson motor, minn kota trolling motors, tips, Seewald's fishing tips for bass fishing in southern california, and deep sea, martinez lake, san vicente,lake maps, poway lake, sonoma lake, fishing tips, otay lake, diamond valley lake, lake castaic, rapala lures, rebel lures, fishing tips for bass fishing, Seewald's fishing tips for bass fishing in southern california, and deep sea fishing, kevin van dam, michael iocanelli, dean rojas, tipsSeewald's fishing tips for bass fishing in southern california, and deep sea books and magazines with suggested reading, fishing tips, content="fishing tips for bass fishing, Seewald's fishing tips for bass fishing in southern california, and deep sea fishing tips, Seewald's fishing tips for bass fishing in southern california, and deep sea fishing tips, seewald, Michael Seewald, sinko fishing, fishing sinkos, martinez lake, squaw lake, sonoma lake, dixon lake, otay lake, san vicente lake, poway lake, colorado river fishing, channel catfish fishing, bass boats, lures, yozuri fishing line, san diego lakes, diamond valley lake, hot fishing, mexican waters, fishing for bass, bass and catfish, bassmasers, bass clubs, bass fishing"> ry The Top 3 -- Kevin VanDam, Mark Davis and Clark Wendlandt -- stay the same. Jay Yelas moves from 7th into 4th in part because of a good finish (16th) at Seminole. Kelly Jordon jumps the most out of anyone in the Top 10, from 10th to 5th, thanks in part to two Top 20 finishes in a row. Gary Klein moves back into the Top 10 at 9th, aided by his win at Seminole. Rick Clunn and Aaron Martens drop a few more places because they have not finished high so far this season. Kevin VanDam Kalamazoo, Mark Davis Mt. Ida, AR Clark Wendlandt Cedar Park, TX, Jay Yelas Tyler, TX., Kelly Jordon Mineola, TX., Bud Pruitt Spring, TX., Mike Wurm Hot Springs, AR Larry Nixon Bee Branch, AR Gary Klein Weatherford, TX Alton Jones Waco, TX Todd Faircloth Jasper, TX Brent Chapman Shawnee, KS Tim Horton Muscle Shoals, AL Keith Green Arkadelphia, AR David Walker Sevierville, TN Aaron Martens Castaic, CA Paul L. Elias Pachuta, MS Rick Clunn Ava, MO David Fritts Lexington, NC Pat Fisher Stone Mntn., GA Craig Powers Rockwood, John Sappington Wyandotte, OK Gerald Swindle Hayden, AL Joel G. Richardson Kernersville, NC Roland Martin Clewiston, FL Dean Rojas Grand Saline, Bernie Schultz Gainesville, FL Gary Yamamoto Mineola, TX Todd Auten Gastonia, NC Davy Hite Prosperity, SC Takahiro Omori Emory, TX Mickey Bruce Buford, GA Dustin Wilks Raleigh, NC Kevin Wirth Crestwood, KY Tommy Biffle Wagoner, OK Michael Iaconelli Woodbury Hts., NJ Chris Baumgardner Gastonia, NC Kotaro Kiriyama New Milford, NJ Skeet Reese Auburn, CA David Dudley Lynchburg, VA Randy Blaukat Lamar, MO Scott Rook Little Rock, AR Peter E. Thliveros Jacksonville, FL Guido Hibdon Gravois Mills, MO Koby Kreiger Osceola, IN Dan Morehead Paducah, KY Rob Kilby Hot Springs, AR Stephen Browning Hot Springs, AR Greg Hackney Oak Ridge, LA Randy Howell Trussville, AL Tom Mann Jr. Buford, GA George Cochran Hot Springs, AR Bill Chapman Salt Rock, WV John Murray Phoenix, AZ Mark Menendez Paducah, KY David Wharton Sam Rayburn, TX David Dudley Lynchburg, VA Chuck Economou Redington Bch., FL Tracy Adams Wilkesboro, NC Dion Hibdon Stover, MO Dale Teaney Williamsburg, OH Andy Morgan Dayton, TN Wes Thomas Hanover, IN Marty Stone Linden, NC Jimmy Millsaps Canton, GA Edwin Evers Mannsville, OK Tommy Martin Hemphill, TX Keith Williams Conway, AR Mickey Bruce Buford, GA Zell Rowland Montgomery, TX Jim Tutt Longview, TX Curt Lytle Suffolk, VA Wesley Strader Spring City, TN Kenyon Hill Norman, OK Sam Newby Pocola, OK Ben Matsubu Mineola, TX Denny Brauer Camdenton, MO Carl Maxfield Summerville, SC Wesley Strader Spring City, TN Kim Stricker Howell, MI Shaw E. Grigsby Jr. Gainesville, FL Pete Gluszek Franklinville, NJ Jim Bitter Fruitland Park, FL Dalton Bobo Northport, AL Dwayne Horton Knoxville, TN Mark Rose Marion, AR Dan Morehead Paducah, KY Alvin Shaw State Road, NC Donald Eaton Covington, GA Randall Hutson Washburn, MO Ishama Monroe Phoenix, AZ Allen Armour Norcross, GA Frank Ipploiti Mt. Airy, MD Johnny McCombs Mount Olive, AL Chris Daniels Clayton, NC Cody Bird Granbury, TX Ron Shuffield Bismarck, AR Anthony Gagliardi Prosperity, SC Darrel Robertson Jay, OK Rick Lillegard Atkinson, NH Mark Pack Mineola, TX Joe Thomas Milford, OH Andre Moore Scottsdale, AZ Mike Auten Benton, KY Stacey D. King Reeds Spring, MO J.T. Kenney Frostburg, MD Jeff Kriet Ardmore, OK Steve Daniel Clewiston, FL Brian Snowden Springfield, MO O.T. Fears III Sallisaw, OK Jim Moynagh Carver, MN Mike Surman Boca Raton, FL Shad Schenck Waynetown, IN Terry Bolton Jr. Paducah, KY Kevin Vida Clare, MI Chip Harrison Jr. Bremen, IN Randy Alexander London, KY Jack L. Wade Knoxville, TN Joel Baker Talala, OK Guy H. Eaker Cherryville, NC Elton Luce Jr. Nederland, TX David Smith Del City, OK Charlie Youngers Oviedo, FL Roger Crafton Boca Grande, Terry Baksay Monroe, CT Dwayne Horton Knoxville, TN Ricky Shumpert Lexington, SC Jeffrey Thomas Broadway, NC Tony Couch Buckhead, GA Marty Fourkiller Cyril, OK Rick Gasaway Kennesaw, GA Scott Martin Clewiston, FL Charlie Hartley Grove City, OH 134 Chad Brauer Osage Beach, MO 51.456 135 Mike Hicks Richmond, VA 51.442 136 Sam Swett Covington, LA 51.205 137 Terry Segraves Kissimmee, FL 50.926 138 Jack A. Gadlage Logandale, NV 50.743 139 Tom Burns Carbondale, IL 50.679 140 Mark Rizk Redding, CA 50.484 141 Chet Douthit Clewiston, FL 50.362 142 Kelley Williamson Purdy, MO 50.014 143 Lee Bailey, Jr. Amston, CT 49.991 144 Sandy Melvin Boca Grande, FL 49.812 145 Brett Hite Phoenix, AZ 48.961 146 Ken Cook Meers, OK 48.600 147 Ken Strickland Oak Ridge, NC 48.418 148 Mark Pack Mineola, TX 48.349 149 Jim Carnell Muskogee, OK 48.248 150 Woo Daves Spring Grove, VA 48.240 151 Joe Don Setina Pittsburg, TX 47.941 152 Carl Svebek III Sam Rayburn, TX 47.707 153 Jerry Williams Conway, AR 47.423 154 Jim Murray Jr. Arabi, GA 46.975 155 Basil E. Bacon Springfield, MO 46.784 156 Mark Tucker Kirkwood, MO 46.698 Danny Correia Marlboro, MA 45.919 Eric Holt Galena, MO 45.704 Stanley Mitchell Fitzgerald, GA 45.685 Jeff Magee Mendenhall, MS 45.011 David Lauer South Bend, IN 44.117 Robert Beatty Clermont, FL 43.877 163 Greg Carpenter Royal, AR 43.815 164 John Crews Jetersville, VA 43.650 165 Johnny Lesesne Blue Ridge, GA 43.621 166 Charles Ingram Santa Fe, TN 43.598 167 Chris Elliott Raleigh, NC 43.406 168 Jacky Hawthorne Yantis, TX 43.365 169 Mark Rogers Naples, FL 42.955 170 Doug Garrett Cabot, AR 42.374 171 David Cooke Davidson, NC 42.155 172 Ray Sedgwick Cross, SC 41.850 173 Cecil Kingsley Lawrence, KS 41.486 174 Rock Monteith Columbia, SC 40.675 175 Harmon Davis Marlow, OK 40.255 176 Tim Sainato Branson, MO 39.814 177 Rodger Beaver Leesburg, GA 39.750 178 Lendell Martin, Jr. Nacogdoches, TX 39.451 179 Randy Dearman Onalaska, TX 39.142 180 Greg Pugh Cullman, AL 38.817 181 Mark Hardin Canton, GA 38.786 182 Harold Allen Shelbyville, TX 38.607 183 Steve Kennedy Auburn, AL 38.288 184 Tommy Stiles McMinnville, TN 38.065 185 Warren Wyman Castaic, CA 37.888 186 Al Gagliarducci Agawam, MA 37.653 187 Mike McClelland Springdale, AR 37.171 188 Jack Bell Kane, PA 37.158 189 Mike Hawkes Sabinal, TX 37.028 190 Sean Stickler Ft. Lauderdale, FL 36.930 191 Robert Graham Mooresville, NC 36.889 192 Glen Chappelear Acworth, GA 36.526 193 John Sisemore Farmington, AR 36.402 194 Tim Loper Terry, MS 36.374 195 Jerry Williams Conway, AR 36.071 196 Danny Kirk Bartow, GA 36.045 197 Tom Dolin Palatine Bridge, NY 36.034 198 Aaron A. Hastings Boonsboro, MD 35.839
199 Bill Smith Prestonsburg, KY 35.776 200 Jim Taylor Orange Park, FL 35.114 and deep sea fishing tipsSeewald's fishing tips for bass fishing in southern california, and deep sea, martinez lake, san vicente,lake maps, poway lake, sonoma lake, fishing tips, seewald, Michael Seewald, otay lake, diamond valley lake, lake castaic, rapala lures, rebel lures