One of the many public service announcements brought to by the friendly folks
at Seewald's art gallery. Don't forget to help an artist out with a small, or large donation:
donation f o r m.

Photographic Auction Action.
From the most recent to older results.


Click photo to enlarge
$3,666,500
Jeff Wall, Dead Troops Talk (A vision after an ambush of a Red Army patrol, near Moqor, Afghanistan, winter 1986) (1992) $3,666,500 May 8, 2012, Christie's New York
Andreas Gursky, Rhein II (1999), $4,338,500,
November 8, 2011, Christie's New York.


Click photo to enlarge
Andreas Gursky, Rhein II (1999),
$4,338,500.00

About the image
"The Rhine II was produced in an edition of six; The Tate museum owns the fifth in the series. This large colour photograph depicts a stretch of the river Rhine outside Düsseldorf. The image is immediately legible as a view of a straight stretch of water, but it is also an abstract configuration of horizontal bands of colour of varying widths. The horizon line bisects the picture almost exactly in the middle. Above it the overcast sky is a blue-grey. In the bottom half of the image, the river is a glassy, unbroken band between green stripes of grass. At the bottom of the picture in the immediate foreground is a narrow path. Below it is another thin band of manicured green grass.

Gursky works with a medium format camera, taking pictures which he then scans into a computer where he can manipulate them. His aim in using digital technology is not to create fictions but rather to heighten the image of something that exists in the world. He has described the genesis of this work, saying, 'there is a particular place with a view over the Rhine which has somehow always fascinated me, but it didn't suffice for a picture as it basically constituted only part of a picture. I carried this idea for a picture around with me for a year and a half and thought about whether I ought perhaps to change my viewpoint ... In the end I decided to digitalise the pictures and leave out the elements that bothered me' (quoted in Annelie Lütgens, 'Shrines and Ornaments: A Look into the Display Cabinet', Andreas Gursky: Fotografien 1994-1998, p.xvi).

Gursky digitally erased buildings on the far side of the river from his picture. This manipulation enhances the image visually, giving it more formal coherence. Rather than the sense of a specific place, the picture conveys an almost Platonic ideal of a body of water traversing as landscape. Gursky talks about this image in terms of its contemporaneity, saying, 'I wasn't interested in an unusual, possibly picturesque view of the Rhine, but in the most contemporary possible view of it. Paradoxically, this view of the Rhine cannot be obtained in situ; a fictitious construction was required to provide an accurate image of a modern river' (quoted in '... I generally let things develop slowly', Andreas Gursky: Fotografien 1994-1998, p.ix).

The Rhine II represents a tendency in Gursky's work towards abstraction. Throughout his career he has periodically made images whose formal and conceptual simplicity place them closer to the tradition of abstract art. Untitled I, 1993 is a close-up of an industrial carpet that recalls a grey monochrome painting. The grid-like ceiling depicted in Brasília, General Assembly I, 1994 has affinities with minimal objects. The Rhine II shares with these earlier photographs an emphasis on textures; the distinctions between the shimmering gloss of the river, the smudged softness of the clouds, the lush carpet of the verges and the hard matte path lend the photograph sensual contrast. ..."
Article continued here, on the Tate's website:
http://www.tate.org.uk/art/artworks/gursky-the-rhine-ii-p78372/text-summary
____________________________
June
Unknown photographer, Billy the Kid (1879–80), tintype portrait, $2,300,000, June 2011,
Brian Lebel's Old West Show & Auction.


Billy the Kid, unknown photograher, sold for


$2,300,000

May

Cindy Sherman Print Sells For $3.89 Million
At Auction, The Highest Ever For A Photograph until November when the Gursky image, above, topped it.

24 x 48 in. (61 x 121.9 cm.)
This work is number ten from an edition of ten
Executed in 1981.

2010
November

Cindy Sherman's "Untitled #153," from 1985, sold for $2,700,000
Dmitry Medvedev, Tobolsk Kremlin (2009),
$1,750,000, January 2010, Christmas Yarmarka, Saint Petersburg.
Richard Avedon, Dovima with elephants (1955), $1,151,976, November 2010, Christie's Paris auction.
Eugène Atget, Joueur d'Orgue, (1898–1899), $686,500, April 2010, Christie's New York auction
$3,765,276
Gilbert & George To Her Majesty (1973)
$3,765,276 June 30, 2008 Christie's London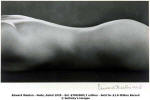 Click photo to enlarge.

Edward Weston,
$1,609,000
This 1925 nude – Won by Peter MacGill of the Pace-MacGill Gallery.
The most a Weston has ever sold for, to date, April of 2008- Sotheby's auction.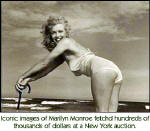 This Bert Stern image
"The Last Sitting", one of the last pictures
of Monroe before her death, sold for
$146,500
shattering the $63,000 mark set in 1994.


Marilyn Monroe: Photo auction sets record in New York

An old photograph of Marilyn Monroe by Bert Stern and a photograph by Helmut Newton of four women naked and then dressed sold for record prices on Wednesday, Christie's auction house said.

The Newton photo "Sie Kommen, (Naked and Dressed), Paris, 1981" sold for $662,500, smashing the previous 2007 record for the photographer of $380,725, while the Stern image "The Last Sitting", one of the last pictures of Monroe before her death, sold for $146,500, shattering the $63,000 mark set in 1994.

The entire Constantiner Collection fetched $7.7 million, the highest total for a single owner dedicated photographs sale, Christie's said. Both of these photos were part of the Constantiner Collection, which included the largest-ever grouping of Monroe photos to come to market, more than 100 in all.

"The superb results achieved for this collection demonstrate the potential of works bought with true passion and considerable connoisseurship to perform magnificently even in the present uncertain economic climate," said Philippe Garner, Christie's international head of photographs, in a statement.

"The results also confirm the central position that Helmut Newton has rightly been accorded as a master photographer of the 20th century, and, of course, Marilyn Monroe's magical appeal has proven to be truly timeless," he said.
2007

Richard Prince reclaimed the record for most expensive
photo sold at auction, when a print of his sold at Sotheby's
in New York for
$3,401,000
The price narrowly exceeded the previous record of $3.34 million
for an Andreas Gursky diptych sold at Sotheby's in London in February 2007.

The record-breaking Prince image (up to 2007) is from his untitled cowboy series –
in which Prince photographed sections of Marlboro cigarette ads
and enlarged the photos to an enormous size. The photo sold
at Sotheby's measures 100 by 66 inches and was one of an
edition of two plus one artist's proof. It is dated 2001-02.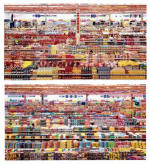 Click image to enlarge.
Andreas Gursky diptych sold at Sotheby's for
$3,340,000
in London in February 2007.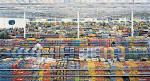 Click photo to enlarge.
Another Gursky store image.


Click photo to enlarge.
Edward Weston's 1927 Nautilus Shell went for a whopping
$1,105,000
at Sotheby's in October of '07.
A report from that auction, blow by blow:
http://www.iphotocentral.com/news/article_view.php/144/135/794
NOTE: An amazing $3.7 million came from just 24 photographs by Edward Weston
Auction Action 2005 - 2006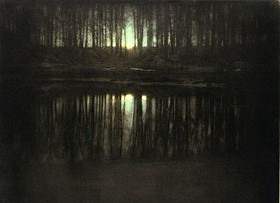 "The Pond-Moonlight," by Edward Steichen,
taken on Long Island in 1904, sold for
$2,928,000
A 1904 Edward Steichen photo of a moonlit pond has shattered
the record for the most expensive photograph ever sold at auction.

The print, "The Pond-Moonlight," went for $2,928,000 at Sotheby's
in New York, more than doubling the previous record. (The old record,
$1,248,000, was set Nov. 8 at Christie's for an untitled photograph
of a Marlboro cigarette ad by contemporary
art photographer Richard Prince) is below.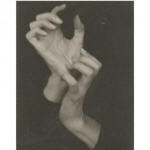 Alfred Stieglitz, Georgia O'Keeffe-Hands, circa 1919.
Gelatin silver print, 9-7/16 x 7-1/2 inches.
Courtesy of the Georgia O'Keeffe Museum, Santa Fe
$1,472,000
In Feb. of 2006, two photographs of the artist Georgia O'Keeffe (1887-1986),
taken by Alfred Stieglitz, her husband (Alfred Stieglitz, American, 1864-1946), also beat the highest
amount ever paid for a single photo ($1,248,000- see 'Cowboy' immediately
below). A photograph of her hands sold for $1,472,000, and a
portrait of her nude sold for $1,360,000, at Sotheby's in February of 2006.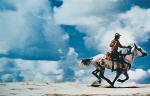 Click image to enlarge.
The record for a photograph
in 2005 sold at auction,
$1,248,000
was set in November of 2005
by the selling of Richard Prince's "Untitled (Cowboy)"
Article on the first single photo to go over 1 million.
Spring Auction Action-
2004:
Sotheby's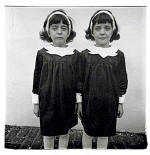 Click image to enlarge.
"Identical Twins"
by Diane Arbus
sold for
$478,400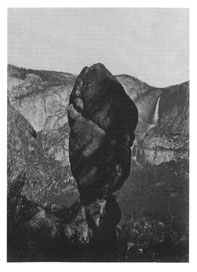 "Agassiz Rock and the Yosemite Falls, from Union Point"
by Carleton Watkins sold
$310,400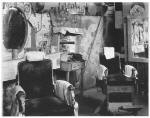 Click image to enlarge.
"Negro Barbershop Interior, Atlanta"
by Walker Evans sold for
$198,400
(This exact image sold only
two years earlier for $98,600!)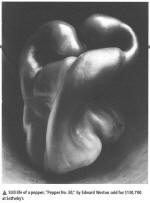 Click image to enlarge.

"Pepper No. 30"
by Edward Weston sold for
$130,700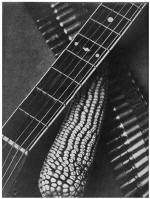 Click image to enlarge.
"Bandolier, Corn and Guitar"
by Tina Modotti sold for
$120,000
Christie's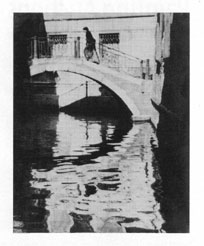 "Shadows and Reflections, Venice"
by Alvin Langdon Coburn sold for
$365,900


Click image to enlarge.
"Nude with a Gun, Villa d'Este, Como"
by Helmut Newton sold for
$181,100
Auction Action in 2002/2003
Christie's
Andreas Gursky ... $292,000.
Richard Prince (untitled- Sunglasses, straw & soda) ... $94,000
Sotheby's
Cindy Sherman - untitled #209, (color self portrait from 1989)...$269,000
Cindy Sherman - untitled #94 (from 1982) ... $259,000
Thomas Struth's "Pantheon, Rome,"... $270,000
Private collector action:
Man Ray "Glass Tears"... substantially more than a million dollars, setting a new world record at that time.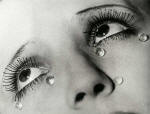 Click image to enlarge.
In 2000, the Man Ray photo "Glass Tears" sold for a price
widely thought to be
$1,250,000
according to Alex Novak,
a photo art dealer who edits the E-Photo Newsletter.
That would have been the first image to break
the one million dollar mark in the photographic art industry.
List of top 25 most expensive auctioned
Per wikipedia
And so where does
Michael Seewald fit into the
scheme of things in these markets?
Good question. Actually, due to these photos going for some serious cash, he has been able to raise his prices for his rare items too. And his early works are just a rare, if not more, they are now up to $100,000, and climbing.

Here are two of his highest, with either one going to $500,000 after their next sale, and then $1Million, if not more, for the final #10 of 10 sale: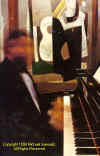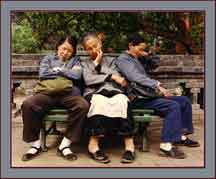 Pianoman, Shanghai, China, '87 The Three Graces, Xian, China, '87
NOTE: Two of Michael Seewald's best sellers, and VERY RARE LIMITED EDITION OF ONLY 10
are now offered on eBay, and thru our Del Mar Gallery. The Three Graces, Xian, China '87 and Pianoman, Shanghai, China, '87, and since they are limited to only 10 of one size only, and seven of the ten have sold of each, are both offered at ONLY $100,000!
Go to Seewald China images/ prices

__________________________________


A couple of interesting quotes about auctions
by Jerry Saltz from his Village Voice
article Hammered on May 26th, 2005
Complete article here: http://www.villagevoice.com/art/0522,saltz,64442,13.html
...Contemporary art auctions are bizarre combinations of slave market, trading floor, theater, and brothel. They are rarefied entertainments where speculation, spin, and trophy hunting merge as an insular caste enacts a highly structured ritual in which the codes of consumption and peerage are manipulated in plain sight. Everyone says auctions are about "quality." In fact, auctions are altars to the disconnect between the inner life of art and the outer life of consumption, places where artists are cut off from their art. Auctions have nothing to do with quality. At auctions new values are assigned and desire is fetishized. Consumption becomes a sort of sacrament, art plays the role of sacrificial lamb, and the Ponzi scheme that surrounds it all rolls on....
...Auctions are like stripteases, relying on the audience being enticed by what's out of reach...
...The greed, stupidity, and cupidity of many of the people who buy and sell their art at auctions has created what I call the "parallel market": artists whose auction prices far exceed what their work costs in galleries. Christie's international co-head of post-war contemporary art, Amy Cappellazzo, ruefully admits, "Some people prefer to spend $500,000 at auction on something they could buy privately for $50,000." She calls these people "traders." Auction houses rely on the fact that many of their buyers either don't know that much about art, that they'll buy almost anything if it has the right name on it, or that they don't care. So much for "quality." ...
We are interested is selling any photographic art you
may have, on consignment. Please e mail us with any questions.
We would be especially interested is consigning art from the following artists:
Ansel Adams, Edward Weston, Herb Ritts, Walker Evans, Andreas Gursky, Cindy Sherman, Thomas Struth, Brett Weston, Duane Michals, Leonard Misonne, Lisette Model, Kurt w. Baasch, Tom Baril, howard d. beach, wright Morris, william Mortenson, michael Mulno, Nickolas Muray, Eadweard Muybridge, Olivia Parker, Howard D. Beach, Robert Officer, Michael Berman, Jayne Hinds Bidaut, Karl Blossfeldt, Meyer, Jr., P.H. Emerson, Chansonetta Emmons, J.C. Fardon, Louis Fleckenstein, Annette Fournet, Paul Fuscoarker, Norman Parkinson, John Pfahl, Eliot Porter, Nancy Rexroth, Albert G. Richards, F. A. Rinehart, Willy Ronis, Phillip Scholtz Ritterman, D.J. Ruzicka, Charles T. Scowen, Aaron Siskind, W. Eugene Smith, Camille Solyagua, Eduard J. Steichen, Alfred Stieglitz, Edward Sturr, Jules Szanton, Max Thorek, George Tice, Bill Timmerman, Jerry Uelsmann, Burk Uzzle, Cheryl van Hooven, Melissa Inez Walker, Bradford washburn, Alex Webb, Jack Welpott, Jo Whaley, Minor White, Marion post wolcott, Arnols Genthe, Mario Giacomellit, Edward Weston, Ralph Gibson, Henry b. Goodwin, Johan Hagemeyer, William F. Happich, Declan Haun, Beatrice Helg, Carol Henry, chip hooper, George Hurrell, Don James, Arthur kales, yousuf karsh, Michael Kenna, Rudolf Kippitz, Heinrich Kuehn, Clarence John Laughlin, Wellington Lee, George Platt Lynes, Danny Lyon, David Malin, Aubrey Bodine, Bill Brandt, Michael Seewald, Alolphe Braun, Kate Breakey, Marilyn Bridges, Anne Brigman, Wynn Bullock, Jerry Burchfield, Ruth Bernhard, (we had a show of Ruth's work back in 1998, where she came down and attended the opening), Christopher Burkett, Jon Burris, Harry Callahan, Camera Work Magazines, Julia Margaret Cameron, Paul Capronigro, Keith Carter, Henri Cartier-Bresson, Walter Chappell, Alvin Langdon Coburn, J. Walter Collinge, John Collins, Larry Colwel, Stephan Couturier, Imogen Cunningham, Edward Curtis Sheriff, William Dassonville, and Bruce Davidson
Thanks,
Valerie Seewald

reset 10.'08

Duane Michals, leonard misonne, lisette model, kurt w. baasch, tom baril, howard d. beach, wright morris, william mortensen, michael mulno, nickolas muray, eadweard muybridge, olivia Parker, Howard D. Beach, Robert Officer, Michael Berman, jayne hinds bidaut, Karl Blossfeldt, meyer, Jr., p.h. emerson, Chansonetta Emmons, j.c. fardon, Louis Fleckenstein, annette fournet, paul fuscoarker, norman parkinson, john pfahl, eliot porter, nancy rexroth, Albert G. Richards, F. A. Rinehart, Willy Ronis, phillip scholtz ritterman, d.j. ruzicka, charles t. scowen, aaron siskind, w. eugene smith, camille solyagua, Eduard J. Steichen, Alfred Stieglitz, edward sturr, Jules Szanton, max thorek, george tice, bill timmerman, jerry uelsmann, burk uzzle, cheryl van hooven, melissa inez walker, bradford washburn, alex webb, jack welpott, brett weston, edward weston, jo whaley minor white, marion post wolcott, arnols genthe, mario giacomellit, Edward Weston, ralph gibson, henry b. goodwin, Johan Hagemeyer, william f. happich, declan haun, beatrice helg, carol henry, chip hooper, George Hurrell, don james, arthur kales, yousuf karsh, michael kenna, rudolf kippitz, heinrich kuehn, clarence john laughlin, welliington lee, george platt lynes, danny lyon, david malin, aubrey bodine, bill brandt, michael seewald, alolphe braun, kate breakey, marilyn bridges, anne brigman, wynn bullock, jerry burchfield, ruth bernhard, christopher burkett, Jon Burris, harry callahan, camera work, julia margaret cameron, paul capronigro, keith carter, henri cartier-bresson, walter chappell, alvin langdon coburn, j. walter collinge, john collins, larry colwel, stephan couturier, Imogen Cunningham, edward curtis, edward curtis sheriff, william dassonville, bruce davidson, ansel adams,