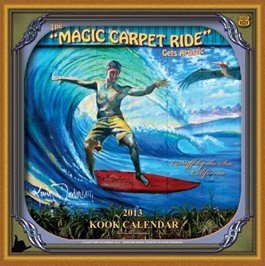 12.5.'12
The 2013 Kook Calendars
are now in. Won't last long, come and get 'em.

_________________________________________________

The 2012 Kook Calendar

1.5.'12 Update: Was sold out since Dec. 22nd, BUT good news, they ran another 'batch' and we rec'd some, so we are 'back in business' for orders,
while supply lasts that is.
The Kook Calendar (ie the' Magic Carpet Ride' as the official name of the sculpture is titled.
My friend Fred Caldwell did an excellent job of making a calendar about the treatments performed on the 'Kook' sculpture in Cardiff (Encinitas) Ca.. It's very well done, and we expect it to become a collectors item. The way they are selling since we got them in, then won't last long, so order yours today. Only 14.95, and Fred will donate 10% of his proceeds. M.S.
About the 'Kook': Sculpted by the accomplished and talented Matthew Antichevich in 2007. The $92,000 bronze is a magnificent work of art, from the surfboard to the anatomy to the stone pedestal. But back in 2007 when it was unveiled, local surfers were not please with the effeminate pose of the young man attempting his first ride on a wave. Being that "Kook" is a surfer's term for someone who can't surf, "Kooky" and the "Cardiff Kook" became it's natural nick-names.
We are selling them at the gallery, and taking orders to ship on our order page.
Order one from our site (under $15 ea.), and then we can hold it for pick-up at our gallery, or ship it for an additional $4.95.
NOTE: This will take you to five order pages of Michael Seewald's art, the calendar is on top of the first page: Click here to order the calendar

Three sample pages below, along with the back
cover showing all the images inside.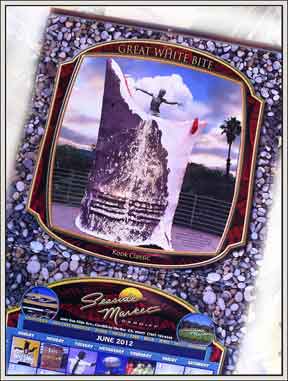 June- Great White Bite
Click photo to enlarge.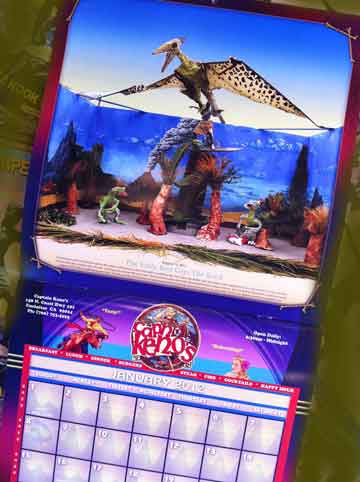 Click photo to enlarge.
Pterodactyl swoops in and kidnaps the Kook!
This elaborate set-up will knock your socks off, and it dwarfs the statue of Kook to
where he's hardly recognizable. Too Cool.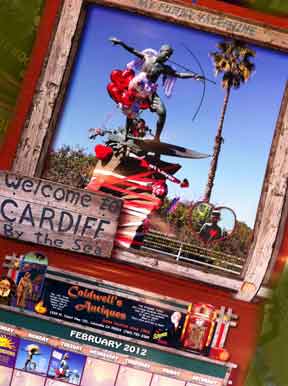 Click photo to enlarge.
Cupid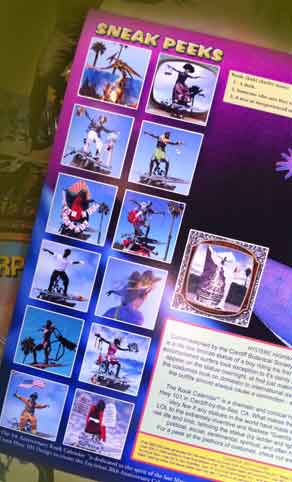 Click photo to enlarge.
Back Cover
Click here to order the calendar
Page created 12.3.11